Take a trip to the French Quarter without ever leaving your home when you sip on a Hurricane Cocktail! This infamous fruity rum cocktail is a NOLA classic that tastes like a celebration in a glass. Grab your shaker and let's party!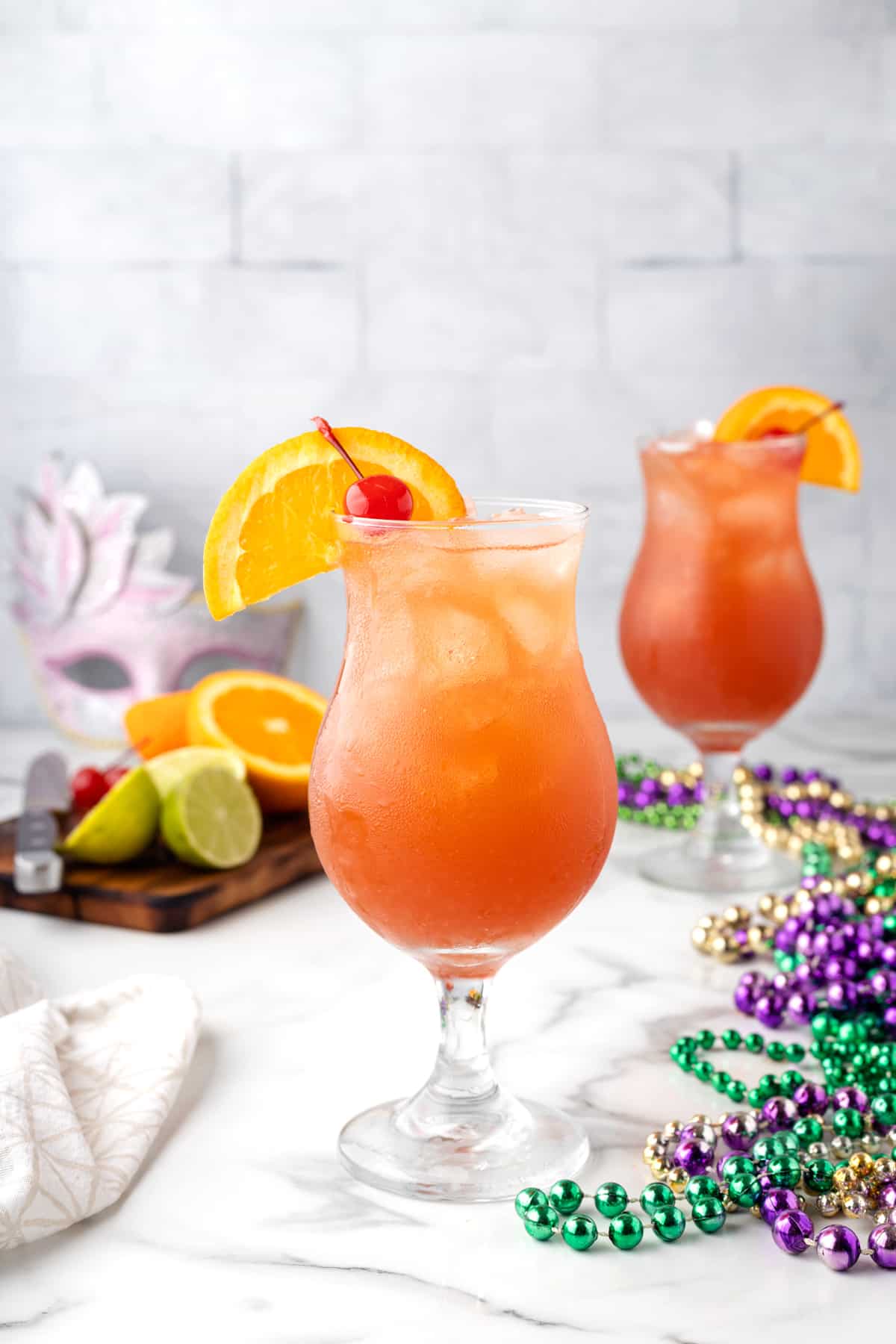 New Orleans Hurricane Drink
If you've ever strolled around the French Quarter, chances are you've tried a hurricane before – no matter what time of day or night it was! This iced, fruity, rum based cocktail is a NOLA staple, and no trip to Bourbon Street is ever complete without a tall glass of this vibrant drink.
A hurricane can really be described as a party in a glass, so proceed with caution! There are 2 ounces of dark rum, 2 ounces of light rum, and a splash of triple sec in each glass that will help you understand why they call it's home The Big Easy. With that being said, it's smooth and sweet as can be!
Why You'll Love this Hurricane Cocktail Recipe:
FRUITY: Freshly squeezed lime and orange juices pair perfectly with the passion fruit juice! And of course you can't skip out on the cherry and orange garnishes that give the drink its signature flair.
BOOZY: There's plenty of booze in this drink to keep the party going! Just drink with the awareness that although this drink is smooth and sweet, it also packs a real punch.
CLASSIC: I love a cocktail with a colorful history! When a drink is as classic as this, it means it's earned the reputation it has for a reason.
No need to travel all the way to New Orleans for Mardi Gras this year! Slice up the king cake and shake up a hurricane from the comfort of your own kitchen. Beads not included!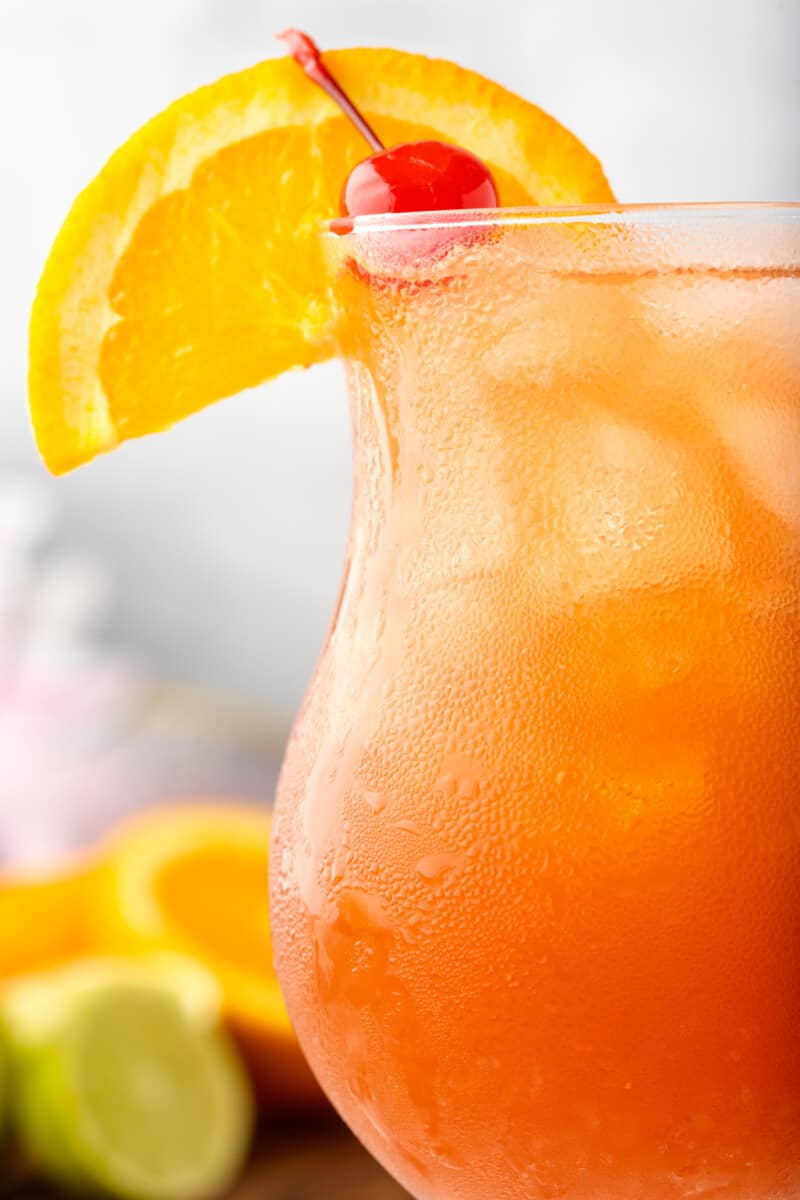 How to Make a Hurricane Cocktail
Be sure to see the recipe card below for full ingredients & instructions!
Combine all of the ingredients with ice in a cocktail shaker.
Shake vigorously.
Fill a cocktail glass.
Garnish with an orange and cherry.
Enjoy!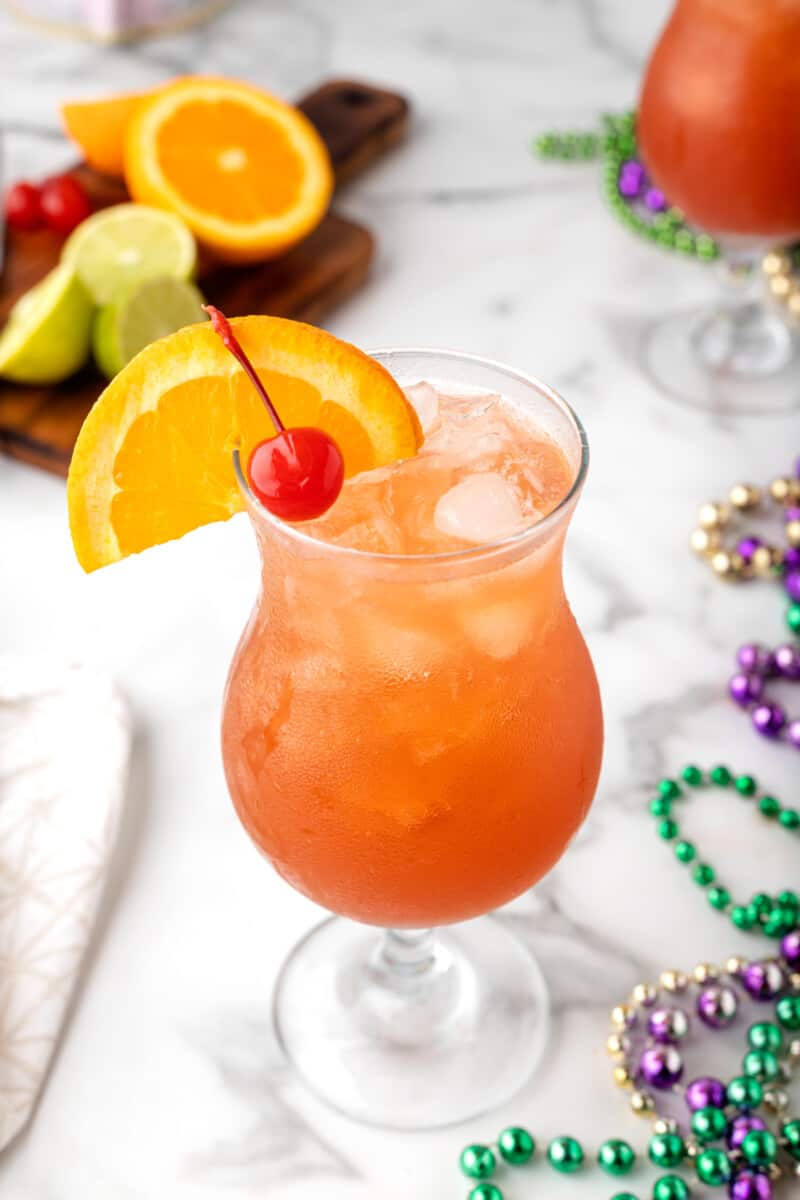 What is a hurricane cocktail?
Served in a signature curvy hurricane cocktail glass, this alcoholic beverage is a New Orleans original concoction that was first created by legendary bar owner Pat O'Brien.
Can I double this recipe?
Definitely! Make sure your shaker is large enough or use a pitcher and mix well before serving.
What kind of glass should I serve a hurricane cocktail in?
Traditionally, a hurricane cocktail is served in a hurricane glass (shaped like the historic hurricane lamp). If you don't have a hurricane glass, any cocktail or tumbler works great!
Why do I use 2 kind of rum?
Each kind of rum has a unique flavor. The classic hurricane cocktail recipe comes from a bar in New Orleans – they made their hurricanes with 2 types of rum, and ever since then, that's how these drinks have been made!
While this is a Mardi Gras favorite, don't worry. It doesn't need to be parade season for you to enjoy this cocktail! You can keep the storm brewin' all year long.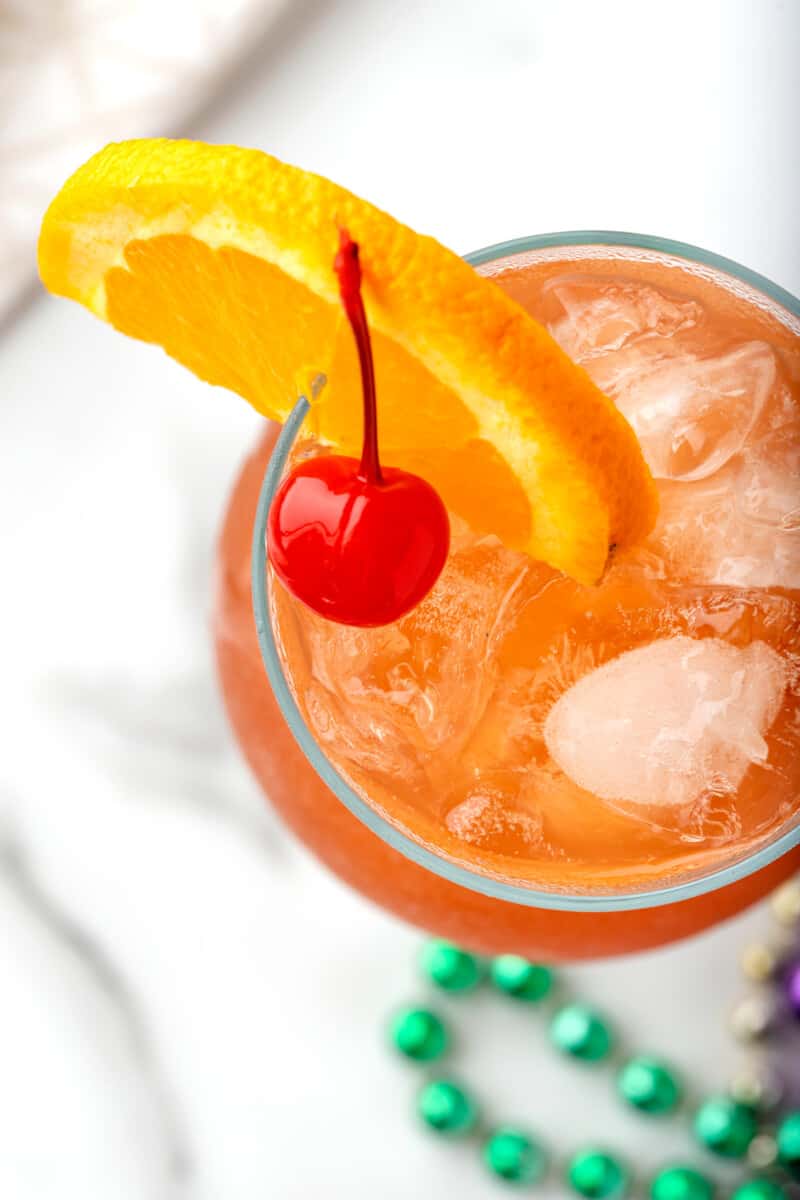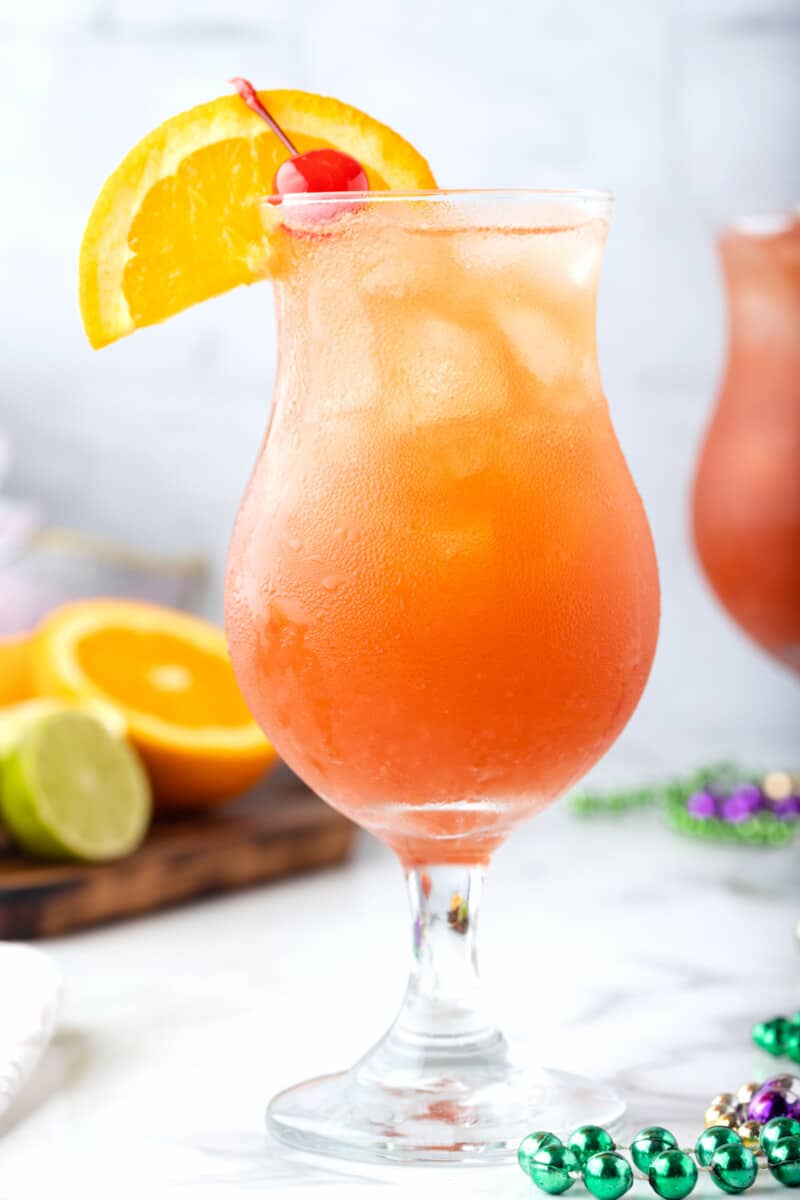 Tips!
You can use bottled lime and orange juices, but freshly squeezed will yield the best flavor.
Don't use flavored rums! Keep them plain to preserve the original flavor of this classic cocktail.
While you don't have to use a hurricane glass, it's highly recommended. I mean, just look at how much fun they are!
Shake it up, sip it slowly, and enjoy the smoothness of this tried and true hurricane recipe!
Where can I find passion fruit juice?
You can find passion fruit juice in the juice section of the grocery store or order it online.
What can I use in place of grenadine?
You can use the juice from maraschino cherries in place of grenadine, but the cocktail won't taste like a traditional hurricane!
How do I garnish a hurricane?
The most classic way to top off your tall hurricane glass is with an orange wedge or a maraschino cherry. A tiny umbrella or a strand of Mardi Gras beads are always great ideas, too!
Here are some tasty appetizers to serve at your next get together.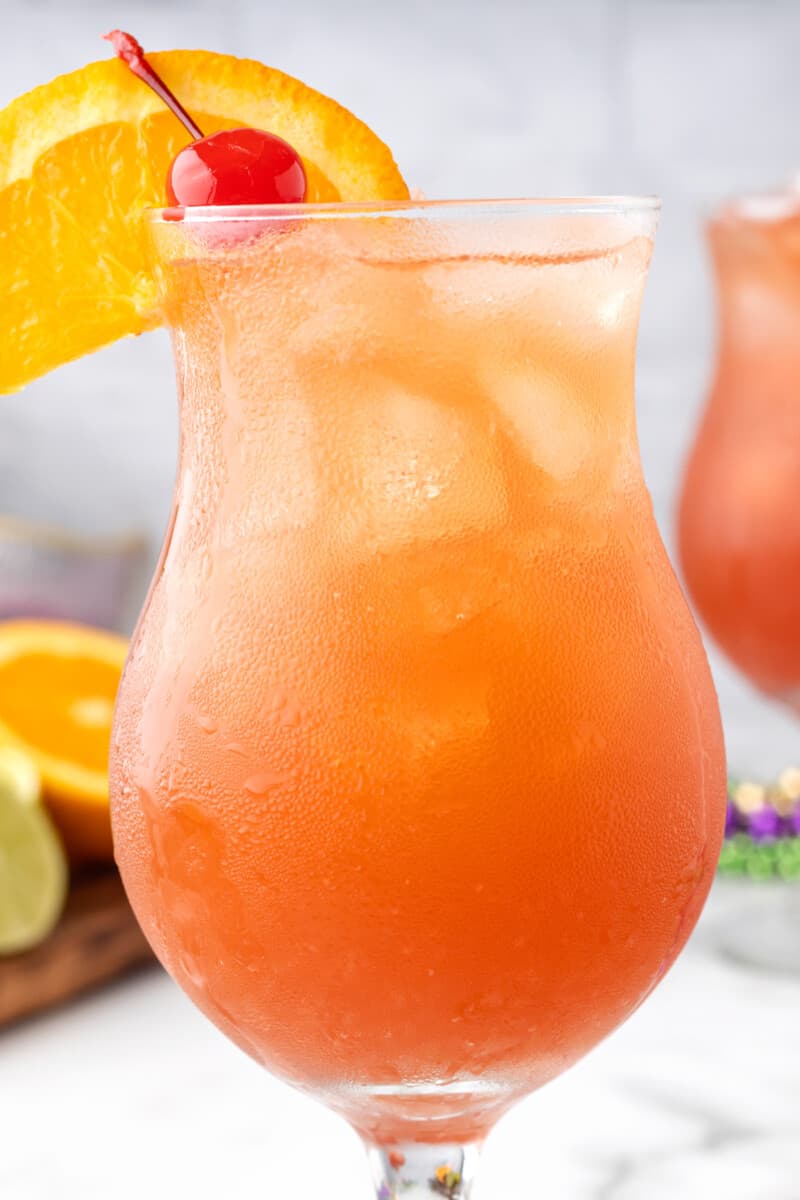 This crazy good drink is meant to be shaken, not stirred! After all, it's a hurricane… So shake things up, and enjoy the smooth, fruity, and celebratory flavors of this New Orleans staple.
If you make this recipe be sure to upload a photo in the comment section below or leave a rating. Enjoy!