Summer's freshest produce stars in a quick-fix recipe for Corn and Zucchini Salad with Basil Vinaigrette featuring raw zucchini ribbons, sweet corn, crispy bacon and crumbled Cotija cheese.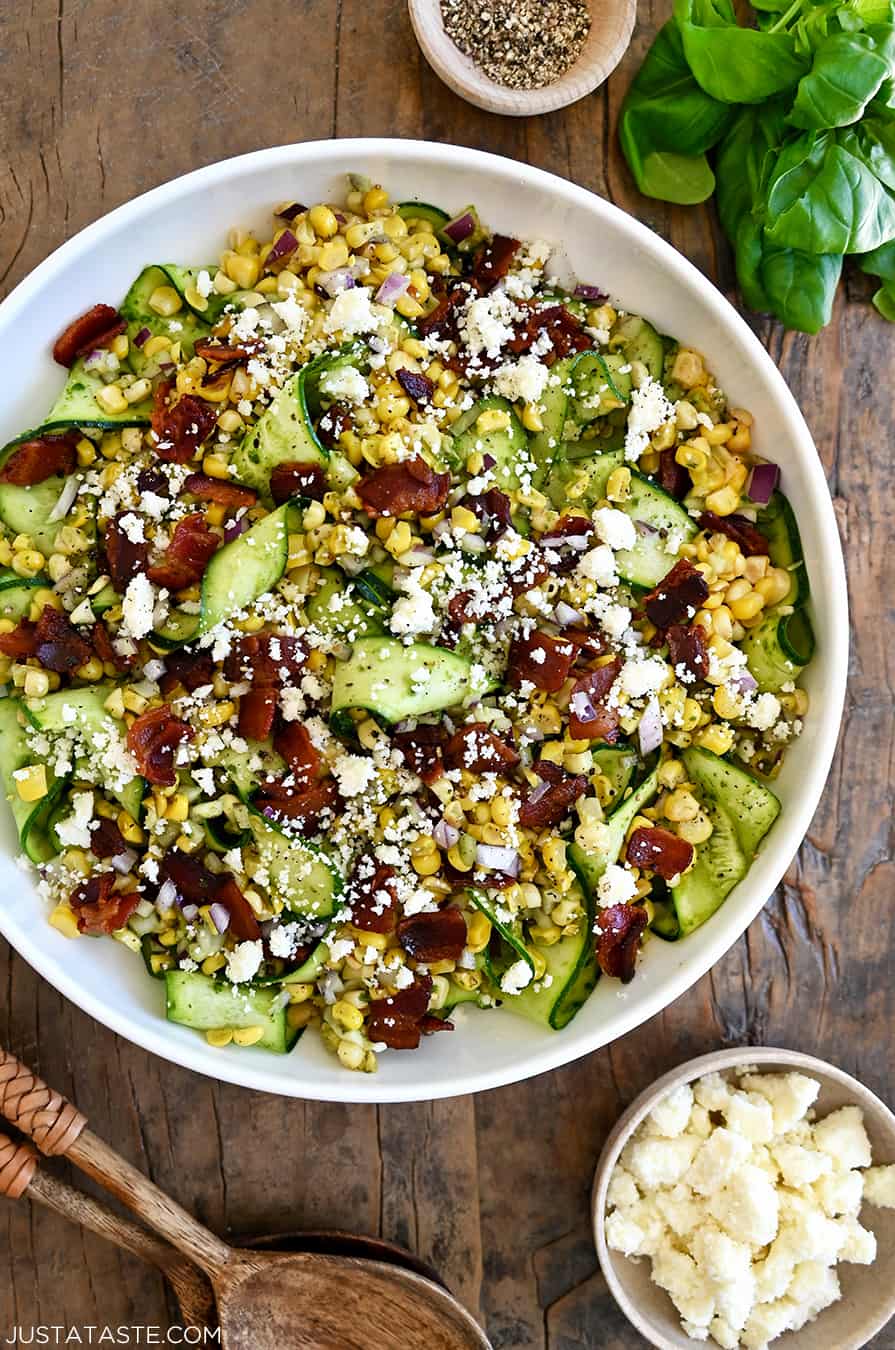 To me, the key to making an amazing salad is making sure there are not only a variety of flavors, but also a range of delectable textures. I'm a salad eater who needs that crunch and zip, and those savory bits cut with sweetness, and perhaps a bit of surprise. And that is exactly what this recipe for Corn and Zucchini Salad with Basil Vinaigrette delivers!
I know it's not often you say or hear, "Wow, that was a memorable salad," but this the salad that just might make you stop in your tracks. It's delicately herbaceous, hearty and yet refreshing at the same time.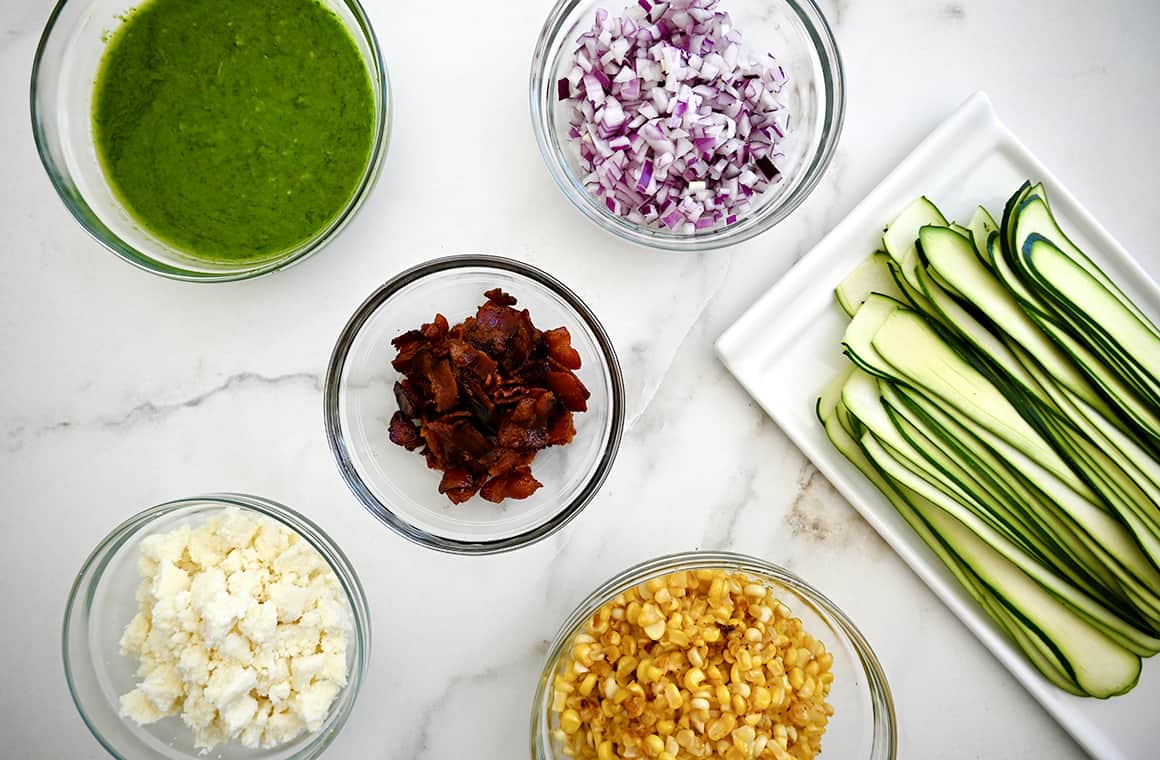 Can You Put Raw Zucchini In a Salad?
Not only can you put raw zucchini in a salad, but you should put raw zucchini in a salad! What I love most about using raw zucchini is how it really absorbs any marinade or dressing so perfectly, while still maintaining an incredible crunch. While most people are used to eating zucchini grilled, baked or stir-fried, it's perfectly safe (and delicious!) served raw.
Feel free to try out all different types of peelers, mandolines and spiralizing tools to really maximize the surface area (and thus marinading opportunities) of the vegetable.
Does Corn Have to be Cooked Before Eating?
Not at all! The same is true of corn as it is for raw zucchini. Most dishes utilize cooked corn, but it's perfectly safe (and actually somewhat healthier) to use raw corn right off the cob. As is the case for many fruits and vegetables, cooking often breaks down some of the healthy nutrients found naturally in raw food. Typically, raw corn kernels do taste a bit juicier, crunchier, and sweeter than cooked or canned corn, and I think that's really one of my favorite aspects of using raw corn in this salad.
What Can I Substitute for Fresh Corn?
Frozen corn kernels are an amazing alternative for when you can't track down fresh corn. Canned corn is great in a pinch, too, but the canned version will have a bit less crunch than the fresh or frozen kernels. Luckily for you, the raw zucchini and crispy bacon will more than make up any missing crunch factor so you can still get that textural fix!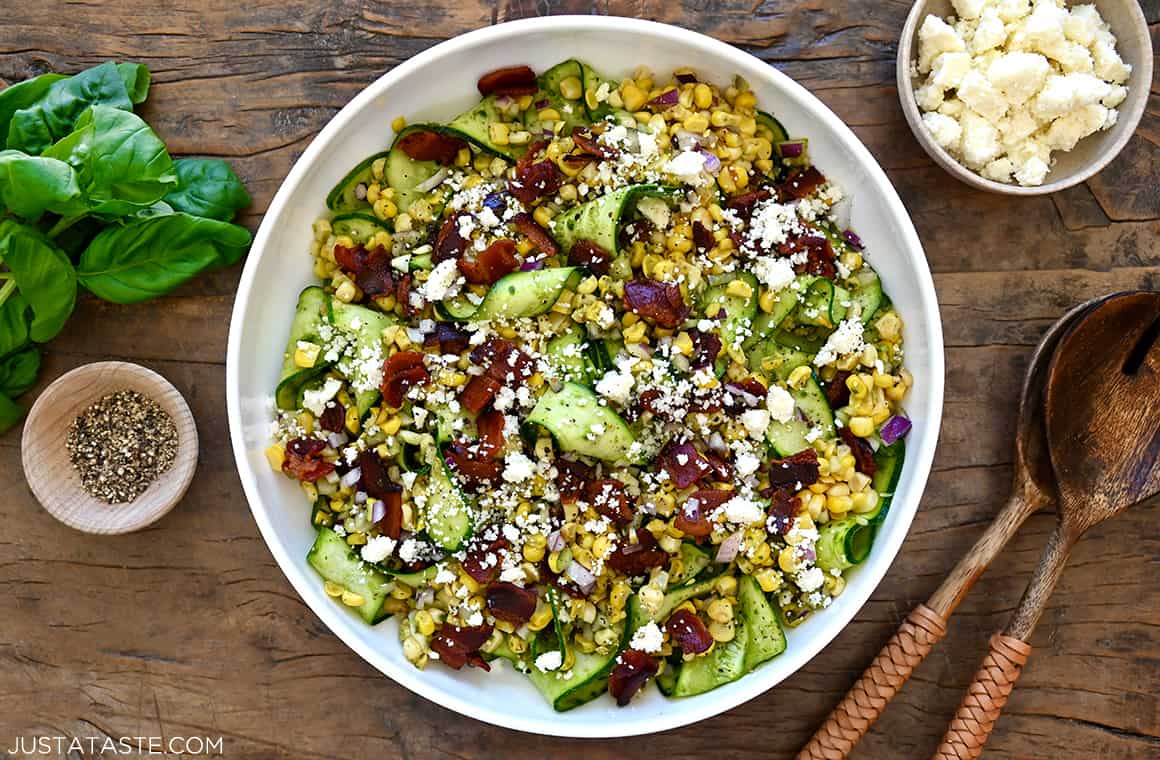 Craving more? Subscribe to Just a Taste to get new recipes, meal plans and a newsletter delivered straight to your inbox! And stay in touch on Facebook, Twitter, Pinterest and Instagram for all of the latest updates.
Make the vinaigrette:
In a blender, combine the basil, spinach, garlic, red onion and vinegar and pulse just until combined. With the motor running, stream in the olive oil and continue blending until the vinaigrette is smooth.

Taste and season the vinaigrette with salt and pepper then set it aside.
Make the salad:
Add the bacon to a large skillet set over medium-low heat. Cook the bacon, stirring as needed, until all the fat has rendered and the bacon is crispy. Using a slotted spoon, transfer the bacon to a bowl and leave 3 tablespoons drippings in the pan.

Increase the heat to medium-high. Add the corn kernels and cook, stirring, until softened slightly, about 2 minutes. Add the corn to a large bowl.

Trim the ends off the zucchini then use a vegetable peeler to cut them into very thin ribbons. Add the zucchini ribbons and diced red onion to the bowl with the corn. Drizzle in the vinaigrette and toss to combine.

Top the salad with the reserved bacon and cotija cheese then serve.

★ Did you make this recipe? Don't forget to give it a star rating below!