Looking for a chili with no beans and no tomatoes? Texas Chili is the chili you are looking for. Our version of Texas Chili is made with a roasted red pepper sauce base, ground beef, and lots of vegetables.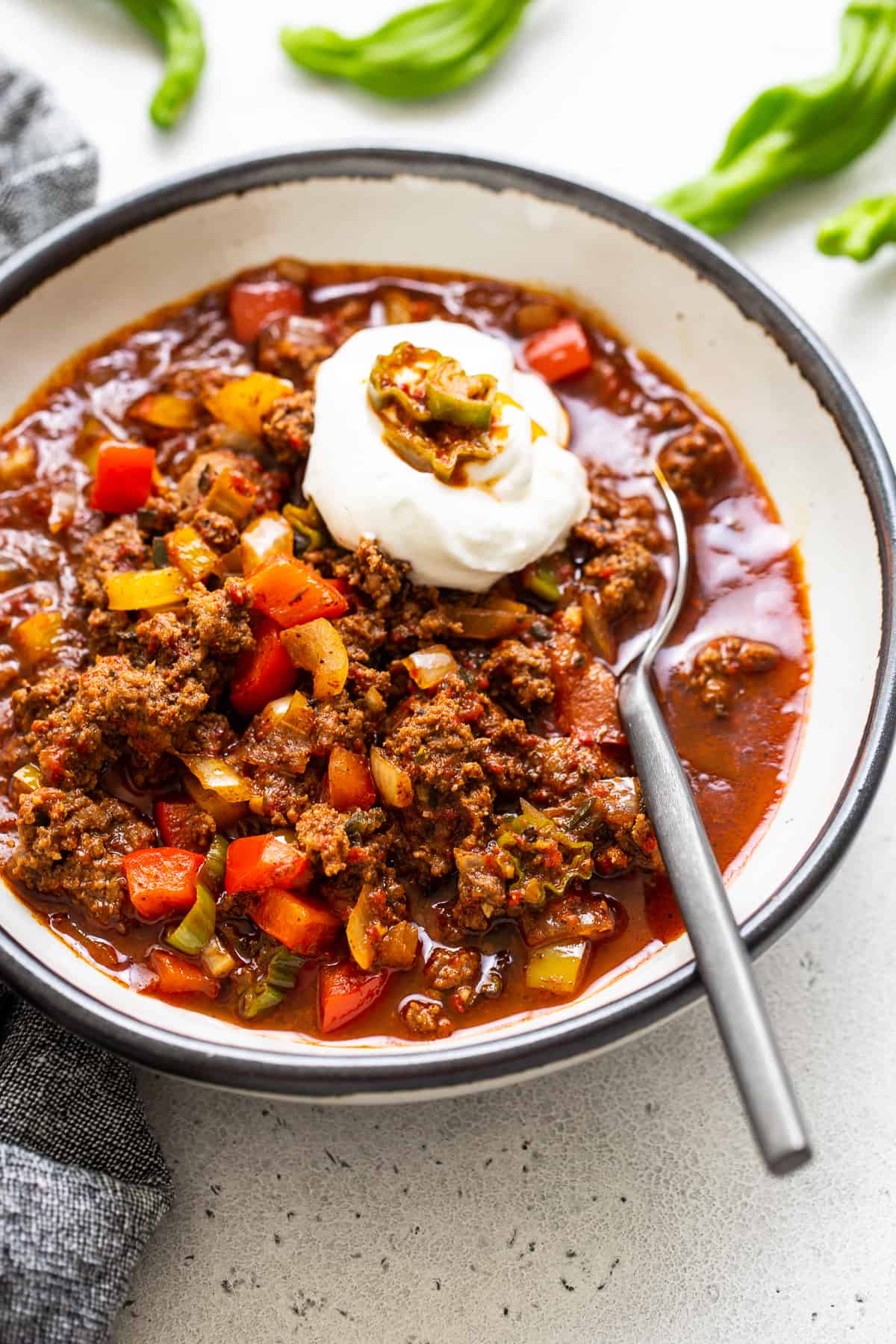 Easy Texas Chili Recipe
If you're new to Texas Chili, I bet you're wondering, what is Texas chili? Texas chili is a type of chili that does not have beans and doesn't use any tomato product. Yep, you read that right.
It looks like a traditional chili, like our regular beef chili recipe, but instead of tomato sauce or diced tomatoes it has a roasted red pepper sauce base and it is delicious.
Why you'll love it!
Reasons why you'll love it.
If you don't like beans or can't have beans, Texas chili is perfect for you.
It's a great way to use up your roasted red peppers.
It's not only packed with protein, but it has a ton of veggies, too.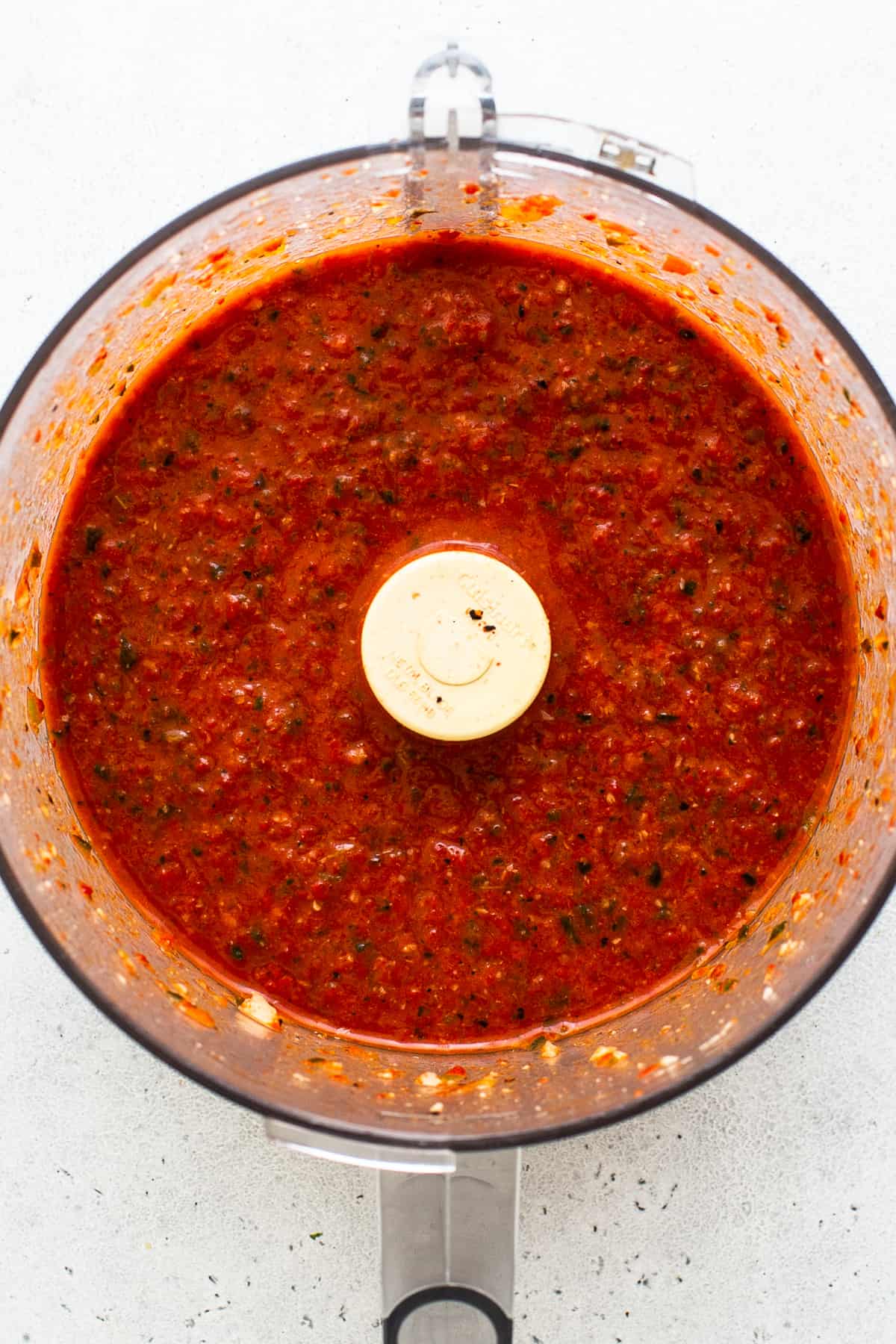 Featured Ingredients
Peppers- we use a variety of peppers in this Texas chili recipe. We use spicier peppers like jalapeños and shishito as well as sweet bell peppers and poblano peppers. Some are roasted and used in the sauce and some are sautéed for the chili itself. Yum!
Roasted red peppers- we all have a jar of roasted red peppers in the back of our pantry and now you can use them.
Ground beef- we went with ground beef for this recipe because of it's richness and flavor, but feel free to use a leaner protein if you'd like.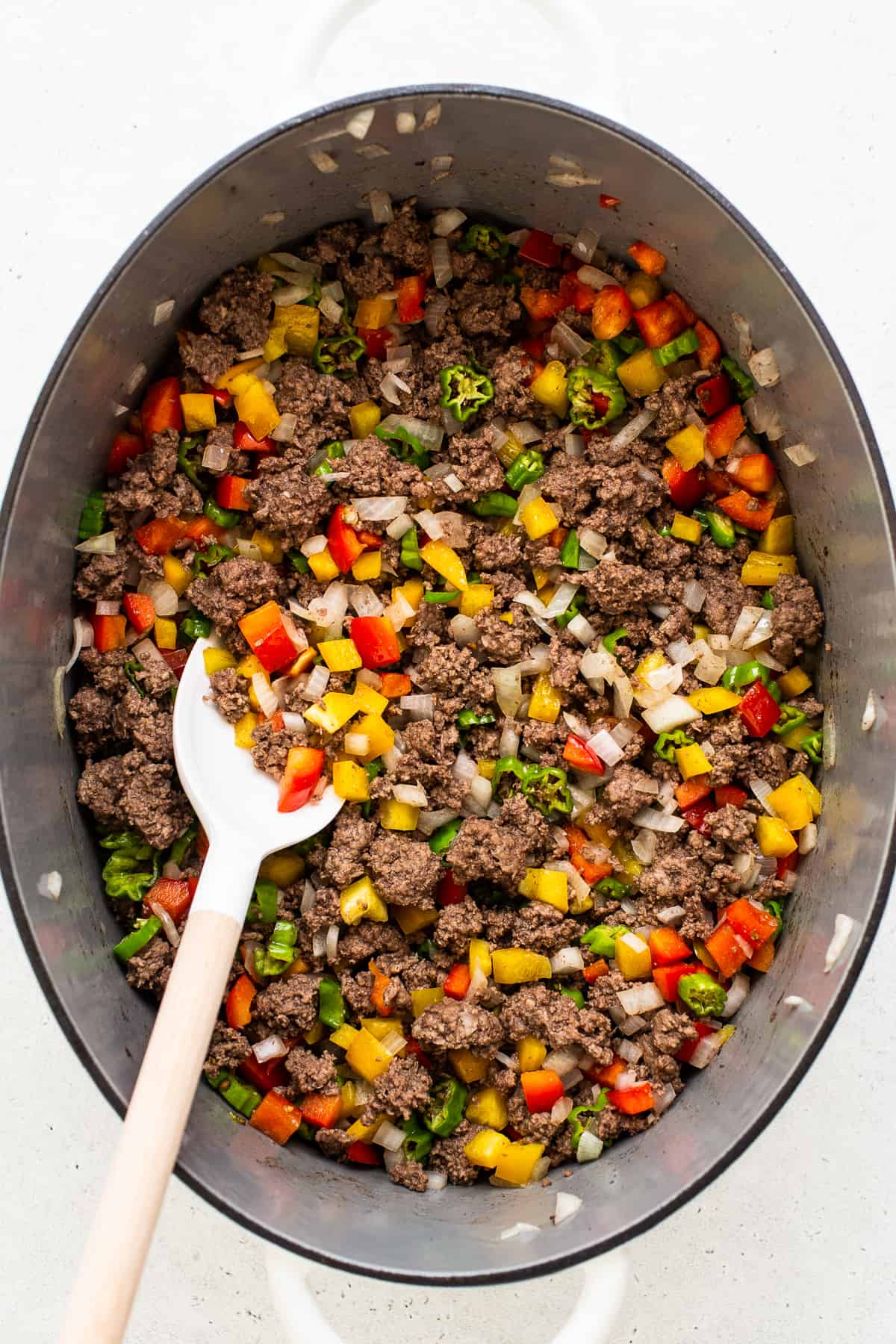 Simple Instructions
Roast the peppers. You roast a wrapped garlic head, the poblano peppers, and jalapeño peppers for 20 minutes (40 minutes for the garlic) before adding them to the sauce.
Cook the beef + veggies. While the peppers are roasting sauté the onion, beef, and vegetables together in a Dutch oven.
Make the sauce. When the peppers are done roasting place the garlic, peppers, and roasted red peppers in a high speed food processor and blend until smooth.
Simmer everything together. Add the spices, sauce and broth to the Dutch oven and mix. Simmer everything together until thick and delicious.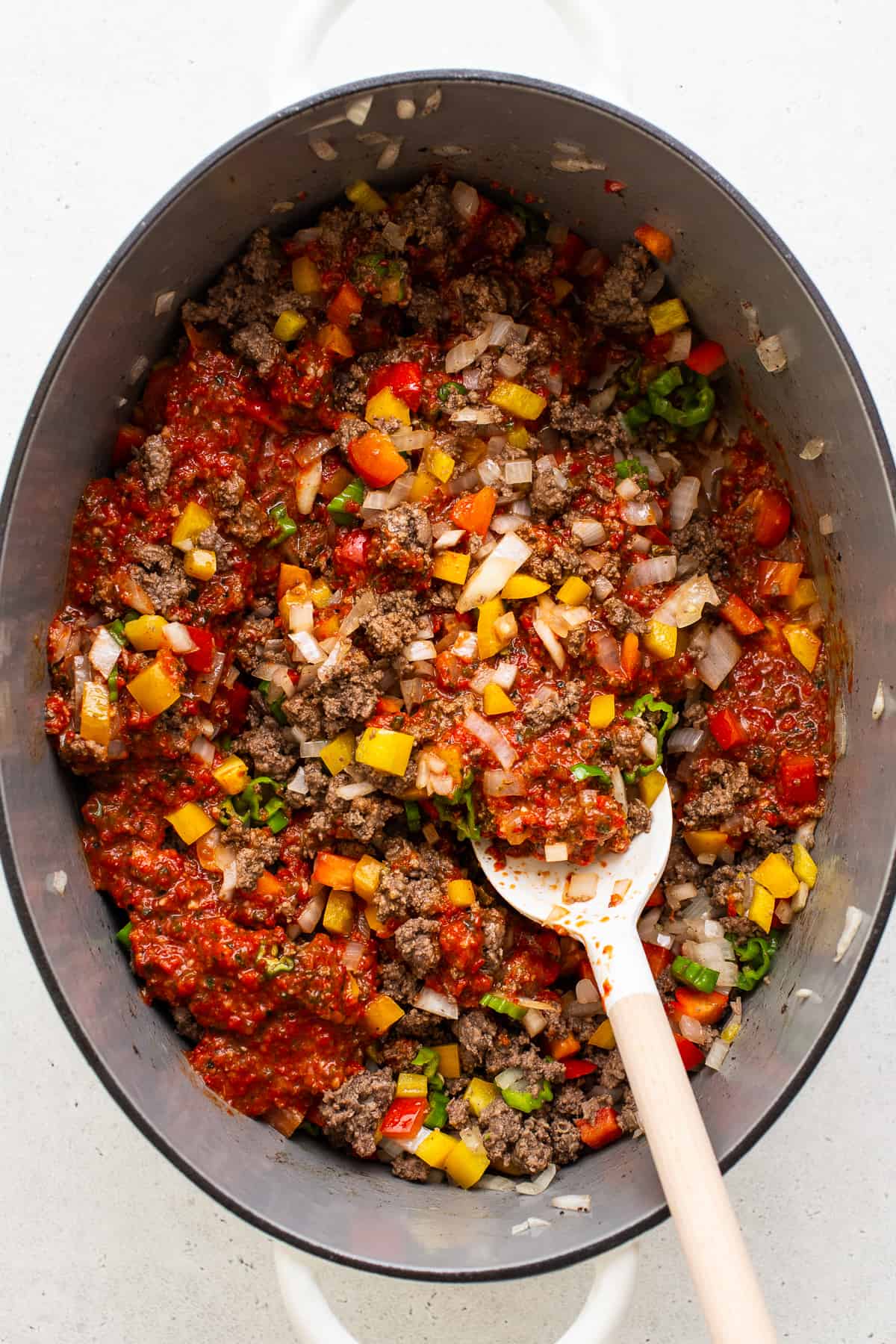 Top Tips
Make it spicier. If you like a spicy chili, go ahead and roast spicier peppers with the jalapeños and poblano peppers.
Freeze half for later. Chili is a great meal to freeze for later!
The longer you simmer the better it will be. If you have the time, simmer your chili ingredients together longer to really enhance all of the delicious flavors.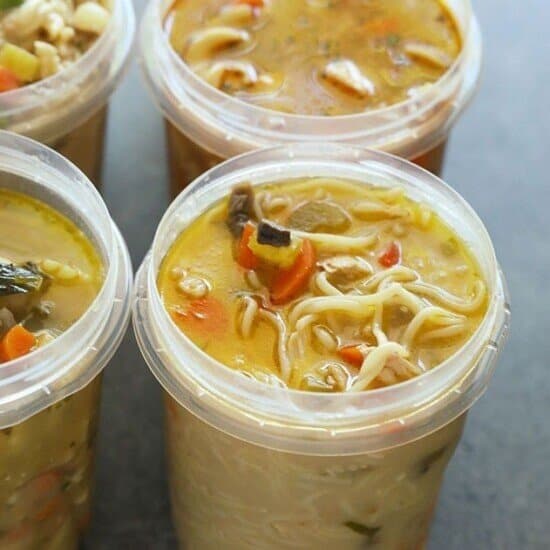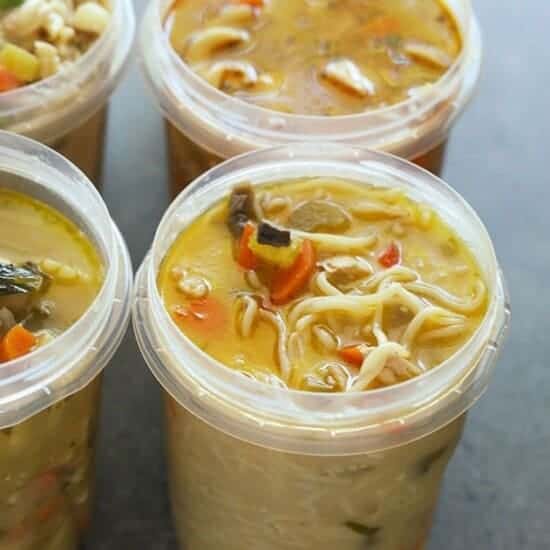 Tutorial
How to Freeze Soup & Chili
Learn how to freeze soup and chili with this easy How to Freeze Soup tutorial. We'll share all of our tips and tricks to perfect freezer soup.
Get Recipe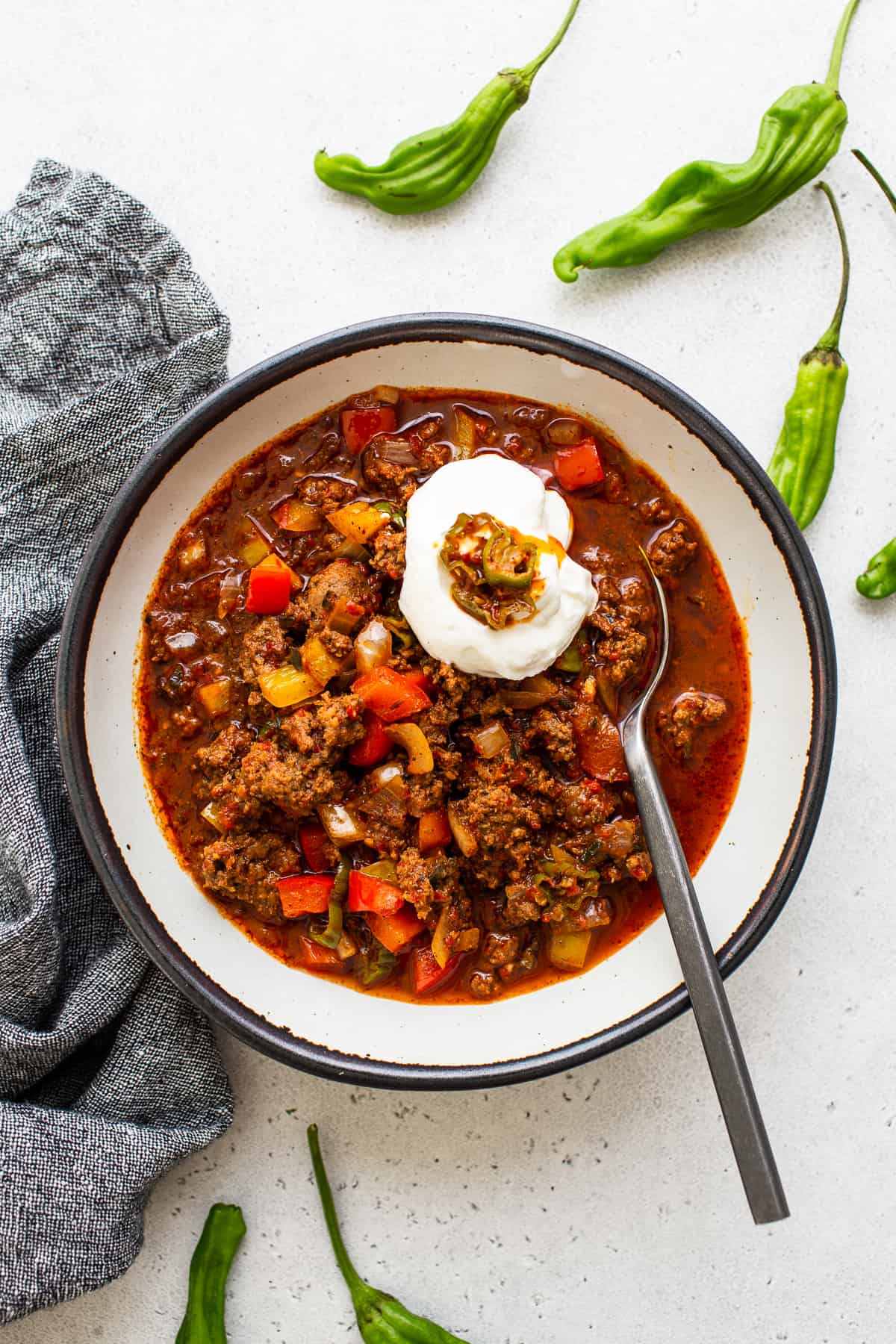 FAQ
What is different about Texas chili?
Texas chili doesn't have beans or tomato based products. Instead, vegetables, broth, and roasted red pepper sauce is used.
What else can I add to Texas chili?
There are many additional ingredients that you can add to Texas chili. Frozen corn, hominy, sliced peppers, cheese, sour cream, or Greek yogurt would all be delicious.
Storage
Let the Texas chili cool completely and then store it in an airtight container for up to 5 days.
To reheat: Reheat over medium/low heat in a Dutch Oven.
Freezing Instructions
Let the Texas chili cool completely and then store it in an freezer safe container for up to 3 months.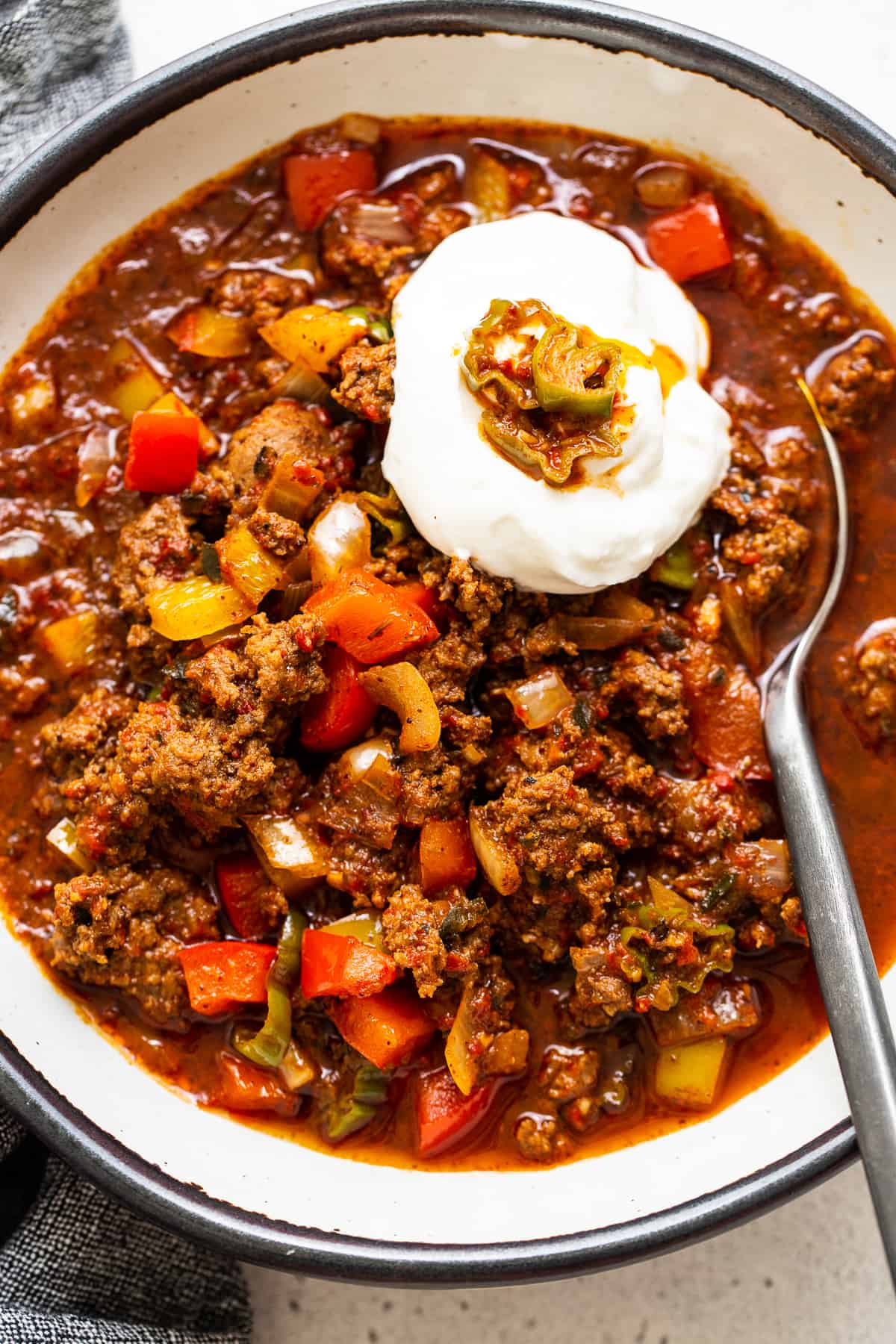 Ingredients
1

head garlic

1

tablespoon

olive oil

separated

1

large poblano pepper

halved and seeded

1

large jalapeno pepper

halved and seeded

2.5

teaspoons

coarse salt

separated

2

lbs.

85/15 ground beef

1

large yellow onion

minced

2

large bell peppers

any color, seeded and diced

1

cup

sliced shishito peppers

into small rounds, seeded

16

oz.

jar roasted red peppers

4

tablespoons

chili powder

1

teaspoon

smoked paprika

1

teaspoon

ground cumin

1

teaspoon

ground oregano

1

tablespoon

maple syrup

2

teaspoons

Worcestershire sauce

1.5

cups

beef broth
Instructions 
Preheat the oven to 400ºF and place the poblano pepper and jalapeño pepper on a baking sheet. Drizzle on 3 teaspoons of olive oil and season with salt.

Then, trim the end of the garlic off opposite the root so the garlic cloves stay together. Place the garlic in a piece of tin foil and drizzle with 1 teaspoon of olive oil and season with salt. Wrap the garlic in the tin foil to seal. Place the garlic on the baking sheet with the peppers.

Bake the peppers and garlic at 400ºF for 20 minutes. Remove the peppers and let the garlic roast for an additional 10 minutes. Remove from the oven and set aside.

While the peppers are roasting, heat a large Dutch oven over medium/high heat and add the ground beef and break the meat up into small pieces. Season the beef with 1 teaspoon of salt and cook for 5 minutes.

Add the onion to the ground beef and cook the two ingredients together until the ground beef is fully cooked. Add the bell peppers and shishito peppers to the Dutch oven and toss all of the ingredients together. Remove the Dutch oven from the heat.

Next, place the roasted red peppers (and the liquid that is included in the jar) into a high-speed food processor along with the roasted poblano pepper and jalapeño pepper. Then, squeeze the softened roasted garlic cloves into the food processor and add ½ teaspoon salt.

Process the ingredients together until smooth and combined. Pour the roasted pepper sauce into the Dutch oven and place the Dutch oven back onto the heat. Add the chili powder, paprika, cumin, oregano, maple syrup, Worcestershire, beef broth, and the remaining salt to the dutch oven and mix all the ingredients together.

Bring the chili to a boil over high heat and then turn the heat to low and allow the chili to simmer for at least 20 minutes uncovered.

Serve the chili with a dollop of Greek yogurt or crema.
Tips & Notes
Texas chili is a no bean and no tomato chili. The make up of the chili is mostly different types of peppers. Traditionally the peppers are dried but we used roasted and fresh peppers in this recipe. You can use different types of peppers in this recipe to change up the flavors or spice levels.
If you like chili with more liquid, add another ½ cup of beef broth to the chili.
Nutrition facts
Calories: 413kcal Carbohydrates: 14g Protein: 31g Fat: 26g Fiber: 4g Sugar: 5g
Photography: photos taken in this post are by Ashley McGlaughlin from The Edible Perspective.