Sweet, tangy, spicy and simply perfect for all kinds of recipes! This sweet thai chili sauce EASY is so simple that anyone can mix it up. Never ever buy sweet thai chili sauce again!
Sweet Thai Chili Sauce Recipe Easy
What's your favorite sauce at any Asian restaurant? That sweet thai chili sauce just can't be beat! It's sweet and spicy and just the perfect way to add to some strong asian flavors!
Sweet Thai Chili Sauce Recipe Easy will show you an easy, fast and ready in minutes way to create a better than store bought version of this family favorite!
Here's What You'll Need
You might look at some of these ingredients and believe that you will need a trip to the Asian grocery, but you won't. I found them in the international section at my very country grocery. I feel certain yours will have them too (and if not, there's always Amazon).
Rice Vinegar
Rice Wine (Mirin)
Sambal Olec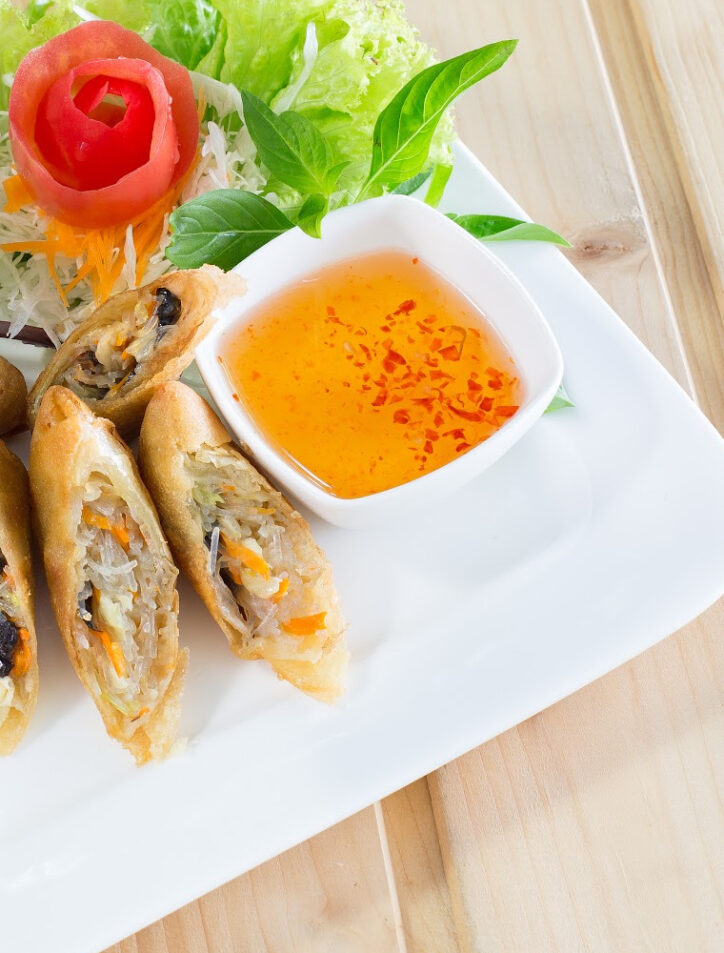 Here's How You Do It
Put all of the ingredients into a sauce pan and heat over medium low heat.
Add the cornstarch slurry to thicken.
ENJOY!
Frequently Asked Questions (FAQ's)
Can I Make This More Spicy?
Sure you can! Just add red pepper flakes until the spice level you want is there.
I want mine RED, how do I do that?
Add a few drops of red food coloring until it is the color you prefer. Remember that some people are sensitive to red food dyes.
I really want mine more sweet, what do I do?
Add more sugar! Add it 1/2 tsp at a time and allow it to dissolve until the sauce tastes just like you want.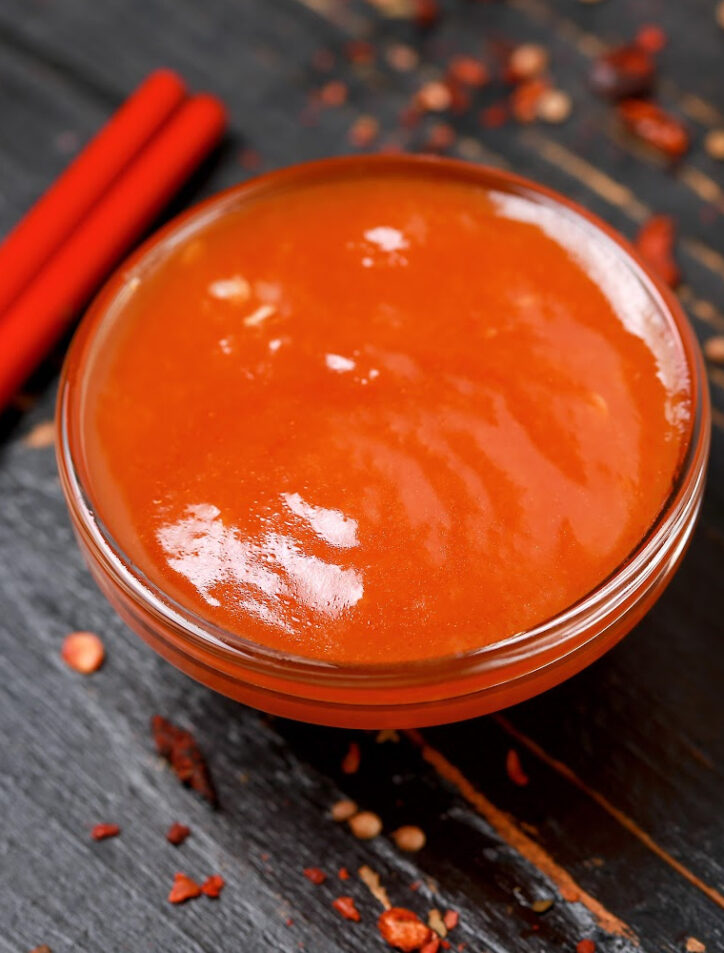 Tips and Tricks for Sweet Thai Chili Sauce Recipe
You'll want to use a fairly small sauce pan. This recipe only makes a small amount (less than a cup) and a large sauce pan will spread the ingredients out too far.
If you are concerned about the heat level, don't be, it isn't any hotter than a salsa in a Mexican restaurant. You can add red pepper flakes later if you want it hotter, but you just can't take them back out so that is why I don't add any to begin with.
This recipe has a good balance of vinegar, heat and sweet, but you can adjust those levels by adding more of one or the other.
If you prefer the RED colored sauce like you see in restaurants, add a few drops of red food coloring to your sauce and it will turn red right away. Just remember that some people have sensitivities to red food dyes.
This recipe works perfectly with the Cream Cheese Wontons published earlier at Loaves and Dishes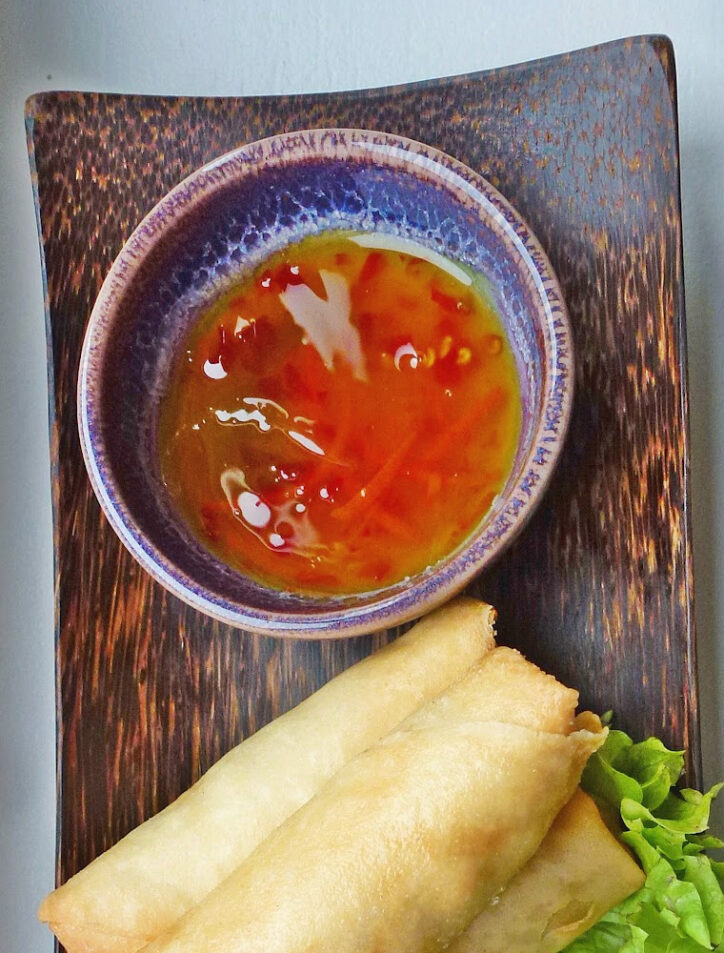 If You Enjoyed This Recipe, You Might Also Enjoy…
Watch Me Make This
Hey, Would You Give Me a Hand?
Please leave a 5 STAR comment in the comment section below. This helps others to find the recipes at Loaves and Dishes.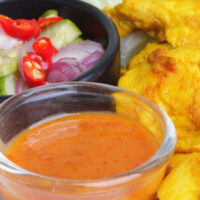 1/3

Cup

water

1/3

Cup

rice vinegar

1

Tbs

rice wine

(Mirin)

3

Tbs

Sambal Olek

(indonesian chili paste)

2

Tbs

Minced Garlic

1

tsp

soy sauce

2

tsp

corn starch

2

tsp

cool water

3

drops

red food coloring

optional
Over medium heat on the stove top, add the water, vinegar, rice wine, sambal olek, garlic and soy sauce to a medium sized sauce pan.

Heat and stir until the sauce begins to simmer.

In a small cup, mix together the cornstarch and cool water. Use a fork to mix well until it is loose, fully mixed and resembles milk. Add this mixture all at once to the simmering sauce and whisk well. Heat until the sauce thickens (few minutes).

When sauce has thickened, remove from the heat and serve.
Be sure to use rice vinegar for this recipe. You can find it in the vinegar section of the grocery or the asian foods section. If you can not find rice vinegar, the best bet would be to use white vinegar. 
Mirin is a rice wine that is best for this recipe. If you can not find Mirin (rice wine) then use some cooking sherry (found in the vinegar section usually). 
Sambal Olek is a chili paste. I do not know of any other substitutions for this. As you know, I don't usually make recipes where it is difficult to find ingredients. Because I found this ingredient at my very country grocery store in the asian foods section, I feel it is available most places. Google it before you go to the grocery so you'll know what you are looking for. It's a very plain container. 
Either the jarred minced garlic or mincing some yourself is fine for this recipe. 
Braggs Aminos will work for soy sauce OR coconut aminos work too. 
I don't use the red food coloring because I don't think a red color adds anything to this sauce but if you really feel that it needs to be red, then by all means, add some food coloring. 
It is SUPER important that you mix the cornstarch with COOL water BEFORE you add it to the sauce. If you have never thickened a sauce this way, then please follow the directions explicitly. If you add cornstarch directly to the sauce, you will NEVER get it mixed into the hot sauce. It will just clump in little white balls and it will be gross. This is a good experience though because this is how you thicken many sauces and gravies. 
Nutrition Facts
Sweet Thai Chili Sauce
Amount Per Serving (2 Tbs)
Calories 16
Calories from Fat 9
% Daily Value*
Fat 1g2%
Saturated Fat 1g5%
Polyunsaturated Fat 1g
Monounsaturated Fat 1g
Sodium 44mg2%
Potassium 33mg1%
Carbohydrates 3g1%
Fiber 1g4%
Sugar 1g1%
Protein 1g2%
Vitamin A 12IU0%
Vitamin C 2mg2%
Calcium 6mg1%
Iron 1mg6%
* Percent Daily Values are based on a 2000 calorie diet.
This being Easter week, I've been reading about the final acts of Jesus and I'm still taken aback by how Jesus, knowing what was coming, washed his disciples feet as a means of demonstrating how to serve one another.
Boy, that's a lot to think about.
John 13: 14-16
Now that I, your Lord and Teacher, have washed your feet, you also should wash one another's feet. 15 I have set you an example that you should do as I have done for you. 16 Very truly I tell you, no servant is greater than his master, nor is a messenger greater than the one who sent him.