Starbucks Blueberry Scones are loaded with blueberries and topped with sugar. These homemade scones made with fresh blueberries are perfect for breakfast or an afternoon snack.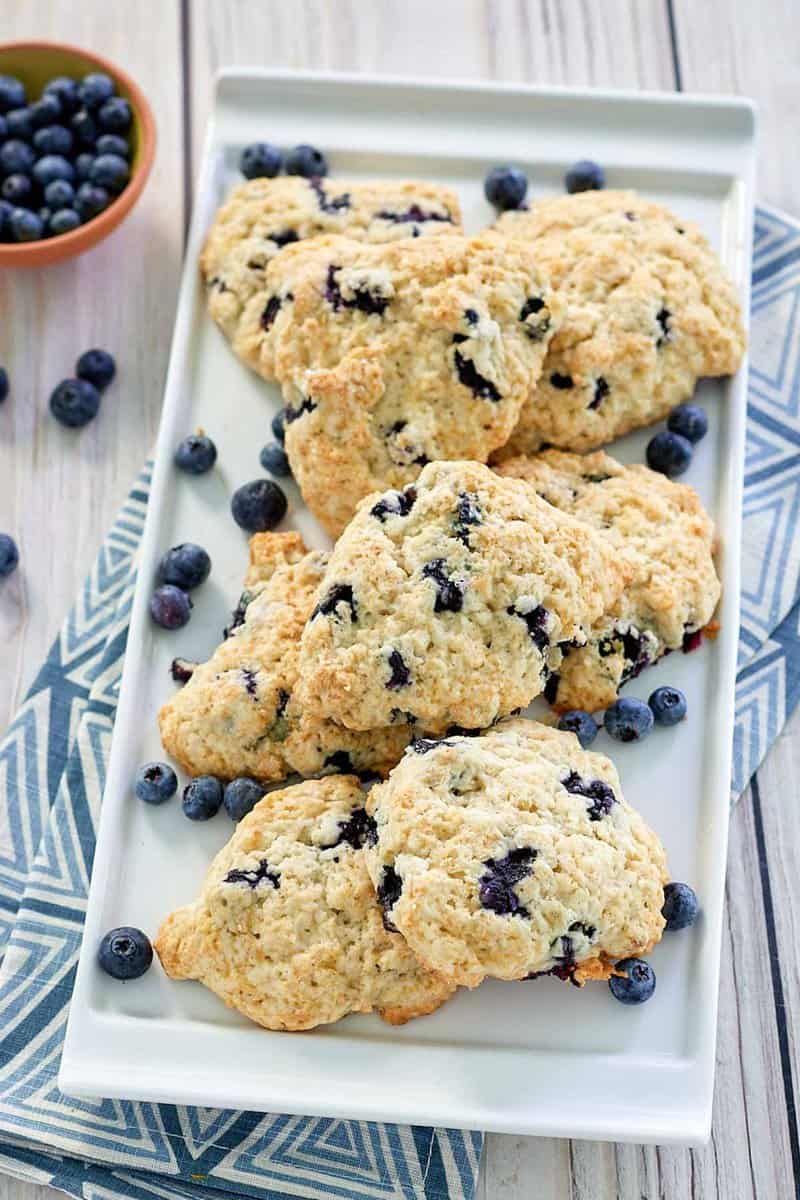 This post contains affiliate links. As an Amazon Associate, I earn from qualifying purchases.
Why This Is the Best Copycat Starbucks Blueberry Scones Recipe 
Do you love the blueberry scones at Starbucks, but you're not a fan of the high prices? Now you can make copycat Starbucks scones at home for a fraction of the cost that tastes even better because they contain only the freshest ingredients.
This recipe is streamlined, but not don't worry; it is still full of incredible natural blueberry flavor. The lack of eggs and butter may bother old-school bakers, but if you follow the tips below, you will have perfect scones with a wonderful crumb.
What Is the Secret of Making Bakery Quality Scones at Home? 
Many beginning bakers run into trouble when making scones because they either add too much liquid or mix the dough for too long. Leaving out the egg in this recipe helps with the first issue, but you must be careful when adding heavy cream.
Use just enough to bring the dough together into a crumbly consistency. Spending too long with the dough will make the scones have an overly dense texture.
Starbucks Blueberry Scone Ingredients
To make this Starbucks Blueberry Scone recipe, you'll need:
Fresh blueberries
All-purpose flour
Granulated sugar
Baking powder for leavening
Salt
Heavy whipping cream
Sanding sugar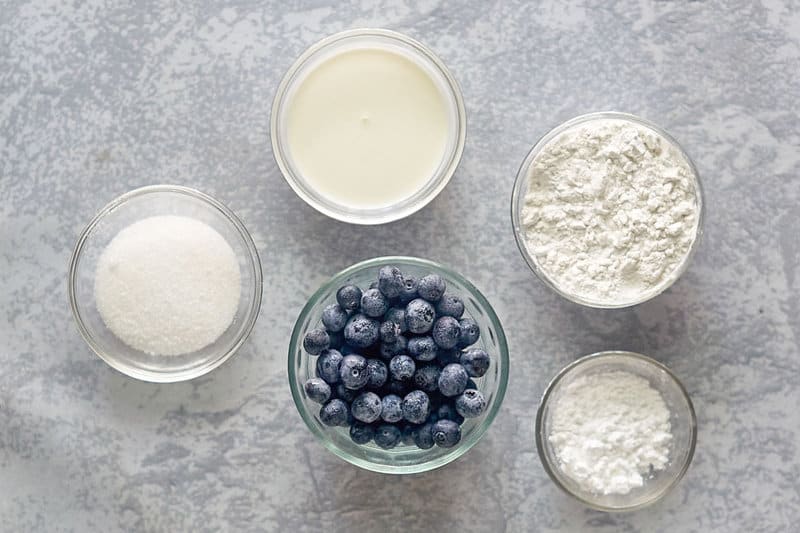 Ingredient Notes and Substitutions
Sanding sugar is a decorative sugar with extra-large grains. It comes in various colors, but transparent or white is best for this recipe. If you have trouble finding sanding sugar, go ahead and use another type of sugar for the scones.
If you want to substitute frozen blueberries for fresh ones, make sure they are thawed, drained, and dried with paper towels.
For richer flavor, stir in a teaspoon of vanilla extract into the heavy cream.
If you want to drizzle the scones with a lemon glaze, you can make it by mixing 1 cup of powdered sugar 1 teaspoon of lemon zest, and just enough lemon juice to make the glaze pourable. Start with 2 tablespoons and add 1/2 teaspoon at a time until you reach the desired consistency.
How to Make Blueberry Scones Like Starbucks
To bake the best blueberry scones:
Preheat the oven to 425°F.
Pick through fresh blueberries and remove any blemished or broken ones. Wash the good berries and dry them with a paper towel.
Toss the blueberries in a bowl with a teaspoon or two of flour. The flour coating helps keep the blueberries from sinking to the bottom of the scones.
Whisk together the flour, regular sugar, baking soda, and salt in a large bowl. 
Add about half the heavy cream to the flour mixture. Use a rubber spatula to gently fold the dry ingredients into the wet ingredients.
Pour half the remaining heavy cream into the bowl and carefully mix the scone dough with the spatula. At this point, if the dough is crumbly but holds together, you can stop. Otherwise, add a little heavy cream at a time and stir. Don't add all the heavy cream since you will need about two tablespoons to finish the scones.
Stir the blueberries into the dough, cover the top of the bowl with a tea towel, and let rest for about five minutes. Resting relaxes the dough and makes it easier to handle. 
Cut the dough in two. Form each into a loose ball. Place one ball on the work surface and press down with your fingers to make a disk about half an inch thick.
Repeat with the other ball of dough.
Use a knife or bench scrape to cut each disk into eight equal wedges.
Brush on the reserved heavy cream and sprinkle with the sanding sugar.
Lay each wedge on a cookie sheet lined with parchment paper without the edges touching.
Bake for 15 minutes, until golden brown.
Let the blueberry scones cool on a wire rack before serving.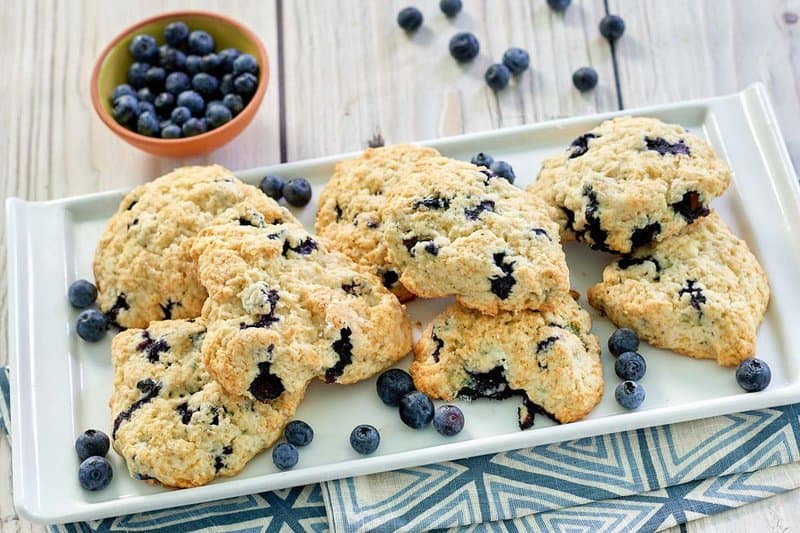 What Can You Serve With Homemade Blueberry Scones?
Serve these scones warm on their own, with good quality butter or clotted cream like they do in England! Add a nice cup of coffee or tea and fresh fruit for a light breakfast or refreshing afternoon snack. 
How Long Do Homemade Blueberry Scones Last? 
Since these scones don't contain eggs, they are not as moist as other types of scones. It is best to eat them shortly after baking.
When stored in an airtight container or wrapped in plastic wrap, homemade scones will last for 2 days on the counter at room temperature or up to 7 days in the refrigerator.
Can You Freeze Easy Blueberry Scones? 
Yes, both baked and unbaked scones freeze wonderfully, so don't be afraid to make an extra batch. However, if you know in advance that you won't be eating the scones immediately, freeze the prepared dough, and bake them when you are ready to eat. 
To freeze the prepared dough:
Complete the recipe up to the point of brushing on the heavy cream and add the sanding sugar.
Place the unbaked scone wedges onto a baking tray and stick them in the freezer to freeze. 
After an hour, transfer to a freezer bag.
Store the bag flat for up to three months. 
Thaw the dough in the fridge before completing the rest of the recipe. 
To freeze baked scones:
Let the scones cool.
Place the baked scone wedges onto a baking tray and stick them in the freezer. 
After an hour, transfer the frozen scones to a freezer bag.
Store the scones in the freezer for up to three months. 
How to Reheat Blueberry Scones 
Since these scones are so low in moisture, they reheat beautifully. To reheat scones:
Preheat the oven to 300°F.
Bring the scones to room temperature.
Split them in half to reduce reheating time. 
Place them on a baking tray and cover them with aluminum foil. 
Reheat for about 5 minutes or until warm. 
Love Starbucks Food? Try These Copycat Recipes!
Favorite Breakfast Bread Recipes
Check out more of my easy bread recipes and the best Starbucks recipes here on CopyKat!
Starbucks Blueberry Scone
Make Starbucks blueberry scones at home with this easy copycat recipe.
Print
Pin
Rate
Add to Collection Go to Collections
Servings: 16
Calories: 166kcal
Ingredients
½

cup

fresh blueberries

1⅓

cup

all-purpose flour

½

cup

granulated sugar

1½

tablespoons

baking powder

½

teaspoons

salt

1¾

cup

heavy cream

divided use

¼

cup

sanding sugar

or super-fine granulated sugar
Instructions
Preheat oven to 425°F.

Wash blueberries and shake off excess water.

Place blueberries in a small bowl with a couple of teaspoons of flour. Shake the bowl to coat the blueberries.

In a medium mixing bowl, combine flour, sugar, baking powder, and salt. Stir well.

Measure out 1¾ cup of heavy cream. Remove 2 tablespoons and place it in a small dish. The two tablespoons will be used to brush the tops of the scones just before baking.

Pour the heavy cream into the flour mixture. Use a large spatula to fold the ingredients together.

Once a loose ball of dough has formed, add the blueberries.

Cover the dough with a towel and allow it to rest for about five minutes.

Form two equal round disks of the dough.

Cut each disk into 8 wedges.

Brush the top of each wedge with the reserved cream.

Dip the wetted scone into either sanding sugar or granulated sugar.

Place each wedge, sugar-side up, on a baking sheet.

Bake for approximately 15 minutes.
Nutrition
Calories: 166kcal | Carbohydrates: 19g | Protein: 2g | Fat: 10g | Saturated Fat: 6g | Polyunsaturated Fat: 1g | Monounsaturated Fat: 2g | Cholesterol: 29mg | Sodium: 81mg | Potassium: 153mg | Fiber: 1g | Sugar: 11g | Vitamin A: 385IU | Vitamin C: 1mg | Calcium: 68mg | Iron: 1mg