You know those sizzling fajitas you see at restaurants? You can make them at home! It may seem intimidating, but these steak fajitas couldn't get any easier!
Steak Fajitas are one of our favorite dinner recipes. And this restaurant-style recipe is made in about 30 minutes! Be sure to check out our Fajita Marinade and Fajita Seasoning as well!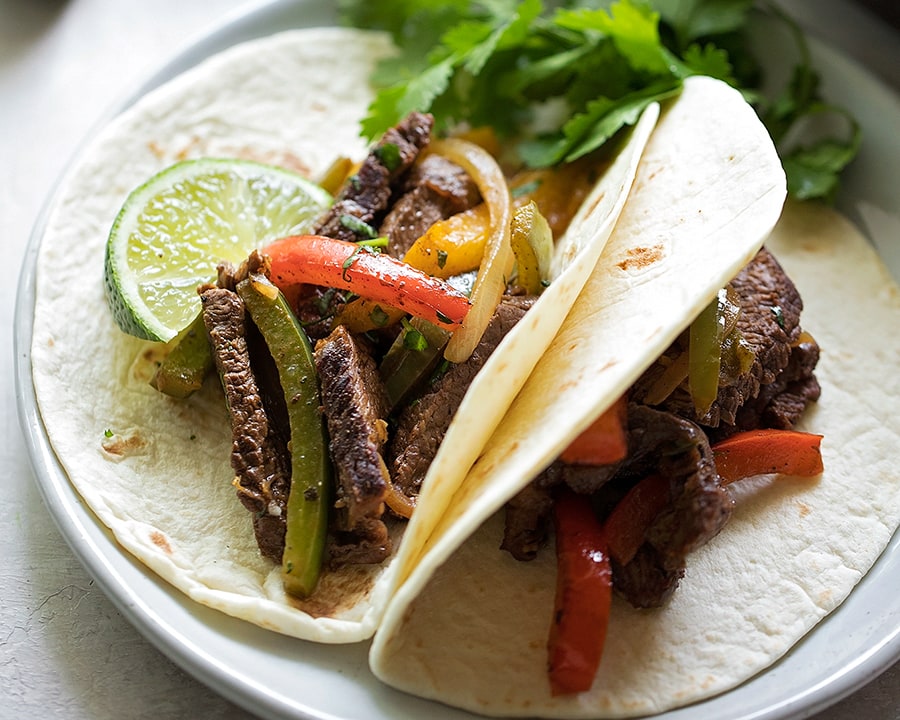 Who doesn't love fajitas?
Have you ever been to a restaurant where they bring out a fajita platter, still sizzling, with perfectly seasoned meat and steaming vegetables, all to wrap up in a warm tortilla?
I know it sounds impossible, but you can easily make those fresh steak fajitas at home, and it's SO much easier than you think.
It will take less than 35 minutes (minus marinating time). Don't be intimidated by the long list of ingredients either—most of them are common spices you already have on hand!
We haven't met a person who doesn't love these delicious fajitas!!
And while we love this steak version, we equally love our pan-fried Chicken Fajitas AND our Sheet Pan Chicken Fajitas as well!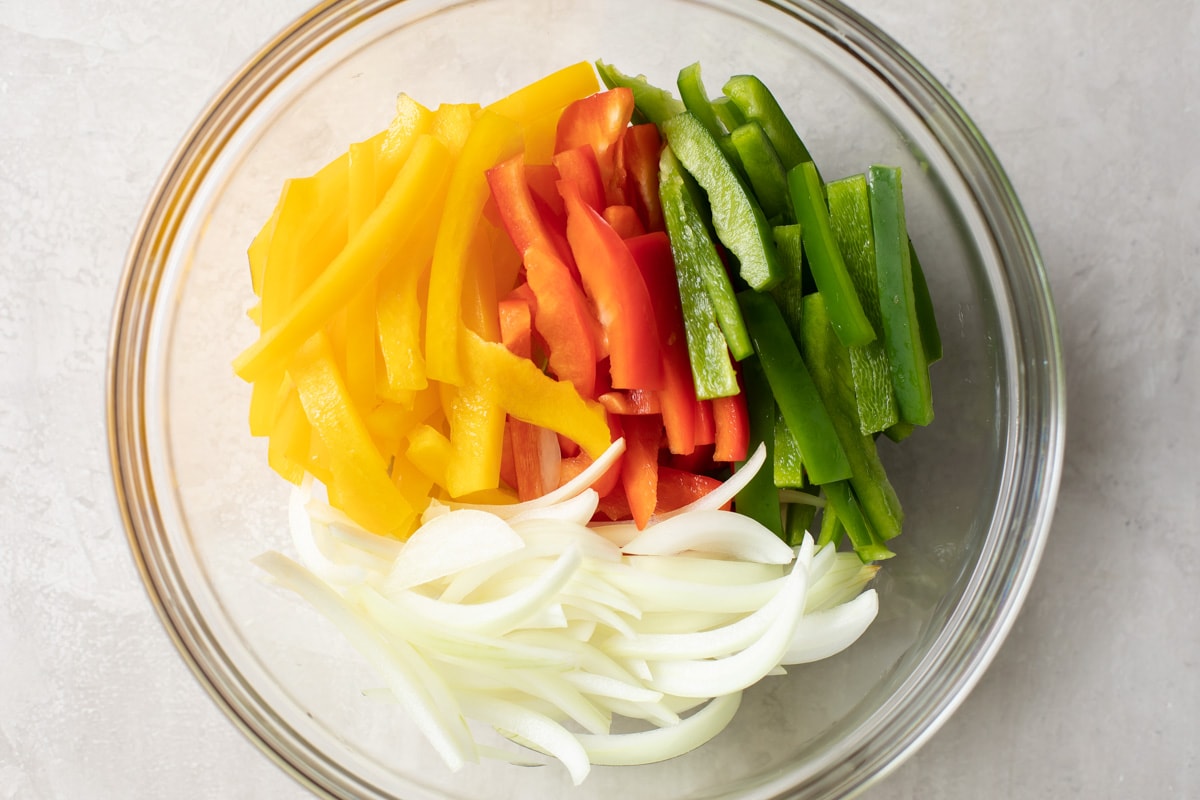 How to make Steak fajitas
CUT OF MEAT. Classic fajitas are typically made with skirt steak, however, they can be also made with flank steak (or even chicken). Both cuts of meat need to be marinated in order to tenderize the meat and add flavor.
MARINATING. The secret to getting flavorful and juicy meat is marinating the steak for at least 2 hours, or up to 9 hours. Yes, you will have to plan ahead, but it's worth it! NOTE: marinating the meat in citrus for too long can chemically cook or break down the fibers in the meat, so just be careful. Timing is key 🙂
COOKING. Once the meat has been marinated, pat it dry with paper towels and heat up a large skillet. I prefer using a dutch oven or cast iron skillet. The bigger, the better. When your skillet is nice and hot, add the oil. Make sure to use an oil with a high smoke-point. For this particular recipe I'd suggest using canola or avocado oil.
Cook the steak over medium-high heat for about 5 minutes on each side. We eat our meat medium-well, so I tend to cook in slightly longer than most. You can also use an instant-read thermometer to check for doneness (I pull it from the stove at about 158 degrees).
Garnishes
Serve your steak fajitas on flour tortillas and garnish with your favorite toppings – some of our favorites include: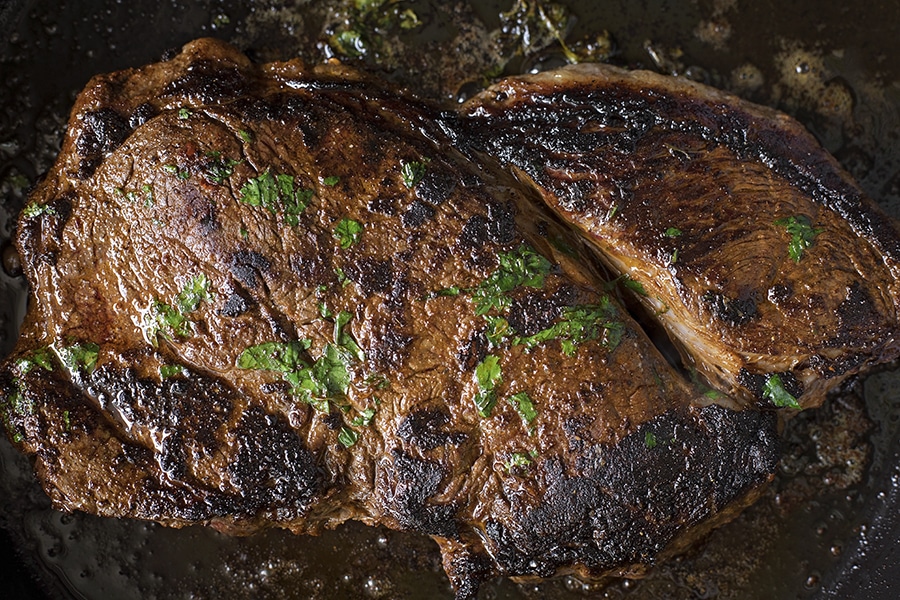 Meat Resting + Cooking Veggies
Why is letting meat rest so important? Let the meat rest on a cutting board and tent (or loosely cover) with aluminum foil.
This allows the fibers in the meat to relax and widen, which makes it possible for all of that juiciness or moisture to be reabsorbed and redistributed throughout the meat. Don't want tough, chewy steak? Then let it rest!
Cooking the veggies: While the steak is resting, add the remaining oil to the pan. Toss in the bell peppers, Anaheim or poblano chili, and onion. Toss to coat, then add a pinch or two of salt. This will help sweat the veggies.
In essence, it helps remove the moisture more quickly and tenderizes them faster.
It will take a good 6-10 minutes for the veggies to cook. Again, we tend to go a little longer here too because our kids like soft veggies (or at least they notice them less ?).
Once the veggies are tender, slice the steak against the grain. This will leave you with tender, fall-apart pieces of steak. Toss the steak with the veggies or serve separately.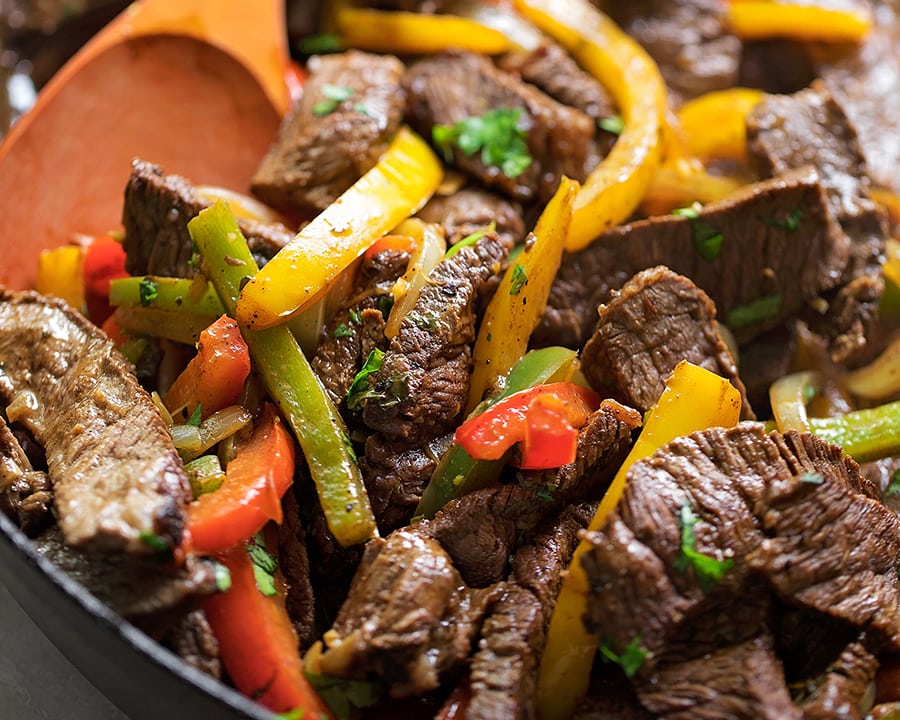 Storing LEFTOVERS
STORING + REHEATING. If you have any leftover steak fajitas, you can store them in the fridge in an airtight container up to 5 days.
Reheating leftover steak fajitas is no problem! You can toss the meat and veggies in a skillet over medium heat for 3-4 minutes until heated throughout. Leftover fajitas make awesome quesadillas, fajita bowls, or fajita burritos!
Steak fajitas may seem intimidating, but with a little bit of planning they're a breeze to make! Everyone will fall in love with these simple, yet incredibly flavorful steak fajitas!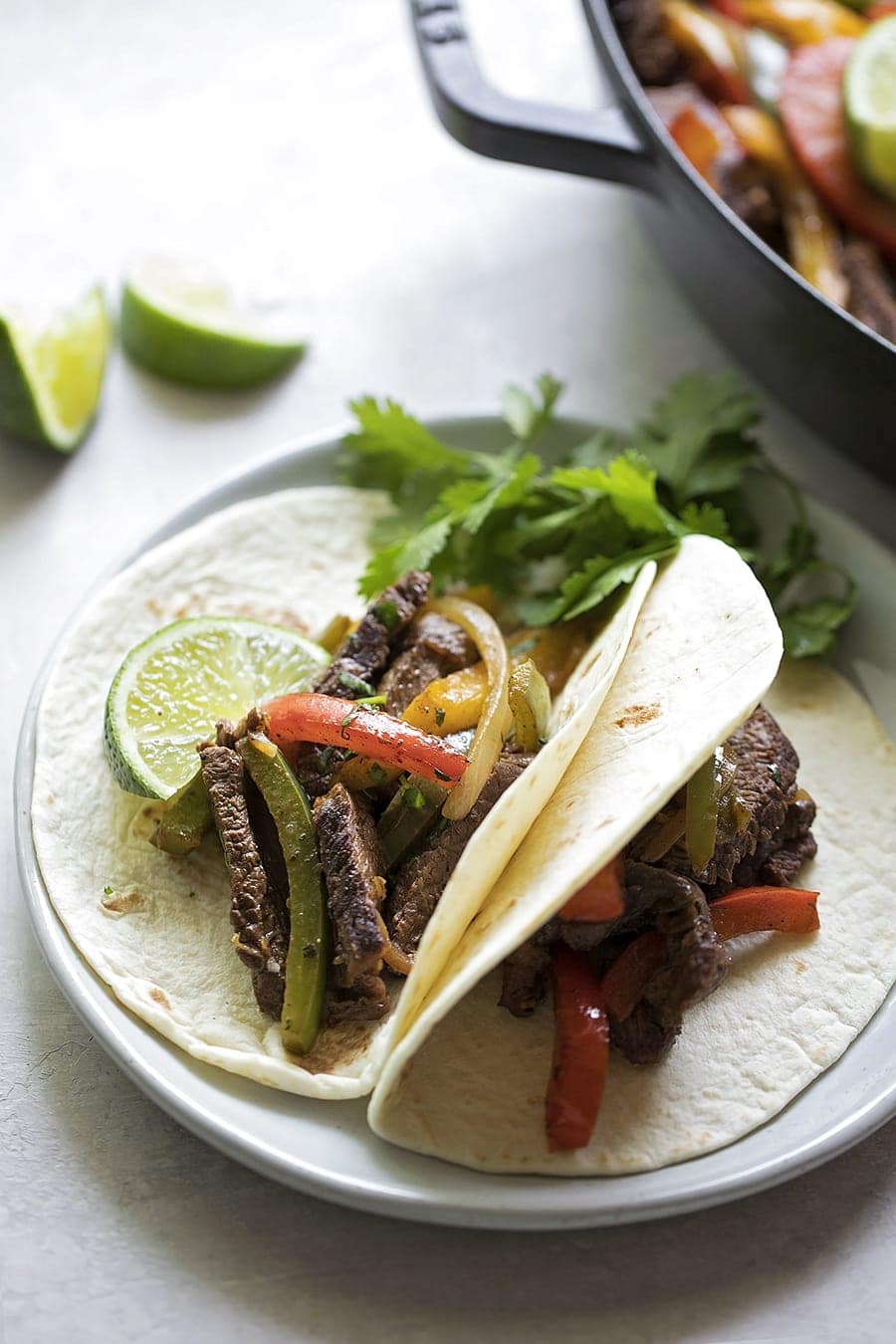 Serve your fajitas with:
For the marinade:
In a large ziploc bag (or shallow baking dish about the size of your steak), add 3 tablespoons of olive oil and the remaining liquid ingredients and seasonings/spices. Toss or whisk to combine. 

Add the steak, cover with marinade. Marinate in the fridge for at least 2 hours, up to 9 hours. 

Remove the steak and pat dry.

In a large skillet or dutch oven set over medium-high heat, add 1 tablespoon of the remaining oil. Add the steak to the skillet and cook on each side for about 5 minutes or until a nice thick crust forms on each side.

Remove the steak from the skillet and transfer it to a cutting board. Tent with foil and let rest while cooking the vegetables.
For the vegetables:
While the steak rests, add the remaining 2 tablespoons of oil to the skillet. Add the peppers, onion and salt. Cook, stirring occasionally, for about 6-10 minutes, or until the veggies are soft and tender. 

Remove the foil from the steak. Cut the steak against the grain into thin slices. Toss with veggies and serve immediately.