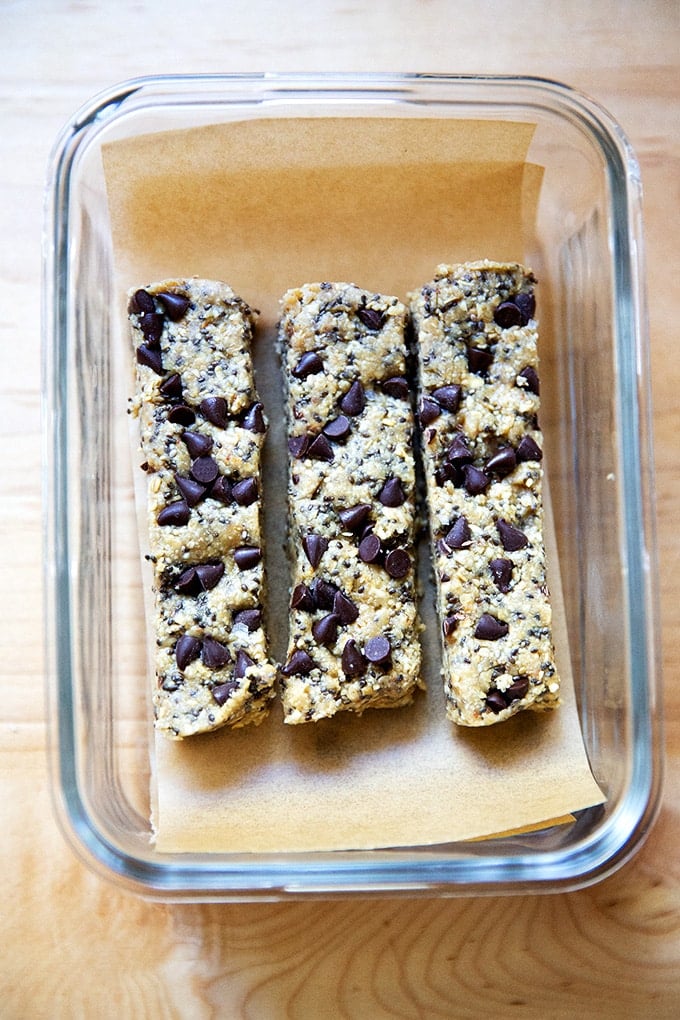 Upon flipping through Molly Yeh's new book, Home is Where the Eggs Are, I found myself immediately drawn to the cookie dough oat bars, which Molly describes as "the new staple bar of your dessert-as-breakfast dreams."
My children love granola bars — Z-Bars, Clif Bars, Chewy Quaker Oat Bars — and if I'm being honest, I do, too. When we have a box of peanut butter Clif Bars on hand, I have a hard time resisting them. And while there are worse things to snack on, I never feel great buying or eating them.
It was time to give making granola bars from scratch another go. Molly's bars looked simple enough, a no-bake recipe she noted she could make with Bernie, her daughter, strapped to her in her carrier and "toss in whatever mix-ins were within arm's reach."
Encouraged by this note, along with another about the many variations — approximately 435,785,406 — Molly has made over the years, I made them with a few substitutions: chia seeds, melted butter, and chopped dark chocolate for the hemp seeds, coconut oil, and mini chocolate chips, respectively.
They turned out beautifully, tasting, as Molly promised, like cookie dough — seed-flecked, toasted-oat cookie dough. The first batch disappeared quickly, and I have since made many variations, including the original recipe as well as one with almond flour in place of the seeds, when I found myself without any. They all work, so play around! I do think the mini chocolate chips (as opposed to larger ones or a chopped chocolate bar) work best.
Friends, Molly Yeh's new book, Home is Where the Eggs Are, is so much fun. If you follow Molly on Instagram or watch her Food Network Show, you know she exudes joy. But what this book has reminded me of is that she is such an excellent writer, too, her recipe head notes and chapter openers reflecting the witty and self-effacing, honest and curious, whimsical but approachable Molly Yeh that captivated us from the very beginning.
If you are someone who likes to read cookbooks cover to cover as you would a novel, this will be a great addition to your library. Bonus: All of the baking recipes include gram measurements 🎉🎉🎉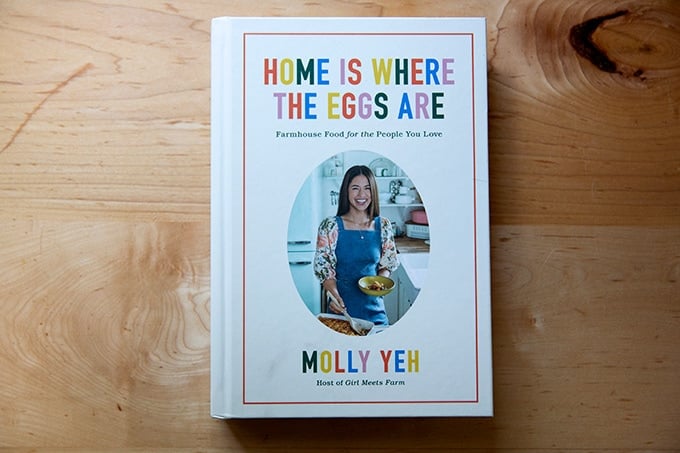 How To Make No-Bake Granola Bars, Step by Step
Gather your ingredients: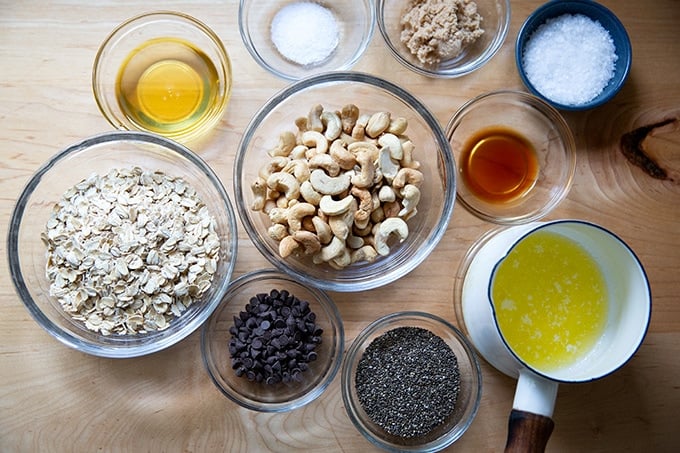 Toast the oats for 10 minutes.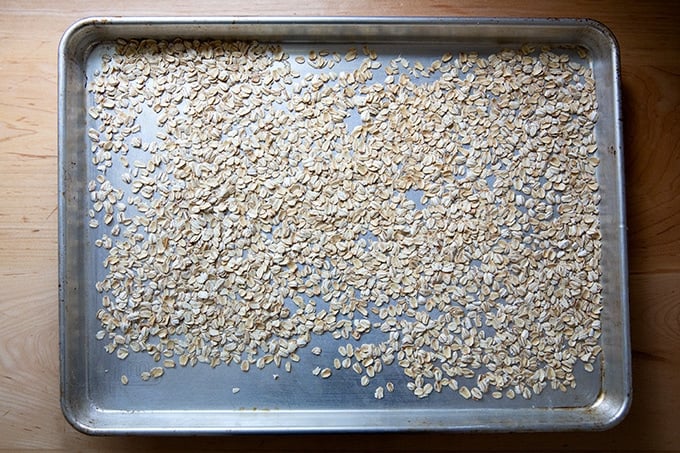 Then transfer them to a food processor with cashews, chia or hemp seeds, salt, and brown sugar.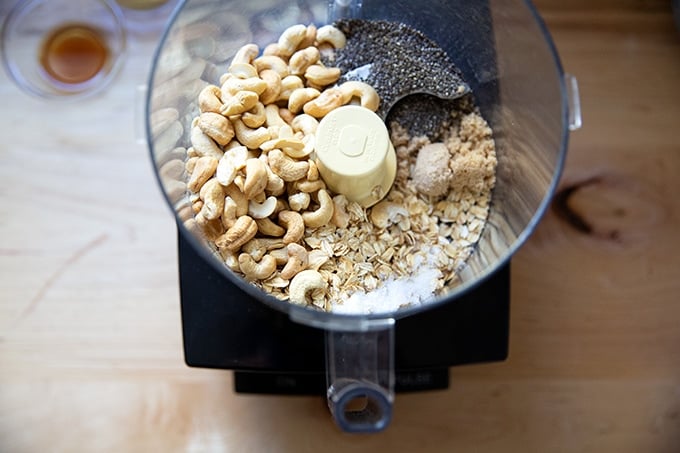 Purée until very fine.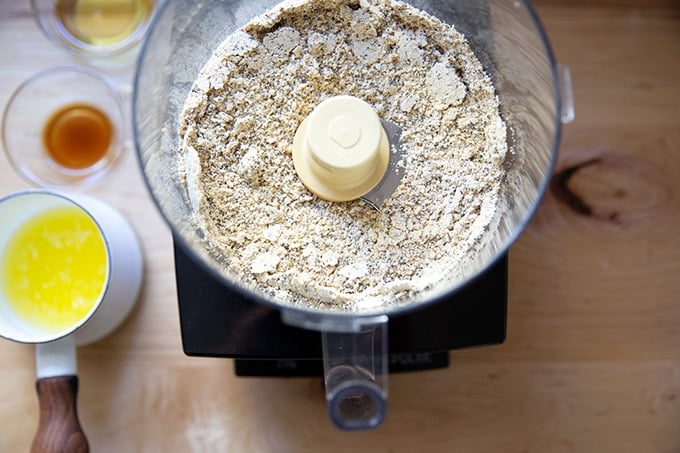 Add melted butter or coconut oil, honey or maple syrup, and vanilla.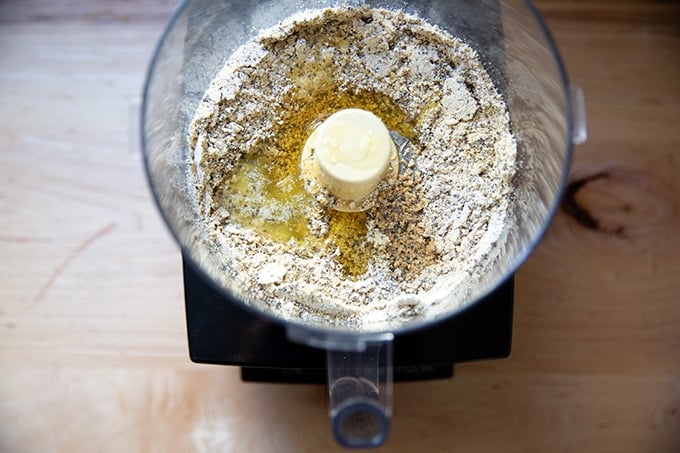 Process until the mixture begins to come together.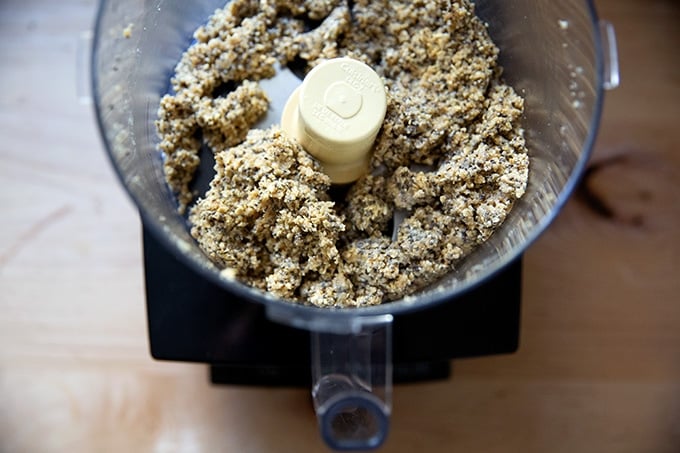 Press into a pan. Top with chocolate chips and sea salt. Press again. Then chill for 1 hour.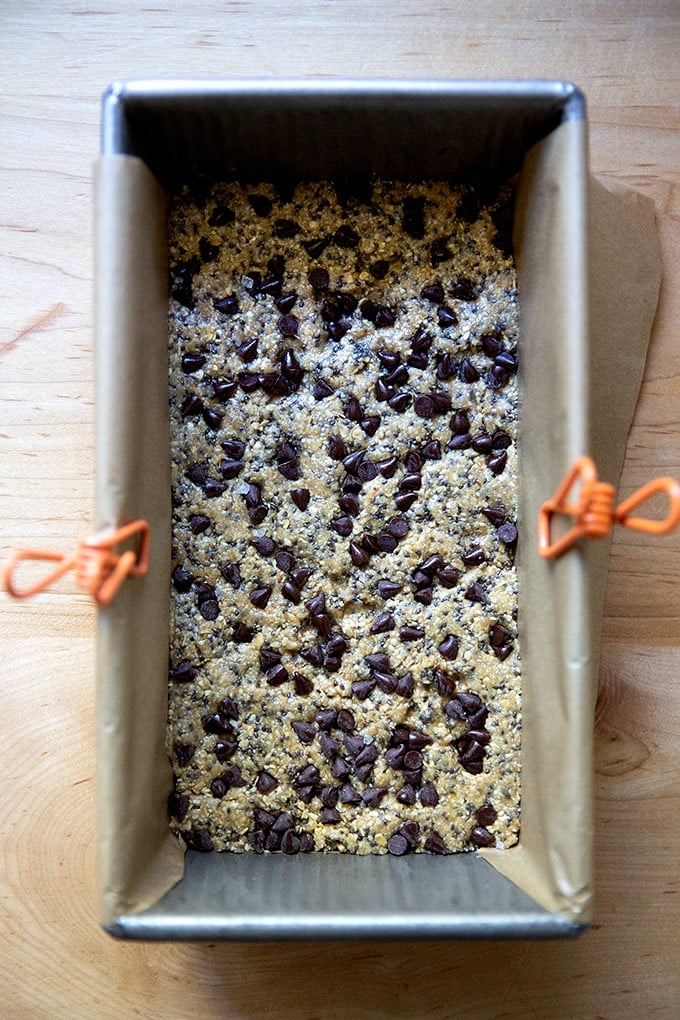 Remove from the pan.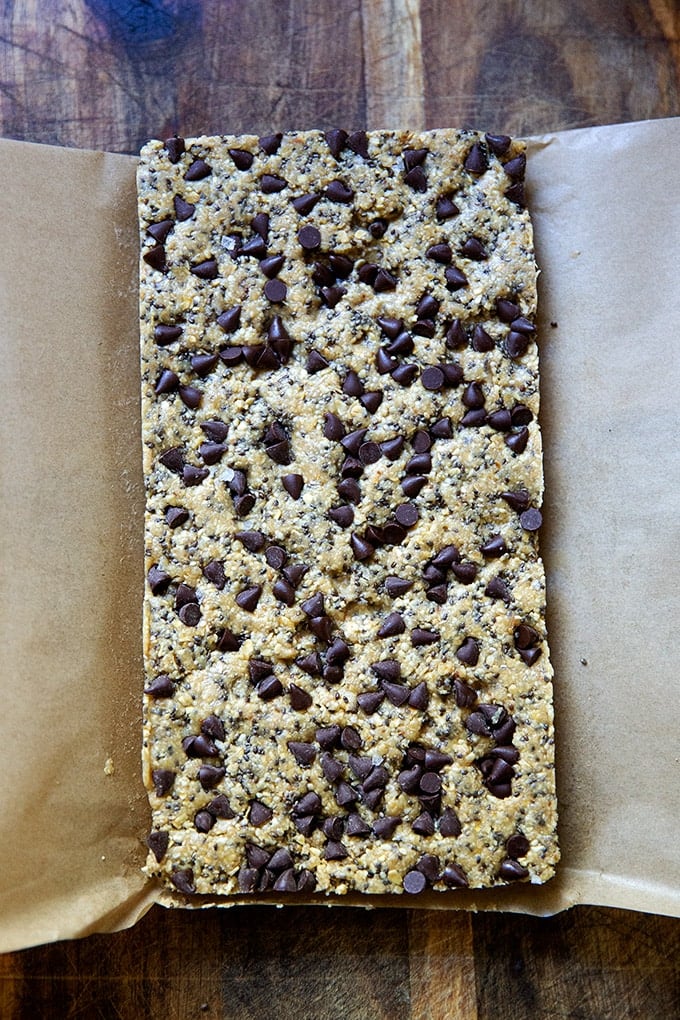 Then cut into bars and store in the fridge for up to two weeks.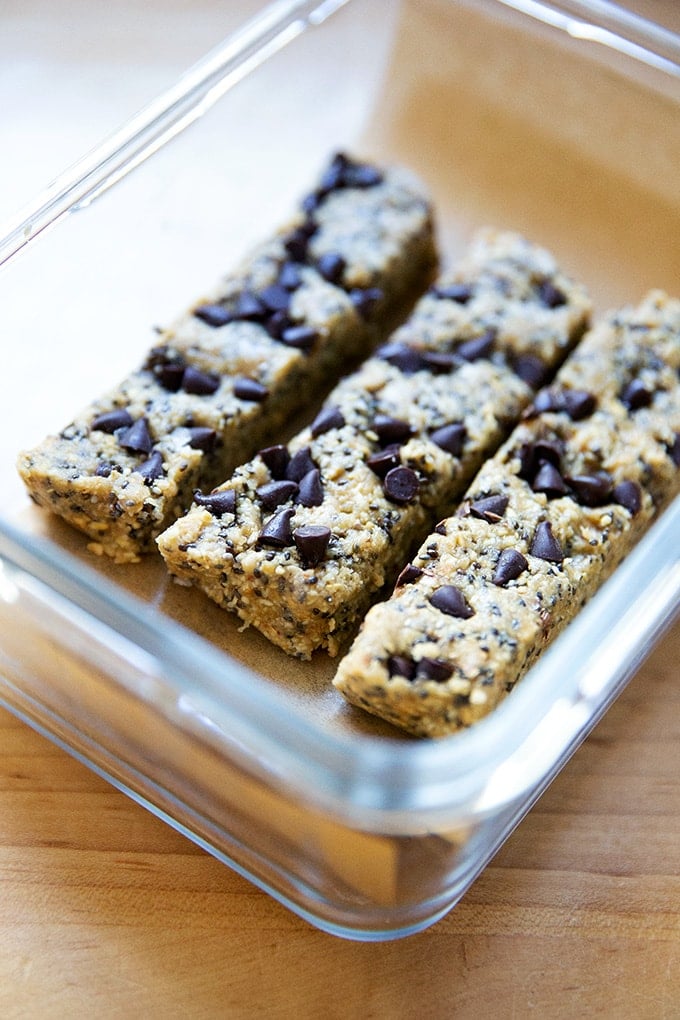 Print
Description
From Molly Yeh's new book Home is Where the Eggs Are
In the book, Molly notes she has made approximately 435,785,406 variations of these bars, so I think it's safe to say you can adapt this recipe to what you have on hand. I have tried many variations but the one I love best includes chia seeds, honey, and melted butter, which of course pushes them out of the vegan category. That said, I have made the vegan version with coconut oil and maple syrup, and they are delicious.
---
1 cup

(

90 grams

) rolled or quick-cooking oats

1 cup

(

144 grams

) whole raw cashews

1/4 cup

(

32 grams

) chia or hemp seeds

1 tablespoon

(

13 grams

) packed light brown sugar, plus more to taste

1/2 teaspoon

kosher salt

3 tablespoons

(

38 grams

) coconut oil or melted butter

2 tablespoons

(

42 grams

) honey or maple syrup, plus more if needed

1 1/2 teaspoons

vanilla extract

2 tablespoons

(

30 grams

) semisweet mini chocolate chips
Flaky sea salt
---
Heat the oven to 350ºF. Line a loaf pan with enough parchment to come all the way up on the long sides and allow 1-inch wings. Set aside.
Spread the oats on a rimmed sheet pan and toast until fragrant and slightly darker, about 10 minutes. Add to a food processor along with the cashews, seeds, brown sugar, and salt and blend until very fine, like the consistency of fine breadcrumbs. Add the coconut oil or butter, honey or maple syrup, and vanilla and blend until the mixture is combined and starts to form a dough. It'll still look crumbly in the food processor, but if you squeeze some in your hand, it should stick together. (If it feels a little too dry, you can add a touch more coconut oil/butter or honey/maple syrup.) Taste it and if you'd like it to be sweeter, blend in up to 1 tablespoon (13 grams) more brown sugar. 
Press the mixture into the prepared loaf pan, spreading it out firmly and evenly. I find if I lay one of my plastic bench scrapers atop the dough and press down on it, I can get a nice even layer. Press the chocolate chips firmly into the top and sprinkle with a pinch of flaky sea salt. Transfer to the fridge for at least 30 minutes, then remove and slice into 8 small bars. Return to the fridge. They are hard to resist upon cutting, but I like them even better when they've firmed up longer in the fridge. Store in an airtight container in the fridge for up to a couple of weeks. 
Prep Time:

20 minutes

Category:

Snack

Method:

No-Bake

Cuisine:

American
Keywords: oats, cashews, chia, hemp, no-bake