Skip the slice and serve up individual desserts with a quick and easy recipe for Mini Cherry Pies with Streusel, which can be made with fresh or frozen fruit.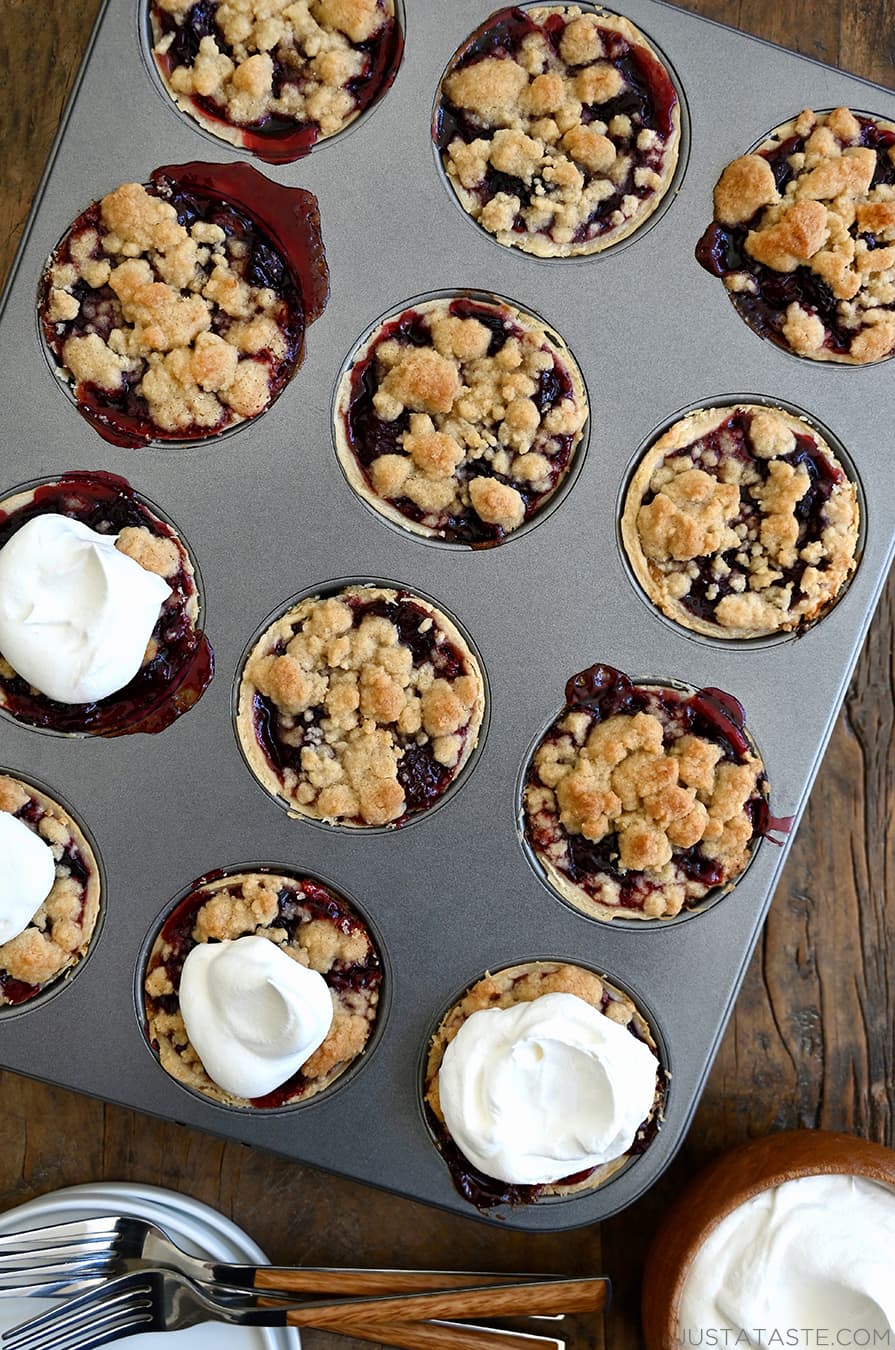 The trusty 12-cup muffin pan has yielded many top-rated eats around here that go way beyond muffins, from breakfast home runs like Granola Cups and Egg Bites to cheesy snacks like Pizza Pockets and Lasagna Cups. Mini pies have been my latest endeavor, whipping up a pecan version for winter and an apple version for fall. Summer, it's your turn to take the spotlight with Mini Cherry Pies with Streusel!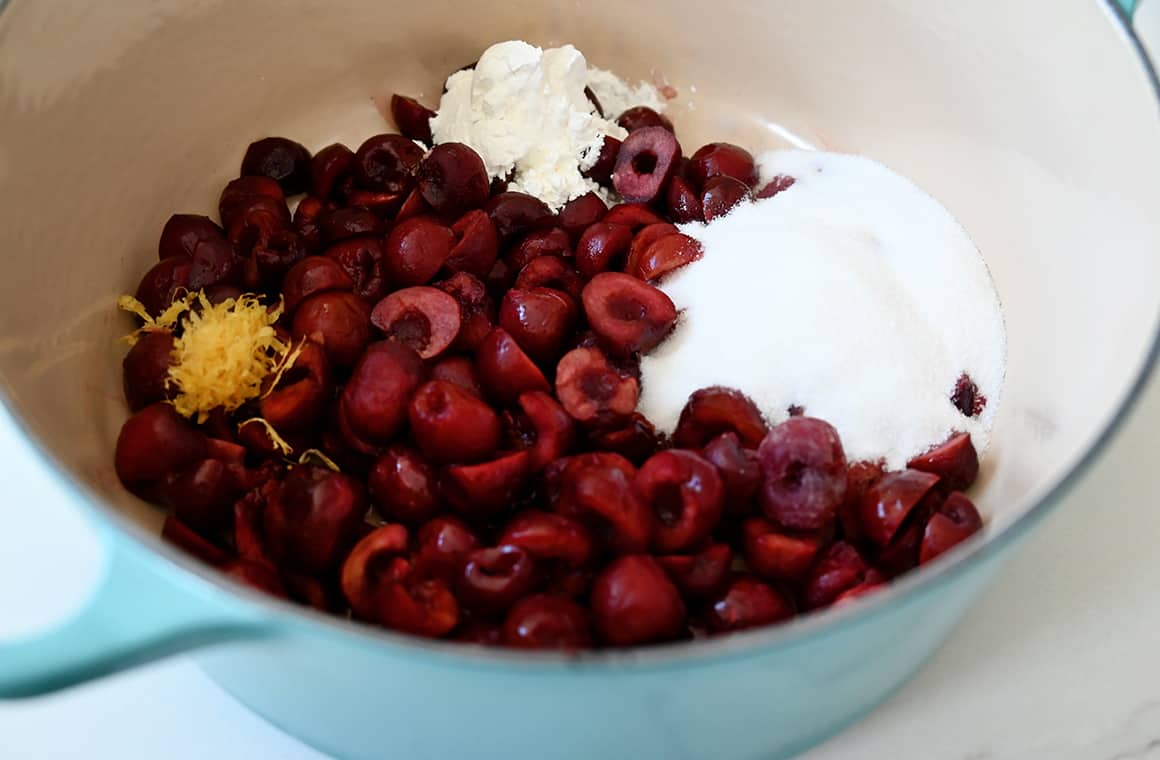 Can Frozen Cherries Be Used Instead of Fresh?
Absolutely! I tested this recipe with both fresh and frozen cherries, and both resulted in perfect mini pies bursting with cherry flavor. With more than 1,00 varieties of cherries grown in the U.S. alone, you also have your pick of specific flavor profiles, from slightly tart to super sweet.
Bottom line? Grab what looks good from the freezer aisle, the produce section or your farmer's market!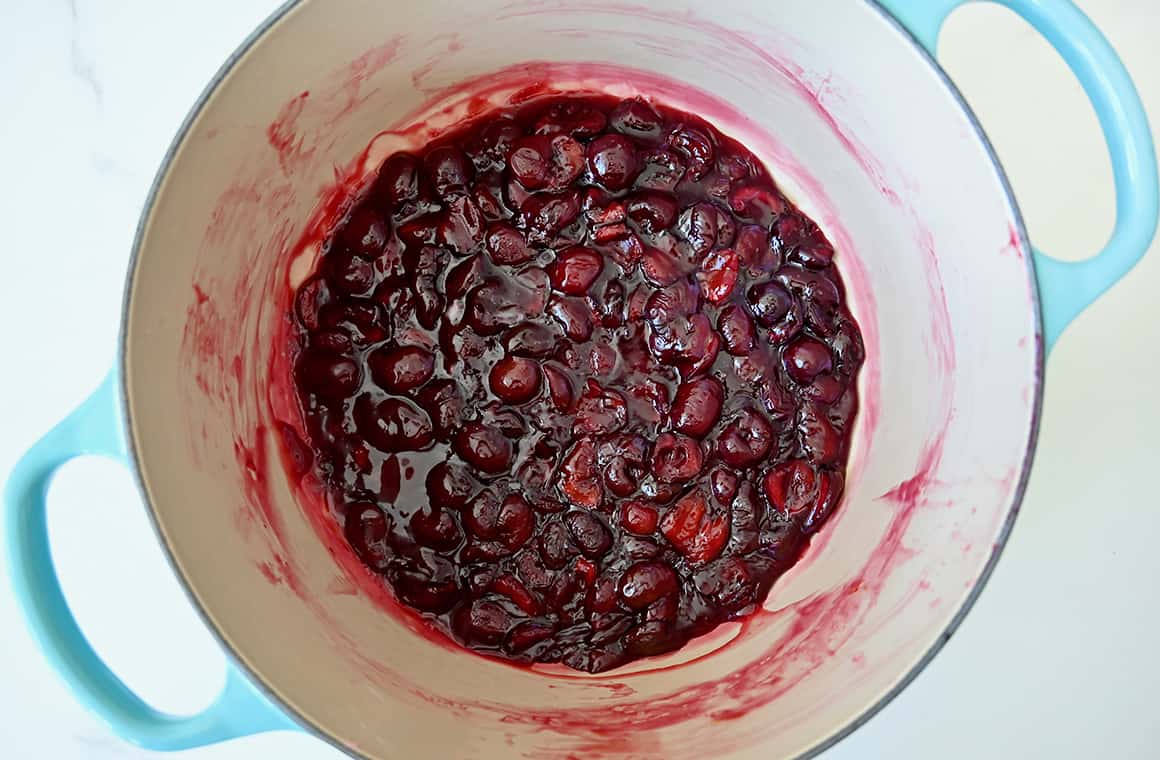 Cooking the cherries with sugar, lemon zest and juice, vanilla extract and cornstarch leads to a thick, jammy cherry pie filling perfect for piling into mini pie crusts. And speaking of crust…
It's the store-bought variety to the time-saving rescue in this recipe. Got a few extra minutes to spare? Check out my recipe for the best homemade sour cream pie dough.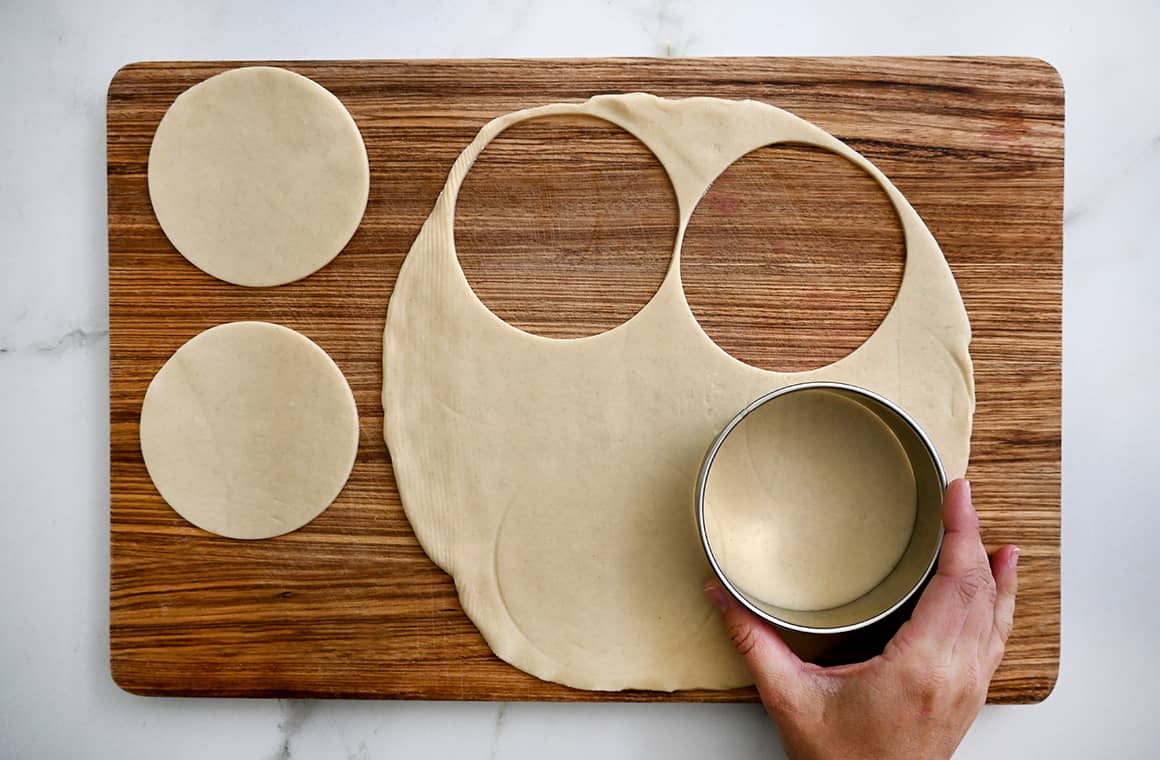 How Do You Get Mini Pies Out of a Muffin Tin?
There are two important tips for releasing the mini cherry pies from the muffin pan with ease:
Let the pies cool completely before attempting to remove them (this allows the crust to naturally pull away from the sides of the pan and for the jammy filling to thicken and set)
Run a knife around the edges of the mini pies to release any stuck areas and encourage the pies to pop out with ease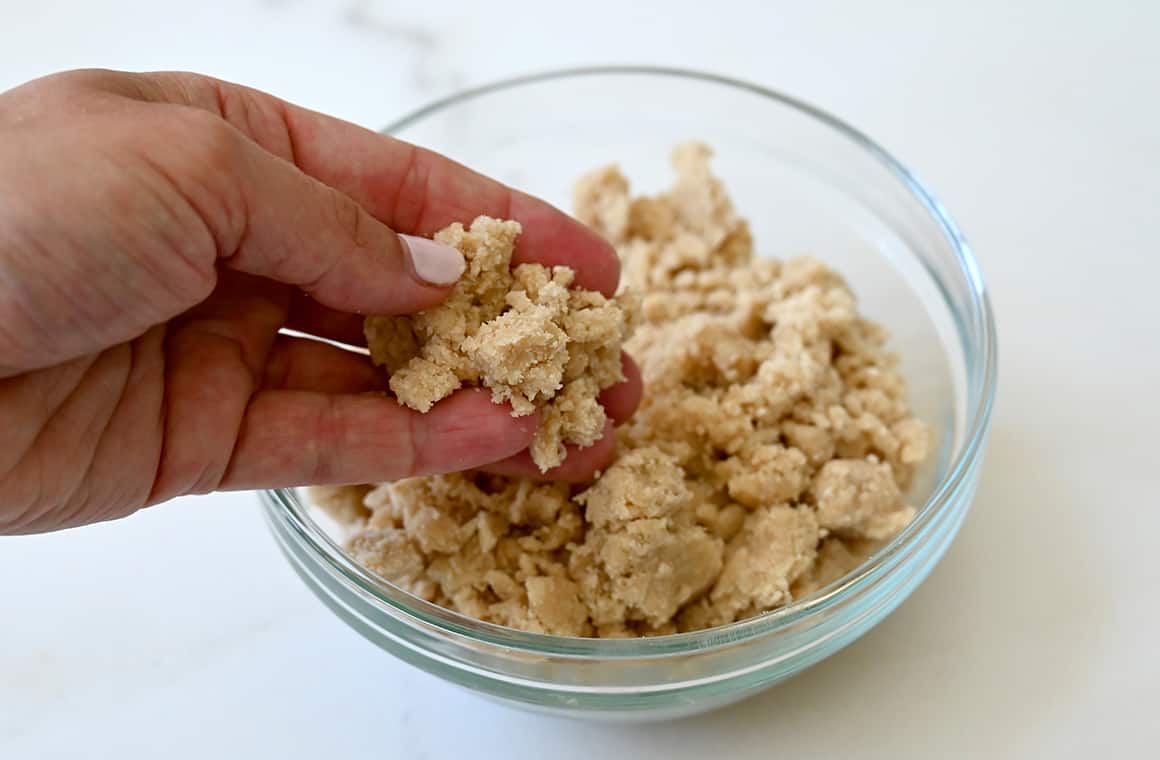 How Do You Store a Pie After Baking?
Fruit pies can be stored at room temperature for up to 2 days when covered loosely with foil or plastic wrap. You can also place them in an airtight container and refrigerate them for up to 2 days.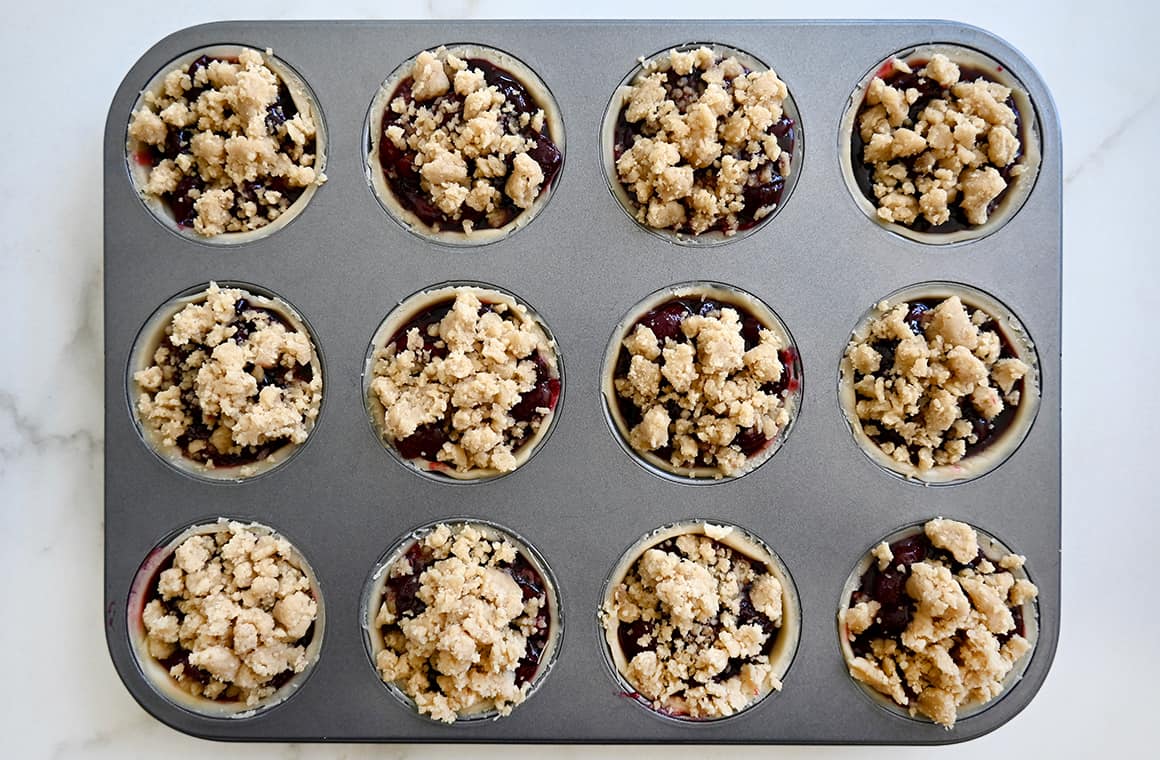 Read on for the recipe and get ready for the ultimate jammy cherry pie filling, buttery pie crust and brown sugar streusel topping to create a winning dessert trifecta!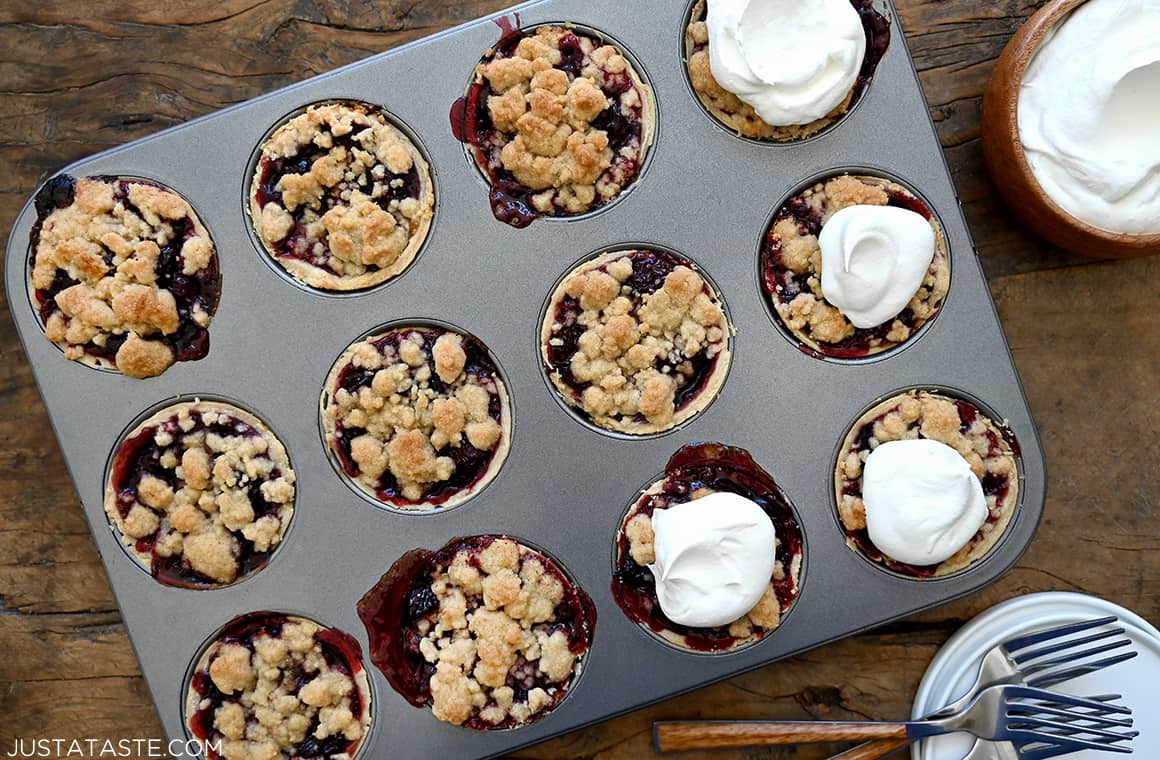 Craving more? Subscribe to Just a Taste to get new recipes, meal plans and a newsletter delivered straight to your inbox! And stay in touch on Facebook, Twitter, Pinterest and Instagram for all of the latest updates.
Make the pies: 
Preheat the oven to 425°F.

Combine the cherries, sugar, cornstarch, lemon zest, lemon juice and vanilla extract in a saucepan set over medium-low heat. Cook, stirring, until the cherries have softened and the mixture is syrupy, 8 to 10 minutes. Remove the cherry pie filling from the heat and set it aside.

Lightly flour your work surface then unroll three of the pie crusts. (You will have one extra pie crust, which can be refrigerated and saved.) Using a 4-inch cookie cutter (or tracing around a 4-inch glass), cut out 4 circles from each round. Transfer each of the rounds to a muffin tin cup, pressing it down in the center and up along the edges to fill each cup.

Divide the cherry filling among the cups.
Make the streusel:
In the bowl of a food processor, blend together the flour and brown sugar for 5 seconds. Add the butter and pulse just until the mixture resembles pea-sized pieces and sticks together when pinched. 

Sprinkle the streusel atop the pies.

Bake the pies until they are golden brown and the filling is bubbling, 16 to 18 minutes.

Remove the pies from the oven and let them cool completely in the muffin tin. Once cooled, run a sharp knife around the edges of the pies to release them then serve.

★ Did you make this recipe? Don't forget to give it a star rating below!