Lemon Rice with herbs is a wonderful side dish that pairs beautifully with so many mains! This side dish is incredibly easy to make — we throw everything (including the uncooked rice!) into a baking dish and let the oven do the work. And never a mushy grain of rice!
Love lemon and rice together? Try our favorite Chicken Lemon Rice Soup!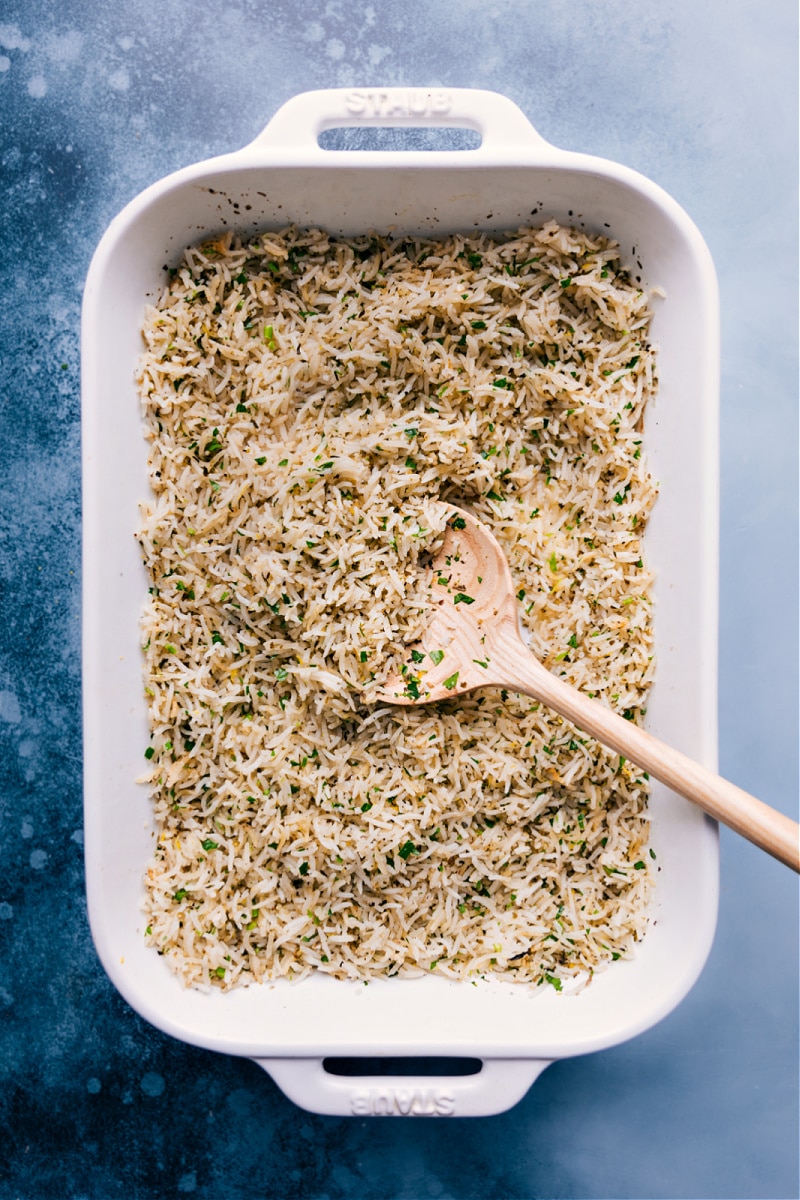 A Really Easy Lemon Rice Recipe
Baking rice (yes, in the oven) is one of my favorite ways to prepare it. And while I totally get the skepticism, it really works! Uncooked rice, chicken stock, and some herbs all get thrown together into a dish and baked to fluffy rice perfection. Baked lemon rice — it's a game changer!
But you don't need to just take my word for it! Check out some of these kind reviews from readers:
One reader wrote in on this tasty baked Curry Rice, "It worked! I was skeptical but this rice is fluffy and so flavourful!! We served it with curried shrimp. It'll be on rotation for sure." Another reader reported, "Our family absolutely loved this dish and so did our daughter's fiancé when he dropped by to see our daughter. A perfect combination."
And on this baked Coconut Chicken and Rice, "This was such a great meal! Not only was it easy but it tastes great, especially with the sauce! Thanks!" And just one more review on this Herb Rice, "This rice turned out awesome! First time I have ever had basmati…Everyone loved it! Thank you!"

How To Make Lemon Rice
The full written recipe is included on the recipe card below, but here is a quick overview of the process:
Generously grease a 9×13-inch baking dish. We recommend ceramic or glass — metal pans sometimes react with the herbs and give the entire dish a metallic flavor. (This is our favorite baking dish ever!)
Dump everything in. That's right — add everything to the greased dish: the rice, dried herbs, butter, and chicken stock.
Cover and bake! The bake time is long on this dish, but it's all pretty much a hands-off process. Don't try to rush it; you may end up with unevenly cooked or mushy rice.
Rest. Once the rice is baked, it needs a rest period. Just like cooking rice in a pot on the stovetop, it needs time to stand and steam, which keeps it from getting mushy. This recipe is no different; allow time for the herb rice pilaf to rest and become fully tender.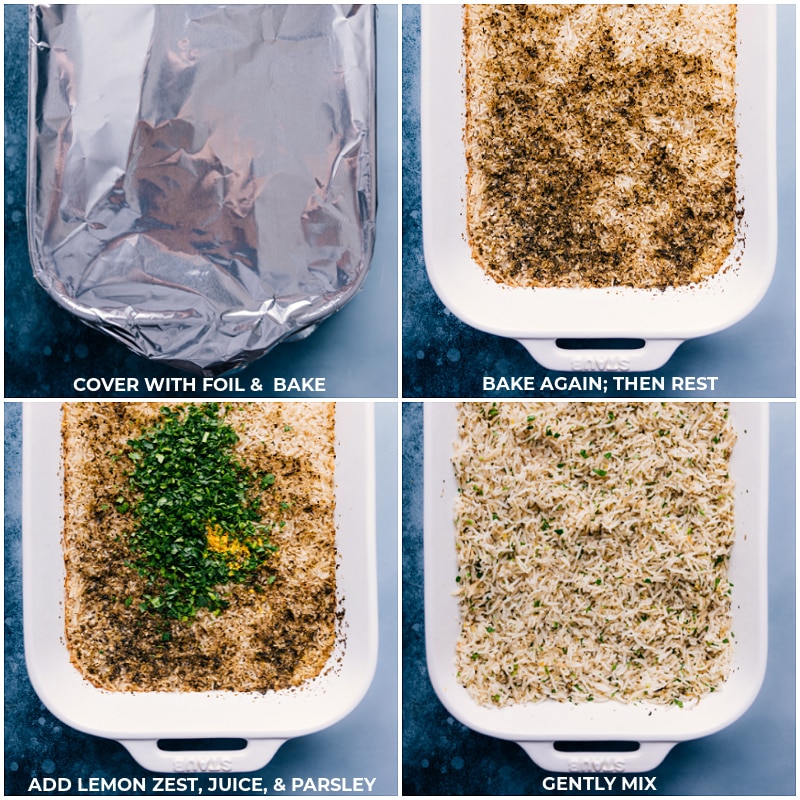 Recipe Tips
Be sure to use basmati rice. This is non-negotiable in this recipe; we haven't found another variety of rice that works properly with this baking method.
When zesting the citrus, avoid the white pith of the lemon — this is very bitter and will give the rice an off flavor.
Use flat-leaf Italian parsley, as opposed to curly for this lemon rice recipe. Flat-leaf parsley has a more robust flavor and curly parsley is used more commonly as a garnish.
If you chose to make the tzatziki sauce for this lemon rice, be sure to use English cucumber or Persian cucumbers. Regular cucumbers are too watery and lack flavor. Thinly slice leftover cucumbers to serve atop the rice — they add such a nice cooling crunch!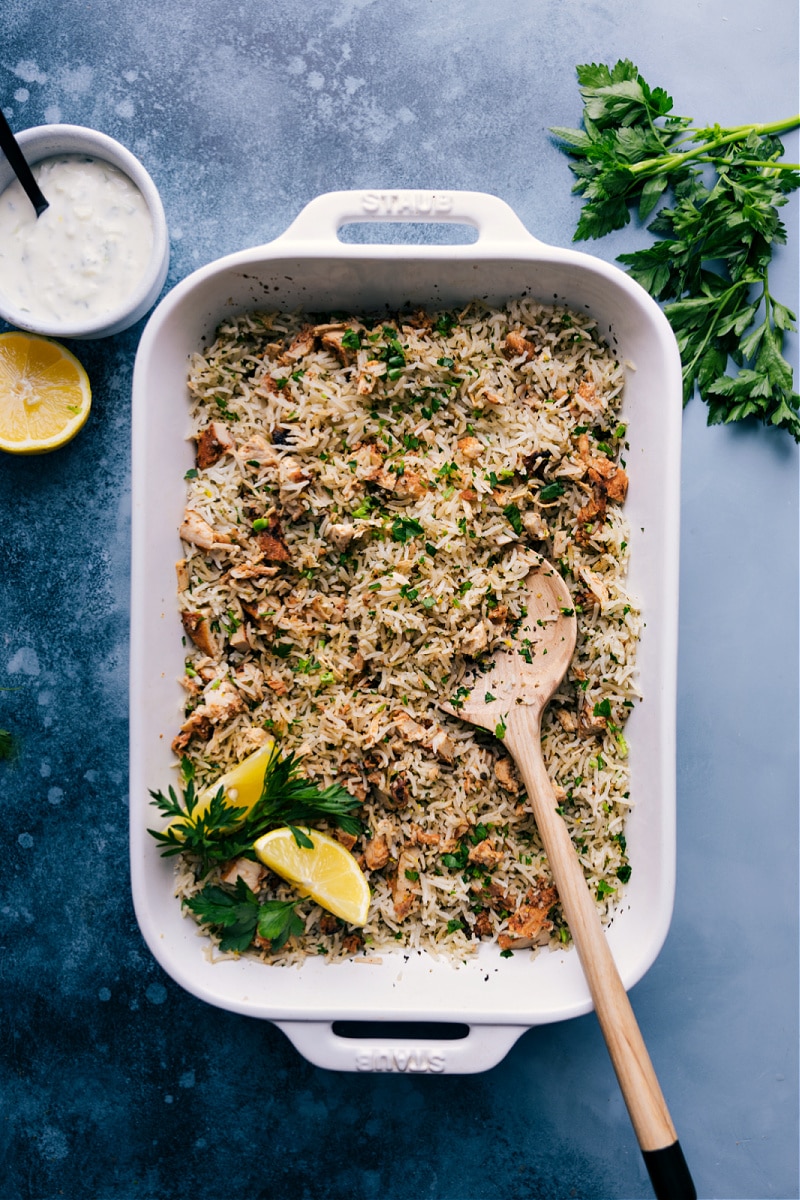 Lemon Rice FAQs
1Is Lemon Rice good for you?
Not only is this a great nutritious dish, but it's also loaded with flavor! Lemons, along with many citrus fruits, are packed with vitamin C, which is linked to preventing colds and flu.
2What ingredients are needed to make Lemon Rice?
Basmati rice. Basmati is non-negotiable in this recipe! We tested with all different kinds of rice and none worked out very well except for basmati rice. If you don't have this particular variety of rice I wouldn't recommend making this recipe– you won't like the results. Truth!
Chicken stock. A high-quality, flavorful stock adds loads of flavor and allows us to cut down on spices or other additions. We highly recommend Swanson's® chicken stock in this recipe. Broth will also work but is slightly less flavorful.
Dried herbs and spices. The blend of spices and herbs adds loads of flavor to this rice. Additionally, adding fresh herbs at the end lends a wonderful finishing flavor.
Butter. We recommend unsalted butter so you can perfectly season the rice to your personal preference.
Lemon juice and zest. Bottled lemon juice won't quite cut it here, because the sauce relies on the zest of the lemon. Using a microplane (like this one), zest only the very outside yellow part of the lemon.
3Can I add lemon juice to my rice water?
I recommend adding the lemon juice to the rice after baking to get maximum flavor!
4Does Lemon Rice have protein?
Rice is mainly made up of carbohydrates, but this rice lends very nicely to the addition of protein. We especially love a hot seasoned lemon-pepper rotisserie chicken or grilled chicken with this rice.
5What can I add to rice to make it more flavorful?
A full-bodied chicken stock, spices, and dried herbs add loads of flavor for minimal effort. The lemon zest and juice also add so much flavor, freshness, and vibrancy.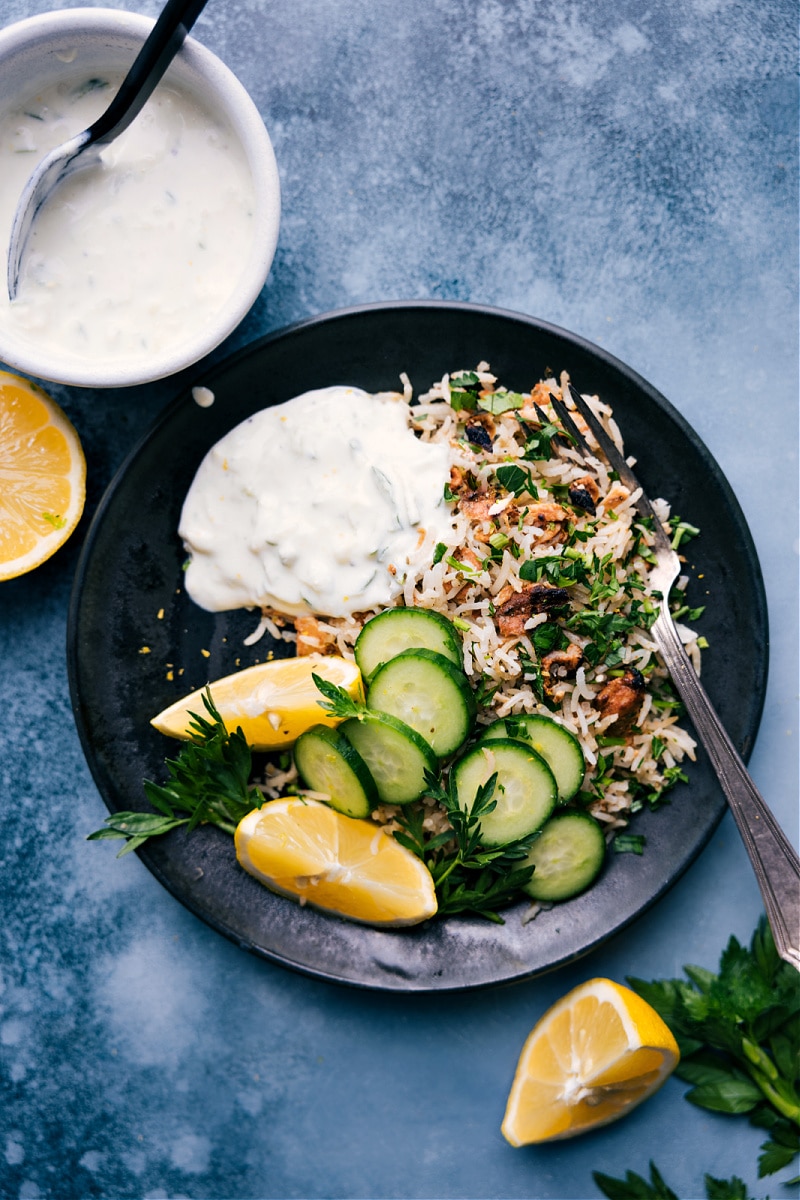 What To Serve With Lemon Rice
(And How To Make This Side Dish Into A Main Course Meal)
Serve with protein: Our favorite thing to serve with this rice is a hot seasoned rotisserie chicken or grilled chicken right off the grill — so good! If you have leftover chicken that isn't hot, add it on top of the rice right out of the oven, cover the entire pan with foil, and this will give the chicken the opportunity to heat through while the rice is resting. Other tasty options: This is great lemon rice for fish — tilapia, cod, salmon, etc–. are all delicious with the rice. Alternatively, shrimp or a thinly sliced grilled flank steak also pair nicely.
And add a sauce: We are obsessed with tzatziki sauce on top for the perfect creamy Lemon Rice. Any good creamy sauce with complementary flavors will be great with this rice. 
Scoop with some warmed pita. We love warmed pita bread served with this rice. No need to use a fork — use the bread to scoop up the rice, chicken, and sauce into one delectable bite!
QUICK TIP
Our favorite way to enjoy this Lemon Rice: I don't think you can do better than to serve it with hot grilled chicken or lemon-pepper seasoned rotisserie chicken, crisp thinly sliced cucumbers, warmed pita, and loads of this Tzatziki Sauce! (While not an authentic Greek lemon rice, it has similar flavors!)
More Savory Lemon Dishes: 
Lemon Rice
Lemon Rice with herbs is a wonderful side dish that pairs beautifully with so many mains! This side dish is incredibly easy to make — we throw everything (including uncooked rice) into a baking dish and let the oven do the work. And never a mushy grain of rice!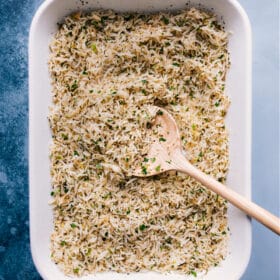 Lemon Rice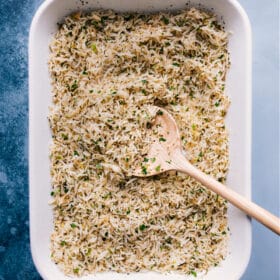 Lemon Rice with herbs is a wonderful side dish that pairs beautifully with so many mains! This side dish is incredibly easy to make — we throw everything (including uncooked rice) into a baking dish and let the oven do the work. And never a mushy grain of rice!
Ingredients
1-1/2

cups (315g)

uncooked basmati rice

(Note 1)

2

teaspoons

minced garlic

1

teaspoon each:

garlic powder, onion powder

1/2

teaspoon each:

dried thyme, dried oregano

1

tablespoon

Italian seasoning

Fine sea salt & pepper

2-1/2

cups

chicken stock or broth

(Note 2)

4

tablespoons

unsalted butter
Add Later
1-2

large

lemons

(1 tsp. zest & 3-4 tbsp. juice)

3

tablespoons

fresh finely chopped flat-leaf parsley

Make it a meal — serve with rotisserie or leftover grilled chicken and tzatziki sauce — See Note 3.
Instructions
PREP: Preheat the oven to 400 degrees F. Very generously spray a glass or ceramic (not metal) 9×13-inch pan. Cut butter into 6 equal pieces and set aside.

BAKE: Add the uncooked basmati rice right into the prepared pan along with the minced garlic, all the seasonings, salt & pepper to taste (I add 1 tsp fine sea salt and 1/2 tsp pepper — See Note 4), and chicken stock. Stir with a wooden spoon until ingredients are incorporated and spread in one even layer. Then, evenly top with cut pieces of butter. Cover tightly with foil. Bake for 40 minutes. Then, remove the foil (save foil — just set aside for now) and bake for 15 more minutes.

REST: Remove from the oven. Don't stir the rice. Top with the foil again and let stand at room temperature for 10 minutes. This is very important to avoid mushy rice! Meanwhile, zest and juice the lemon and finely chop the parsley.

ENJOY: After 10 minutes, gently mix everything together and lightly fluff rice with a fork. Add lemon zest, lemon juice, and parsley. Mix in gently. Taste and add additional salt/pepper if needed. Gently stir and then serve! Check out Note 3 for our favorite way to serve this rice.
Recipe Notes
Note 1: Rice: We tested this recipe with all different kinds of rice and the only one we found success with is basmati rice. Other grains of rice gave very inconsistent results — ranging from very mushy to unevenly cooked (some hard grains/some mushy).
Note 2: Chicken stock: The stock is very important to flavor — use a full-bodied (not low sodium) stock. We love Swanson® stock best.
Note 3: Serving suggestions: Our favorite way to enjoy this lemon rice is with hot grilled chicken or lemon-pepper seasoned rotisserie chicken, crisp thinly sliced cucumbers, loads of this

Tzatziki Sauce

, and warmed pita bread to scoop everything up and eat! Here's how to make the tzatziki sauce: Add the following ingredients to a medium-sized bowl: 1 cup plain, full-fat Greek yogurt (we love 

Greek Gods®

), 1 cup grated unpeeled English or Persian cucumber (squeeze out some of the liquid with a paper towel), 2 teaspoons minced garlic, 2 tablespoons lemon juice and 1 teaspoon lemon zest, 3 tablespoons olive oil, 1 tablespoon red wine vinegar, and salt/pepper to taste. Stir until combined and then refrigerate. Stir before adding to the cooked lemon rice.
Note 4: Salt: Not all salts season the same (you'll need more or less depending on the salt used). I use fine sea salt in this recipe. You may want less salt if you are sensitive to salt or stock is overly salted. Add less if concerned, you can always add more at the end.
Nutrition Facts
Serving: 1serving | Calories: 125kcal | Carbohydrates: 13.1g | Protein: 2.9g | Fat: 6.8g | Cholesterol: 17.5mg | Sodium: 109mg | Fiber: 0.1g | Sugar: 1.3g
We do our best to provide accurate nutritional analysis for our recipes. Our nutritional data is calculated using a third-party algorithm and may vary, based on individual cooking styles, measurements, and ingredient sizes. Please use this information for comparison purposes and consult a health professional for nutrition guidance as needed.