One of the easiest, healthiest Restaurant Style dishes you can make at home is my Chicken Primavera in a Garlic Aioli Sauce.
You can easily change up the ingredients depending upon the seasonal fresh vegetables in your grocery store or what you have on hand. This delicious saute dish can be served over your favorite pasta or grain.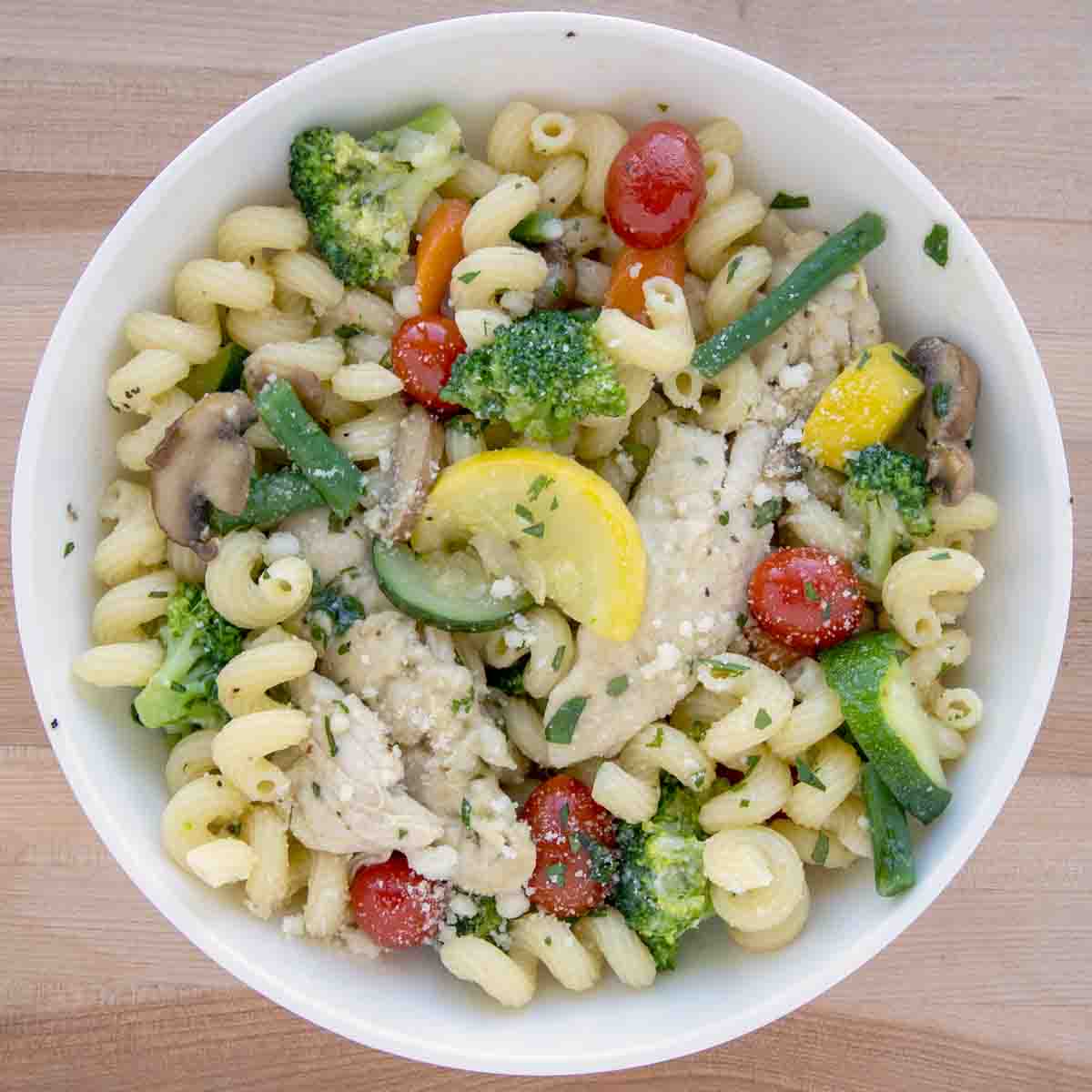 The finished dish is very easy to make and something you can have on your table in less than 30 minutes. The garden-fresh vegetables lightly sauteed with olive oil and garlic along with the chicken tenders will make a fresh and delicious dinner. 
What Ingredients do I need to make Chicken Primavera?
Let's start by gathering the ingredients we need to make Chicken Primavera. In Chef Speak this is called the "Mise en Place" which translates to "Everything in its Place".
Not only does setting your ingredients up ahead of time speed up the cooking process, it also helps ensure you have everything you need to make the dish.
Can I make Pasta Primavera with something besides chicken?
You sure can. Not only can you change the vegetables around to what you like or what you have on hand, but you can also do the same with the protein. If you're not fond of chicken then try these substitutes.
Shrimp
Salmon (or fish of your choice)
Tofu
White Beans
What can I use instead of Pasta in my Primavera?
Rice
Farro or your favorite grain
Or additional fresh or frozen vegetables
Creating delicious dishes in your home doesn't have to be difficult. Have fun experimenting with ingredients and spices. The more fun you have in the kitchen, the more time you'll want to spend creating deliciousness. And having complete control over what goes in the food you eat as well as saving money cooking at home is definitely a win-win!
How do I make Chicken Primavera?
The first step is dredging the chicken tenders in flour seasoned with sea salt and black pepper.
Place a large saute pan over medium-high heat with 2 tablespoons of olive oil. Add the chicken to the pan and saute for 2 minutes, turn the chicken and continue cooking.
After turning the chicken add the mushrooms, onions, zucchini, yellow squash, and garlic to the pan and saute for 2 -3 minutes. Stir as needed
Add broccoli, carrots, and green beans. Season with garlic, and onion powder. Continue cooking the vegetables and chicken for another 1-2 minutes, stirring as needed.
Add the tomatoes, basil, and parsley (reserve a little of the basil and parsley to garnish the dish when serving)
Add a splash of wine or stock to deglaze the pan and get all the tasty bits off the bottom of the pan.
Add the cooked pasta, and grated Romano cheese to the pan and season with sea salt and black pepper to taste.
Can I use cream to make Chicken Primavera?
Yes, you can. The Americanized version often contains heavy cream. If you like pasta dishes with cream sauce my Fettucine Alfredo and Tortelinni and Brocolli are sure to please.
Reduce the heat to low and allow to simmer for another minute or two. You can add a little chicken stock or olive oil if the pasta seems to dry.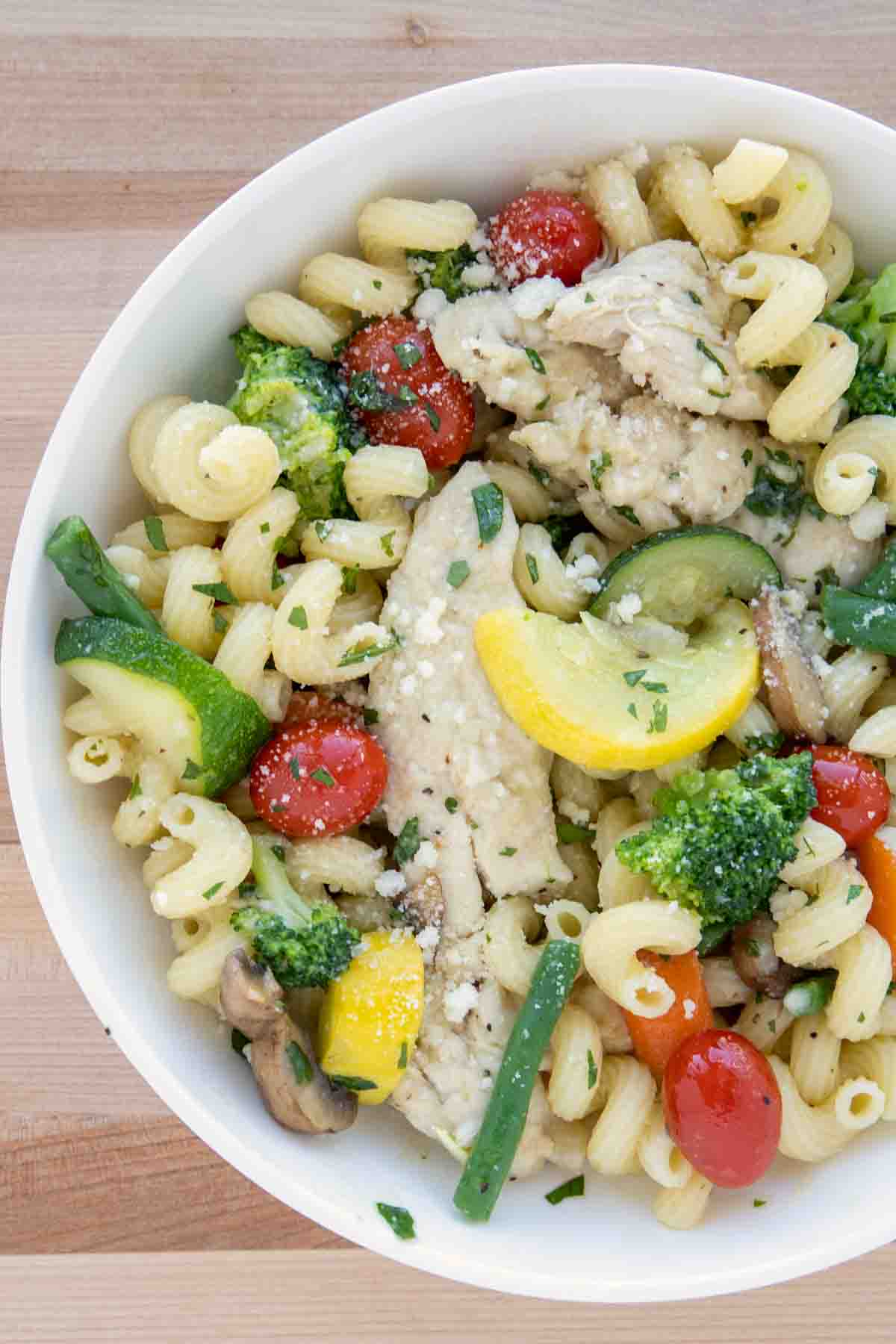 Garnish with parsley, basil, grated Romano cheese, and black pepper and enjoy this delicious restaurant-style dish packed with garden-fresh vegetables.
Recipe FAQ's:
What does Primavera mean in Italian?
Primavera translates to spring, alluding to the fresh and light ingredients in this dish. Made with seasonal fresh vegetables, pasta and occasionally chicken or seafood, this light dish is enjoyed in the warmer months in Italy.
Is Primavera made with cream?
Traditionally it is not, but the American version is often made using cream and grated romano cheese to make it a richer version of the classic dish.
What vegetables are used in Pasta Primavera?
Seasonal fresh vegetables are used when making pasta primavera, but that doesn't mean you can't add your favorites to the dish. I like to use 6-10 different vegetables when I make this dish.
More Recipes You'll Love!