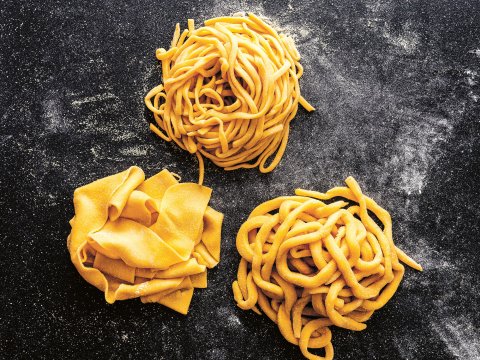 For some people, noodles are a comforting bowl of chicken noodle soup; for others, they're a crazy-exotic spice bomb. Whether they are long or short, loopy or straight, noodles may be one of the most common food items in the world. Nearly every culture has a celebrated homegrown noodle dish—from macaroni to lasagna and from udon to pho—meaning there's a very good chance that most of us have tucked into a heap of incredible noodles at some point. Here are some of our favorite noodle dishes from cultures across the world.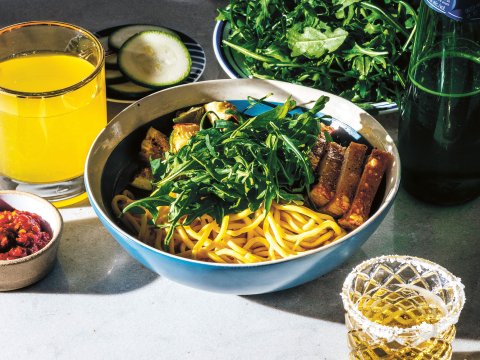 This meal in a bowl is inspired by carne adovada, an ever-present stew in Colorado, Arizona and New Mexico. In this version, it's a soup flavored with a base of smoked chiles and served with chewy ramen noodles for a deeply savory noodle crossover. Roasted vegetables add extra comfort and baby arugula adds a peppery freshness.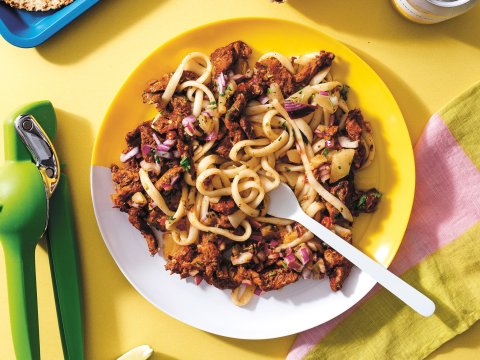 Yakiudon Al Pastor
Mexico City
The hardest part of making great tacos at home is finding high-quality tortillas like those made in Sonora, California or Mexico. This yakiudon al pastor does away with that problem entirely, combining chewy fried udon noodles with our smoky slow-roasted pork al pastor. It's a fairy-tale marriage for the ages.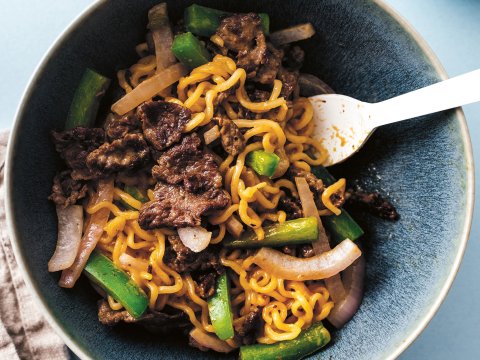 Philly Cheesesteak Instant Mazemen
Philadelphia
We paired two favorites, Philly cheesesteak and noodles, for this dish. We chose mazemen ramen—a "dry" (soupless) style popular in Japan—as the ideal base; we season the instant noodles with soy and oyster sauces and pair it with well-seared steak, green peppers, red onion and Cheez Whiz, which melts into the noodles perfectly.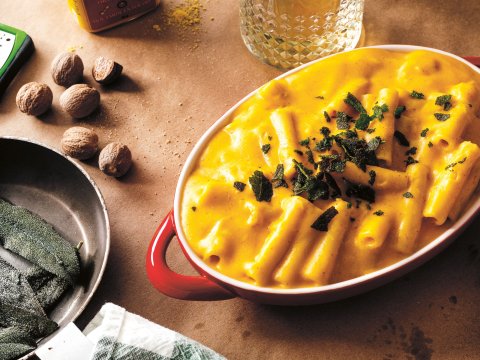 Macaroni cheese—as it is known in its birthplace, the U.K.—is just as popular there as it is in America. This mac and cheese nods its head to England with mustard and cheddar, while giving it a decidedly American flair with the much-loved addition of pumpkin.
Bone Marrow and Squid Mafalda
Malaga, Spain
The real inspiration for this dish is one beautifully lazy summer we spent in Spain. It was a blissful, squid-filled summer of homemade calamari, squid paella and, of course, squid pasta. Anytime we want to remember those balmy carefree summer days, we make this pasta. It tastes like you have all the time in the world to sit back and watch life go by.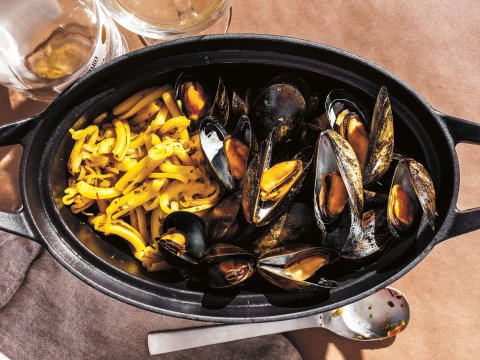 Casarecce Moules Frites
Brussels
Our take on classic Belgian mussels and fries. We switched out the fries for casarecce noodles (short twists of pasta that kind of look like fries if you squint), but kept the white wine, shallots and butter that traditionally sauce the mussels. A bit of saffron adds a gorgeous golden-orange color to the dish.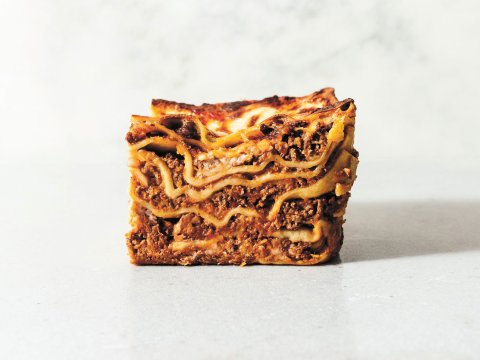 Lasagna alla Bolognese
Bologna, Italy
Lasagna is the ultimate noodle—big, wide, noodle heaven. And this is our ultimate lasagna. With layers of tender noodles, silky rich extra umami-filled Bolognese sauce (thanks to our special secret ingredient, fish sauce), creamy besciamella and a generous amount of Parmigiano, this is baked noodle perfection.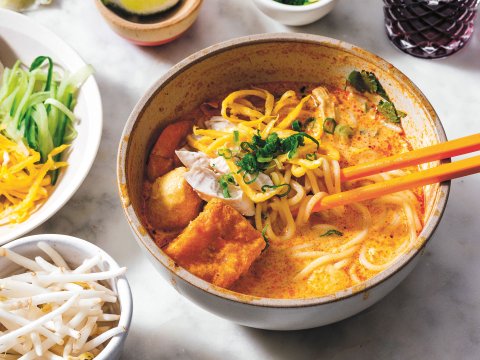 Laksa
Malaysia
At its heart, laksa is about the play between savory stock, noodles and toppings—rice noodles swimming in a rice and spicy coconut broth, seasoned with lemongrass, dried shrimp, chilies and turmeric and finished with cooked meats, seafoods and fresh herbs. The vibrant yellow ocher broth packs huge umami flavor, with hints of sweet, sour and savory.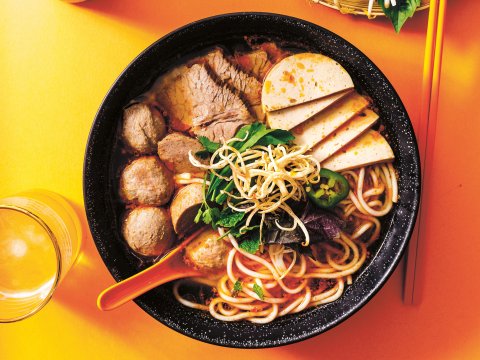 Bun Bo Hue
Hue, Vietnam
Bun bo hue, which means "beef noodle soup from the city of Hue," has been a classic street food for as long as anyone can remember, and there's no absolute right way to make it. The key element is the spicy aromatic sate sauce made of lemongrass, shallots, garlic and chilies. If you can find fresh banana blossoms to top it, it'll be that much closer to something you'd get on the streets of Hue.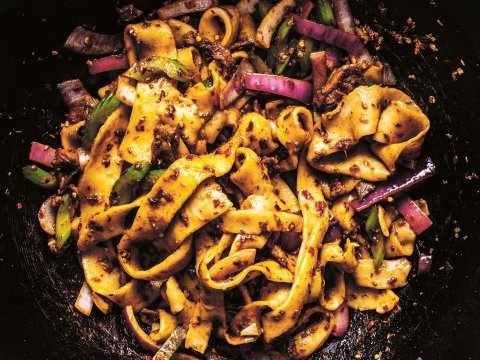 The birthplace of these thick, wide chewy noodles is in central China, where they originated as a peasant-type noodle. There are a bunch of theories on the name—that it comes from the sound the noodles made when you bang them on the table or the sound that people make when they eat them—and even more theories on why the Chinese character for biang is so complex (it's made up of 58 strokes). But really, all you need to know is that they're good. They're hearty and hold up well when fried, tossed and added to soups.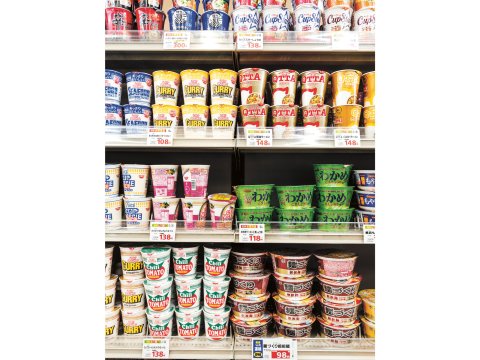 Ramen
Tokyo
More than 100 billion packages of instant noodles are eaten yearly, making Momofuku Ando's invention one of the most influential foods of our day and age. For those times when you want authentic noodles but are nowhere near a noodle shop, the right instant noodles can save the day—many come with flavor packs that taste surprisingly close to the real deal. From their humble origins as a subsistence food, instant noodles have taken on a life of their own, becoming beloved and celebrated—even inspiring an instant noodle museum in Yokohama.
---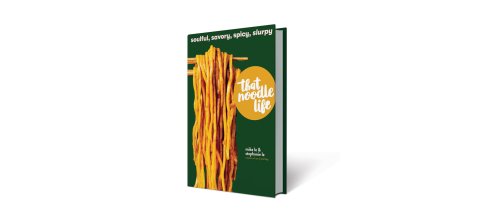 Workman Publishing Company
Excerpted from That Noodle Life by Stephanie and Michael Le, photos by Michael Le. Workman Publishing © 2022.