Skillet Lasagna is a great alternative to Hamburger Helper. Are you ever looking for an inexpensive meal to prepare on a weeknight? I know I am, and I have a solution for you.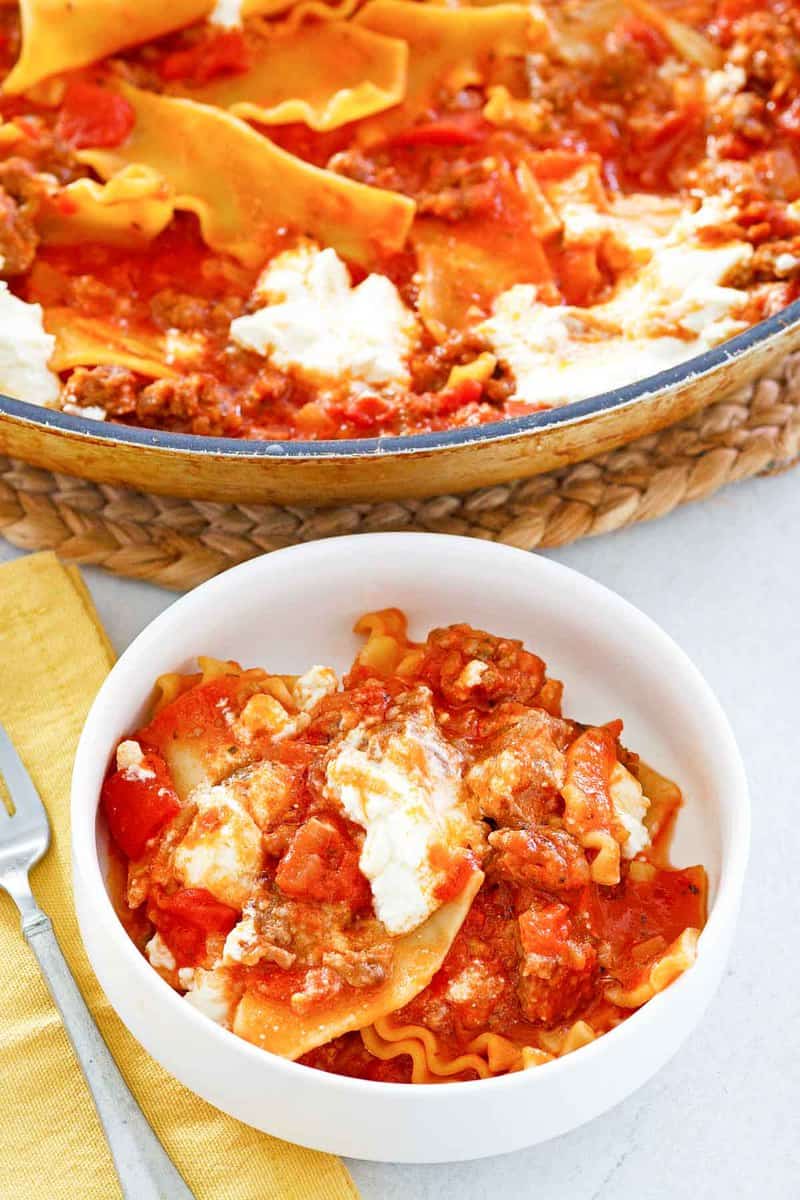 This post contains affiliate links. As an Amazon Associate, I earn from qualifying purchases.
Budget Friendly Skillet Lasagna
Recently some of my CopyKat Youtube folks were looking for inexpensive meals to prepare. I wanted to come up with a recipe that was inexpensive to make, and very hearty. I always enjoyed Hamburger Helper as a child, and I wanted to recreate this favorite childhood recipe.
What Is Skillet Lasagna? 
This one-pan meal has all the flavor of lasagna and the ease of making regular pasta. It's a great recipe to make if you don't want to spend a lot of time in the kitchen cooking or cleaning up but still want to serve your family something nutritious and tasty. 
Why This Easy Skillet Lasagna Is So Much Better Than Hamburger Helper Lasagna 
What's not to love when it comes to this skillet lasagna recipe? It's an incredibly easy and tasty way to use any leftover lasagna sheets or pasta in your pantry.
And unlike Hamburger Help or other boxed lasagna meals that use powdered or condensed mystery ingredients, you know exactly what you are feeding your family. So, skip the overly processed box, and make this one skillet lasagna recipe instead. 
Hamburger Helper Lasagna Recipe Ingredients
Here's a list of what you need for making one skillet lasagna:
Ground Italian Sausage or Ground Beef
Onion
Garlic
Tomato Sauce
Canned Chopped Tomatoes
Water
Italian Seasoning
Salt
Ground Black Pepper
Lasagna Noodles or Pasta
Ricotta Cheese
Ingredient Notes and Substitutions
Choose your favorite ground meat or even a mixture. Ground beef is good, but Italian sausage adds more flavor to this dish. But you don't have to use red meat. Ground turkey or even soy crumbles also work well in this recipe. 
Although you shouldn't miss this chance to use up those few sheets of lasagna noodles left in the box, any short pasta you have, like bow ties or penne, will work in this recipe. If you only have no-bake lasagna noodles, you will need to add a little more water to the pan, about a quarter cup. 
I use fresh onions and garlic. If you happen to have some bell peppers in your fridge, you could toss in one of those if you like. This recipe is very flexible.
I use ricotta cheese to add some flavor. If you like, you could swap this out for cottage cheese as either one will work. I personally prefer the ricotta because I like the taste and texture more when the cheese is heated.
How to Make Skillet Lasagna
Here are the simple steps for this easy skillet lasagna recipe:
Pour a little oil into a large skillet and warm over medium-high heat.
Brown the ground meat in the pan. Pour out any excess grease, leaving about a tablespoon behind in the pan.
Add the garlic and onions to the pan and cook until the onions become translucent. 
Stir in the water, tomato sauce, chopped tomatoes, Italian seasoning, salt, and pepper.
Break the lasagna sheets into two-inch squares and add to the pan. Stir well.
Cook uncovered until the pasta is al dente. The timing can vary depending on the type of pasta you are using. You may need to add more water if the pan is getting a little dry. 
Add spoonfuls of ricotta cheese to the top of the skillet lasagna and cover to allow the cheese to melt slightly.
Serve immediately. You can also top it with grated Parmesan or Romano if desired.
Recipe Variations 
Lasaga is like the pizza of pasta dishes. People love it, there are about a million different ways to make it, and everyone has their own favorite. Here are three ways to modify this lasagna skillet if you want to try something a little different. 
Make easy skillet lasagna with cottage cheese, instead. Save calories and fat by replacing the ricotta cheese with cottage cheese. 
Slip a few vegetables into the pan. Roasted eggplant, sauteed broccoli rabe, and cooked peppers are great additions. 
Garnish with basil. Fresh, chopped basil adds a wonderful flavor and aroma to this dish. 
What To Serve With Skillet Lasagna 
This may be a favorite recipe for many busy cooks because it needs only one pan, but that doesn't mean you're not allowed to dirty a few more to make some great side dishes:
Garlic bread. This recipe for cheesy garlic toast from the Pasta House Company is perfect. 
Spinach salad. Dress with a simple balsamic vinegarette, or get fancy with a warm bacon dressing. 
Sauteed broccoli rabe. The vegetable's slight bitterness pairs so well with the richness of the lasagna, so if you are not adding it to the main course, why not serve it as a side dish? 
How To Store Leftover Skillet Lasagna
Go ahead and save any extra lasagna in the fridge for up to three days or in the freezer for up to two months. Take the remaining lasagna out of the pan and put it in a freezer-safe container with a firm-fitting lid. 
How to Reheat Skillet Lasagna 
The best way to reheat leftover lasagna is to put it back in the skillet with some tomato sauce on the bottom to keep it from sticking. Cover the pan and heat it over medium-low until the lasagna is warmed through. Make sure to thaw frozen lasagna overnight in the fridge or do a quick defrost in the microwave before reheating. 
Inexpensive meals do not have to be flavorless they can be both filling and delicious. Cabbage roll casserole is made with fresh cabbage, ground meat, and rice.
Love Hamburger Helper? Try this Ground Beef Stroganoff recipe.
More Italian Recipes
Favorite Budget-Friendly Meals
Check out more of my easy dinner recipes and the best Italian recipes here on CopyKat!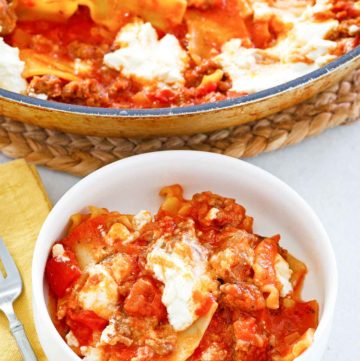 Skillet Lasagna
You can make flavorful homemade lasagna in a skillet that's better than Hamburger Helper lasagna.
Print
Pin
Rate
Add to Collection Go to Collections
Servings: 8
Calories: 277kcal
Ingredients
1/2

pound

ground Italian sausage or ground beef

1

large onion

chopped

2

cloves

garlic

chopped

8

ounces

tomato sauce

14.5

ounce

canned chopped tomatoes

1

cup

water

2

teaspoons

Italian seasoning

1/2

teaspoon

salt

1/4

teaspoon

ground black pepper

8

ounces

lasagna noodles or other type of pasta

8

ounces

ricotta cheese
Instructions
Brown the meat in a large skillet over medium-high heat.

Add the onion and garlic, and cook over medium heat until the meat is no longer pink and the onions are translucent.

Add the tomato sauce, chopped tomatoes, water, Italian seasoning, salt, and pepper. Stir to combine.

Break the lasagna noodles into pieces, add them to the skillet, and stir to combine.

Cook for approximately 15 to 20 minutes, or until the pasta is done. If the liquid cooks out, you may need to add 1/4 to 1/2 cup of water.

Place dollops of ricotta cheese on top. Stir in the cheese if desired. You can top with additional cheese.
Video
Nutrition
Calories: 277kcal | Carbohydrates: 27g | Protein: 11g | Fat: 13g | Saturated Fat: 5g | Cholesterol: 36mg | Sodium: 602mg | Potassium: 384mg | Fiber: 2g | Sugar: 4g | Vitamin A: 310IU | Vitamin C: 9.1mg | Calcium: 95mg | Iron: 1.6mg