My Pasta with Crab Sauce is one of those dishes, that after you taste it and see how easy it is to make, two things will happen.
First, you'll be upset it took you so long to realize how easy and delicious Pasta with Crab sauce is. After you've comes to terms with that, you'll want to kiss me on the lips for teaching you to make this ah-mazingly delicious restaurant-style pasta dish.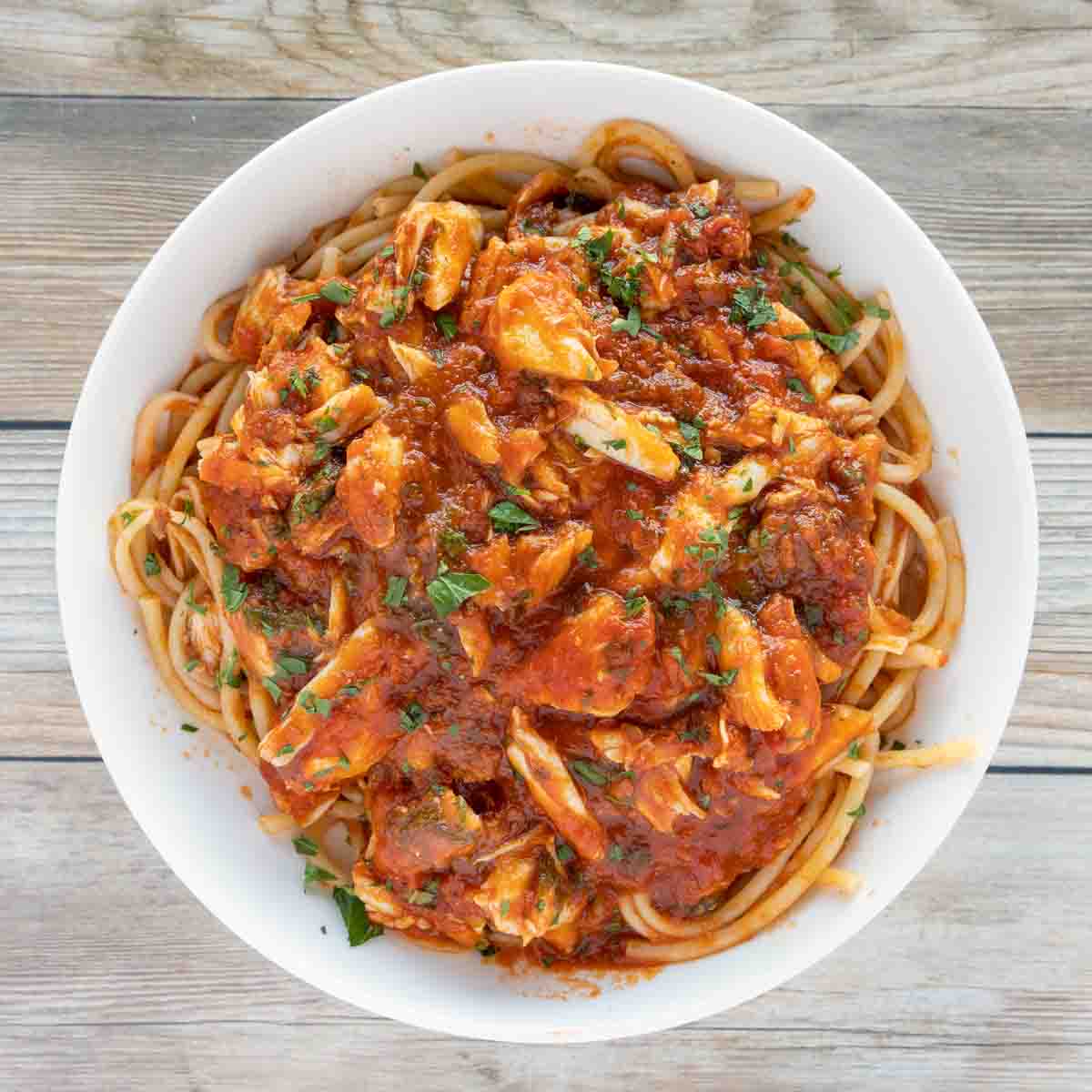 During my restaurant years, my staff almost never saw me eat in front of them. But when I did there were two things I made for myself when I was hungry. One was ravioli with butter and cheese, and the other was pasta with jumbo lump crab meat in a red sauce.
This is the perfect dish for the seafood lover in your house. If you're looking for another easy seafood dish, my shrimp scampi is a great choice.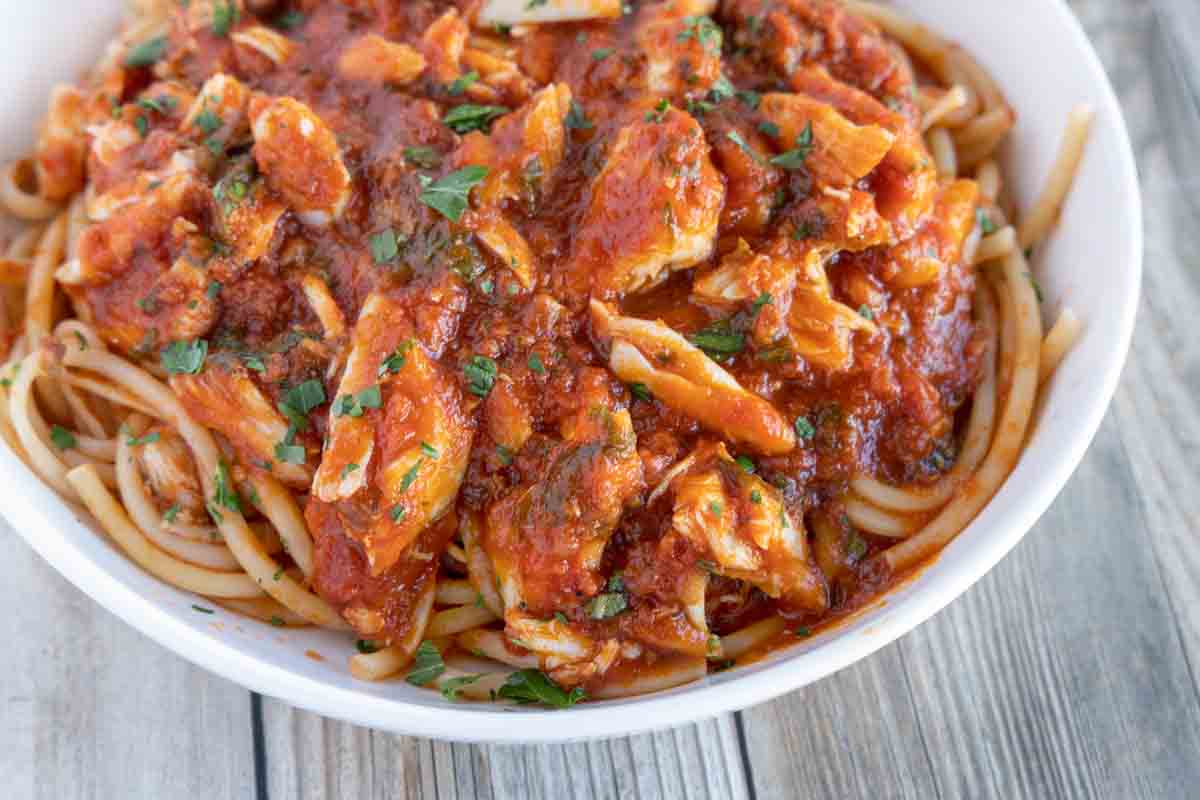 I love making this Crab Pasta Recipe with jumbo lump crabmeat, but I've also made it with lump crab meat, backfin and even claw crab meat. There is just something magical about crab meat and tomato sauce.
Blue Crabs are my crab of choice, but I'm sure my friends on the Pacific coast could verify this dish is equally delicious using Dungeness crab meat.
My wife loves it when I make this pasta dish using whole crabs in the sauce. But for me, it's just too much work and too messy. That being said, the whole crabs will impart some big flavours into the sauce.
Ingredients to make pasta with red crab sauce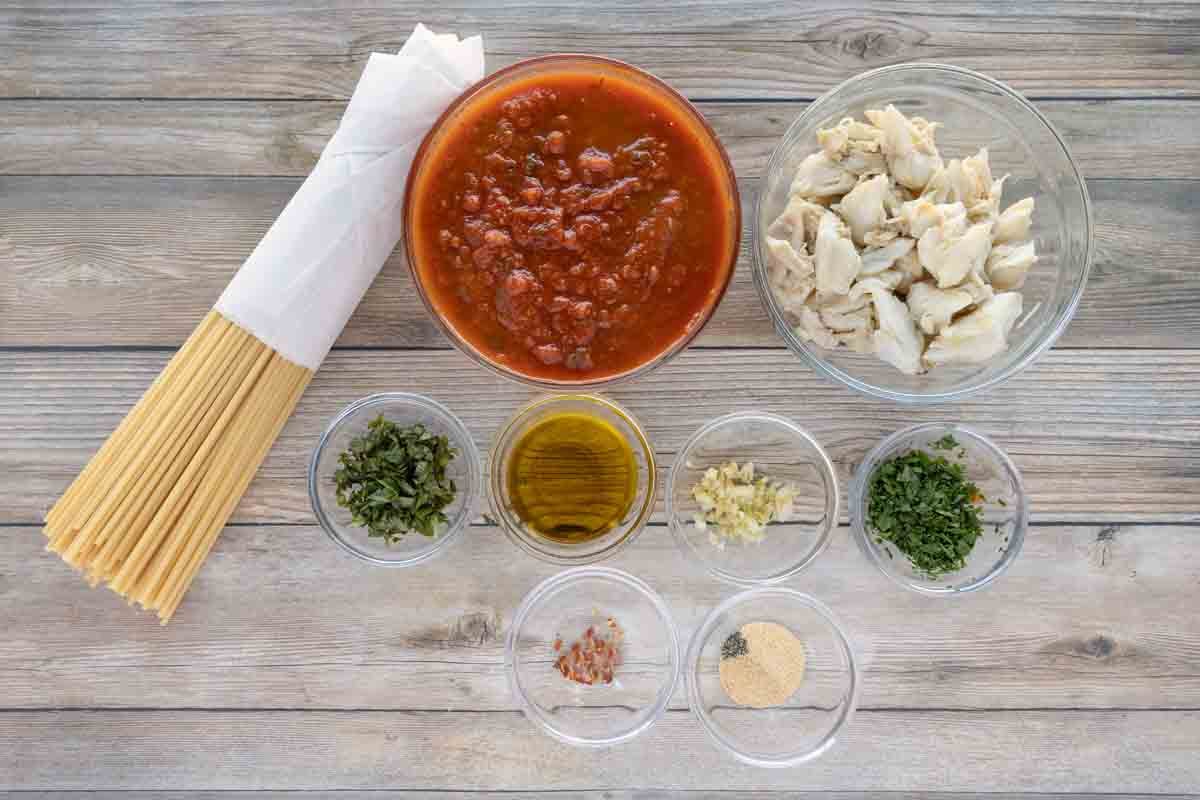 Let's start by gathering the ingredients we need to make Pasta in Red Crab Sauce. In Chef Speak this is called the "Mise en Place" which translates to "Everything in its Place".
Not only does setting your ingredients up ahead of time speed up the cooking process, it also helps ensure you have everything you need to make the dish.
This seafood sauce is not difficult to make, it uses simple pantry ingredients for the sauce. You could even skip a step and use your favorite jarred tomato sauce in place of homemade tomato sauce.
*Fresh crab meat is always best but pasteurized crab meat will also work nicely.
How to make Red Crab Sauce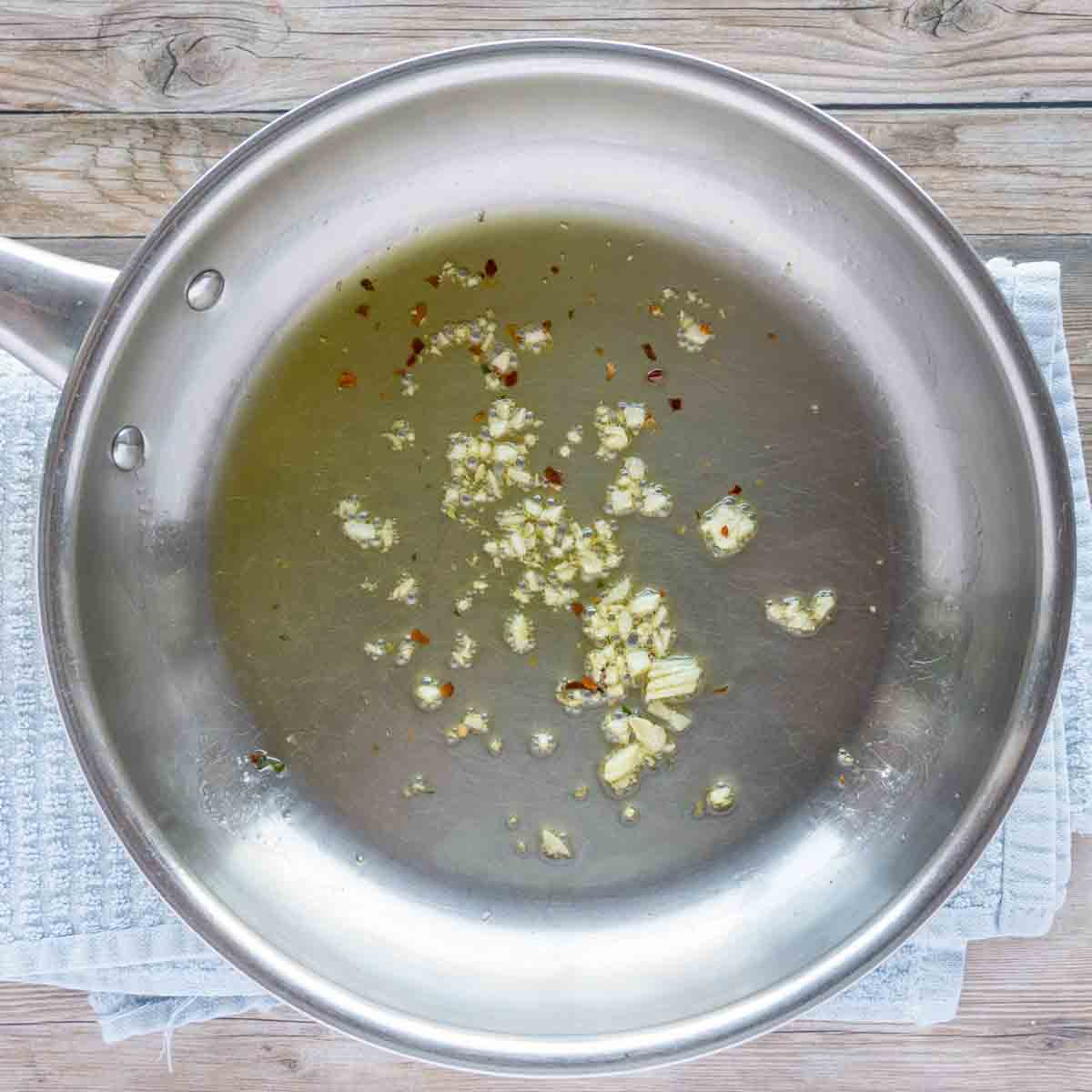 The first step is really easy. Add olive oil, chopped garlic, and red pepper flakes to a large skillet or large saucepan over medium-high heat and saute for about 1 minute.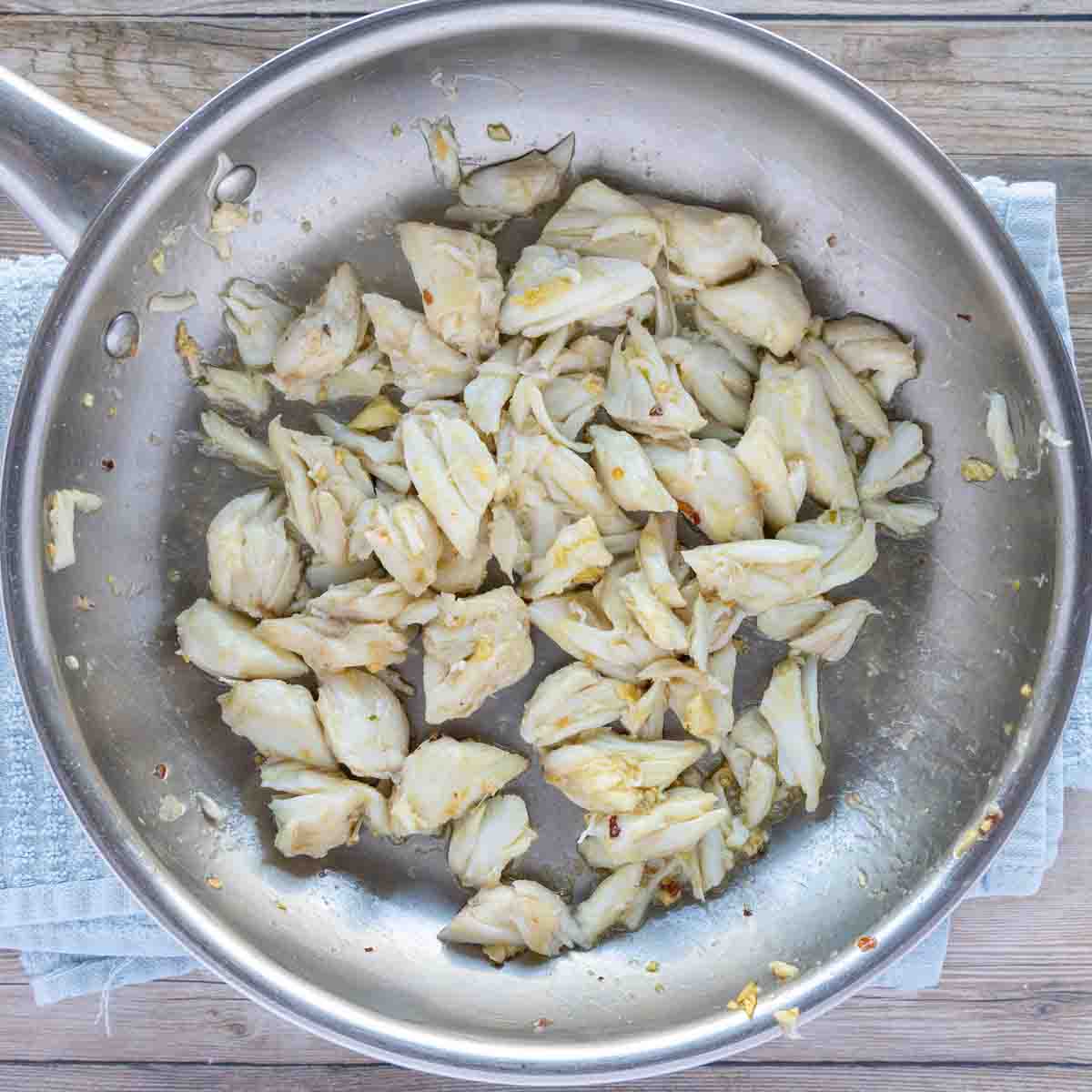 Reduce the stove to medium heat and add the crab meat to the pan. Let the crab meat saute for an additional 1-2 minutes. Adding more olive oil if needed.
*if you have some dry white or red wine handy add a splash to the crab meat after sauteing to deglaze the pan. This step is optional.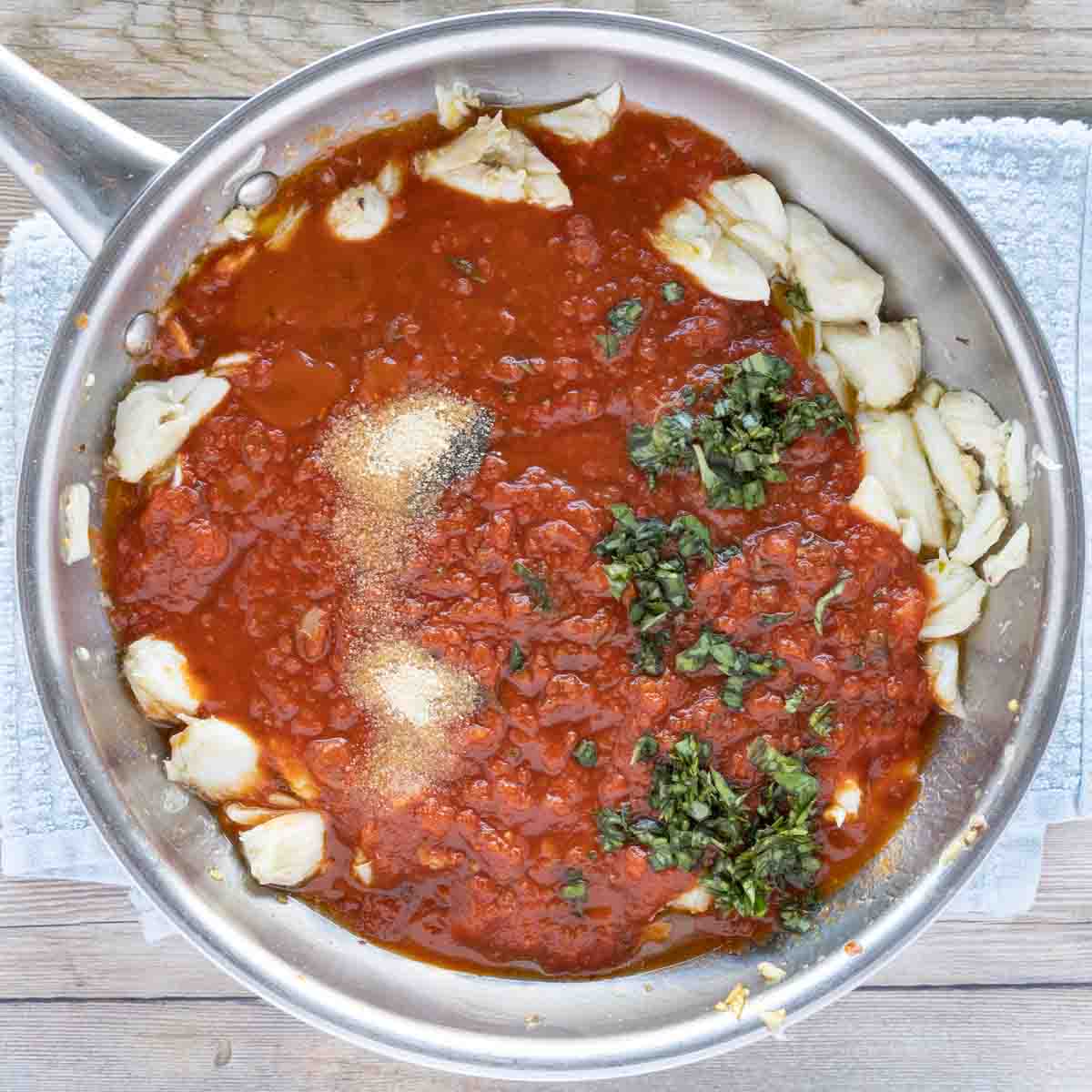 Add the tomato sauce, garlic powder, onion powder, black pepper, and chopped fresh basil to the pan. Bring the sauce to a boil and reduce the heat to low.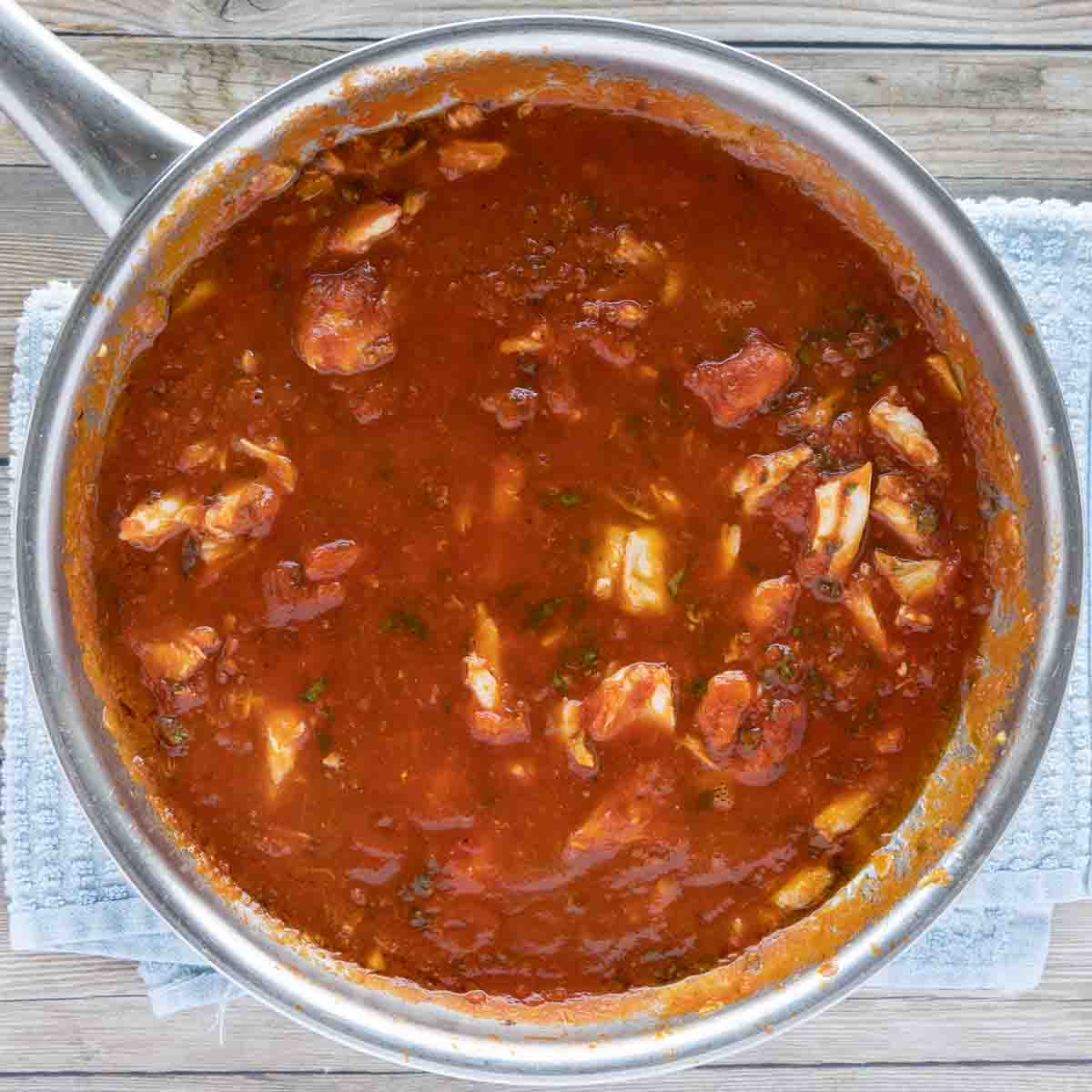 Continue cooking for 2-3 minutes, then move the pan off the heat, and let it sit while the pasta cooks.
Place a large pot of salted water over high heat. Cook the pasta al dente, per the instructions on the box. When you drain the pasta, save half a cup of the pasta water, to add to the crab sauce. (if the sauce is thin, this step can be skipped.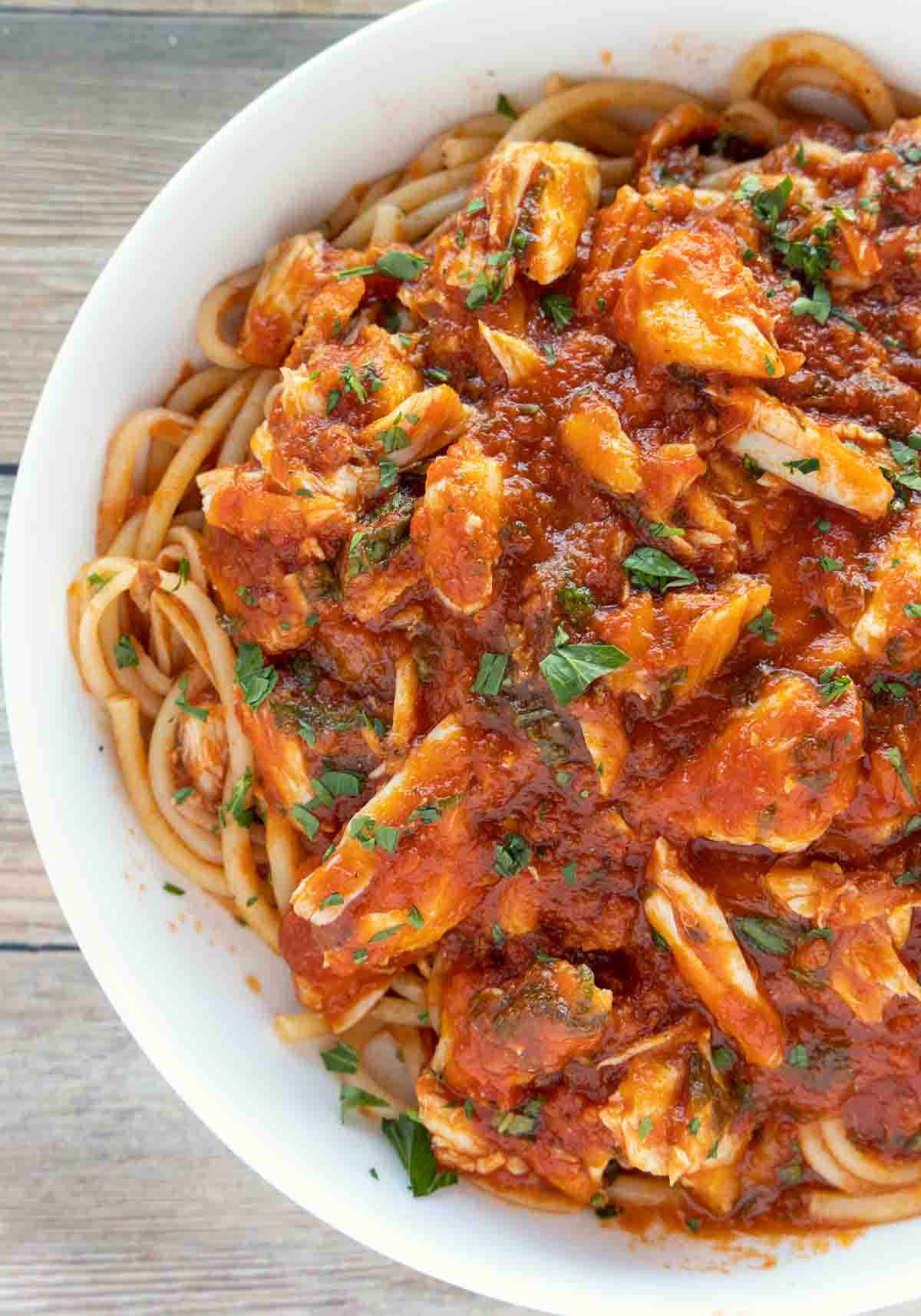 My Pasta with Red Crab Sauce is truly comfort food. Decadent with lumps of sweet crab meat, surrounded by a robust tomato sauce, this dish will simply amaze your taste buds. I will admit I add grated Romano or parmesan cheese to this dish. I know there are Italians out there having heart palpitations at the thought of adding cheese to a seafood dish, but it's my dinner so I get to add what I want.
That's a rule I like to teach everyone when they begin cooking. Cook with ingredients you enjoy eating, and make additions or deletions from the recipe as you see fit. This is your dinner, and you should enjoy every delicious bite!
Recipe FAQ's
Can I make a white crab sauce?
you sure can. Simply by eliminating the tomato sauce and adding additional olive oil, white wine, butter and pasta cooking water, this sauce can be adapted to make a garlic white wine sauce.
Why do you add pasta cooking water to pasta sauce?
The salty taste and starchy content of the water not only adds flavor, but it also helps the sauce adhere to the pasta. It's the best way to thin a sauce out, or add a touch more sauce to a pasta dish that may be a little dry.
Can I add cream to this pasta sauce?
You sure can. You can make this sauce a rosa sauce by adding cream and grated romano cheese to the sauce. You can also eliminate the tomato sauce and make this dish a creamy alfredo sauce, by using heavy cream and grated romano cheese.
More Pasta Recipes You'll Love!