Published: October 22, 2022
This post may contain affiliate links. Read our disclosure policy.
This Easy Creamy Potato Soup Recipe is the pinnacle of hearty, warm, delicious goodness in a bowl. As far as fall soups go, they don't get much more comforting, creamy, and cheesy than this easy-to-make vegetarian soup!
Looking for more creamy soup recipes? Try Loaded Baked Potato Soup, Creamy Pumpkin Soup, Roasted Cauliflower Soup, and Creamy Butternut Squash Soup.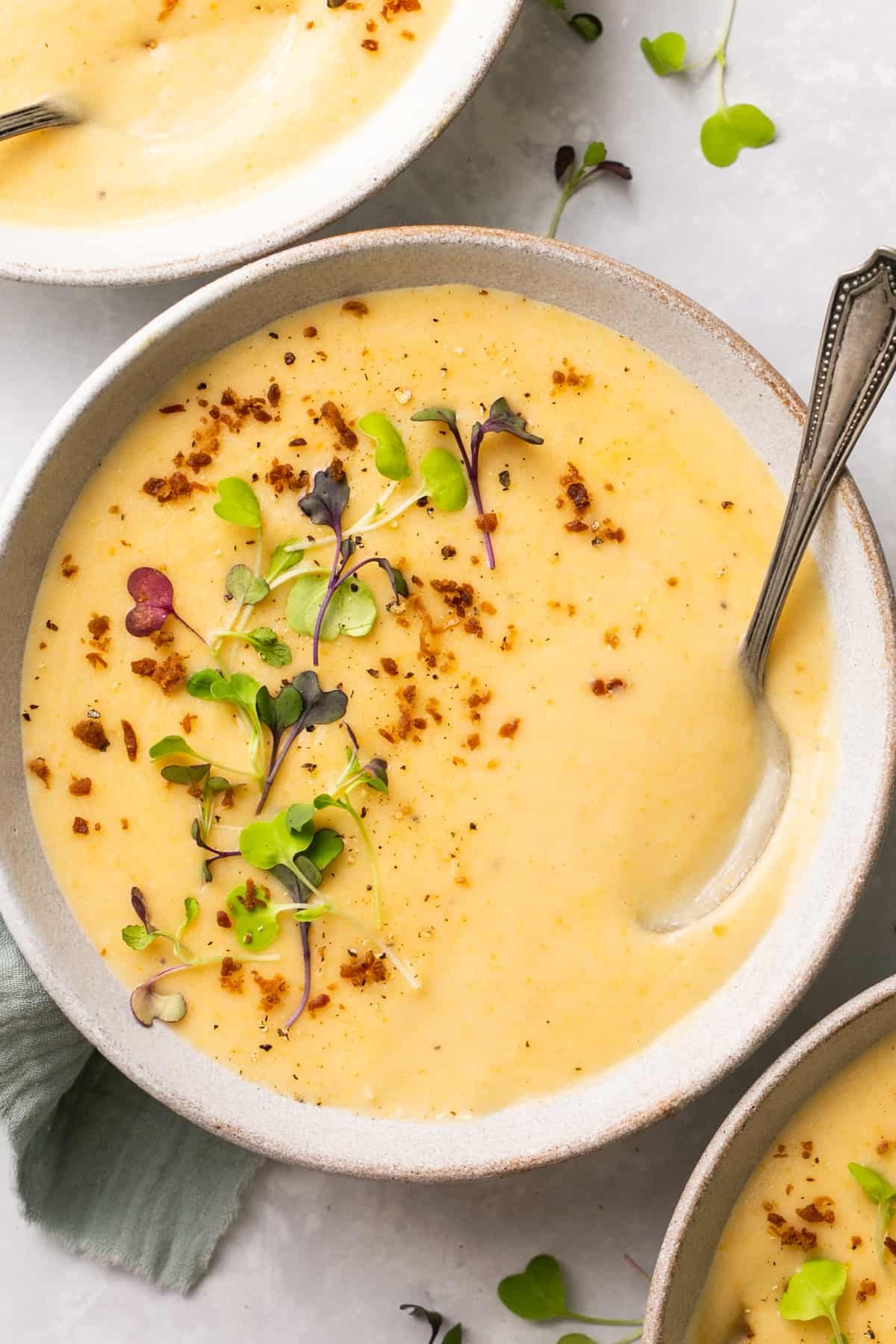 Why This Recipe Works
Creamy & Comforting: Is there anything more comforting than old fashioned potato soup? Probably not. When it comes to soup, this one is just so creamy, cheesy and hearty that it warms the soul. I think I have actually made the perfect creamy potato soup here, so don't miss out!
Easy in a Pinch: It seems like every year I wake up one day and realize it has turned to winter. When that day comes, I like to make a big pot of soup! This is one of those soups that you will almost always have the ingredients for in your pantry. Once everything is chopped and ready to go, it comes together super easily!
Versatile: You can top this potato soup with a plethora of different things. And honestly, you should curate this easy creamy potato soup recipe into exactly how you love it most. Do you love extra cheese? Go for it. Or maybe you want lots of green onions & chives on top? You do you! It will turn out delicious!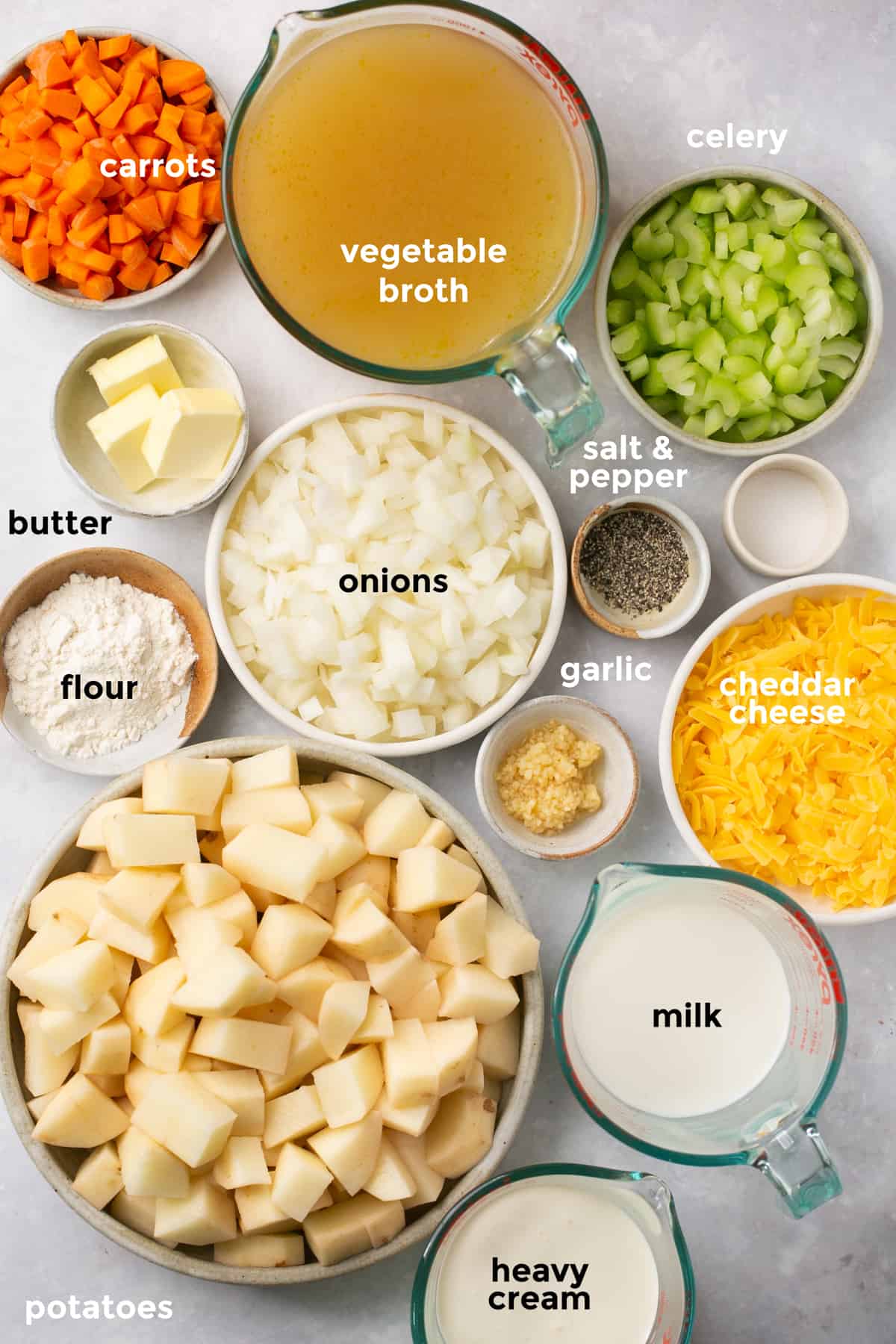 Potato Soup Ingredients
Potatoes- Russet potatoes are the classic potato to use for potato soup.
Onion– Onion, garlic, celery and carrots provide a great mixture of flavor for this soup.
Garlic
Celery
Carrots
Chicken Broth– You can also use vegetable broth to keep this recipe vegetarian.
Heavy Cream & Milk– A mixture of heavy cream and milk will make this soup nice and creamy.
Flour– Flour is used as a thickening agent in the soup. You can also use corn starch if you are gluten free.
Cheddar Cheese– Shredded cheddar cheese stirred into the soup adds a creamy texture and delicious flavor. Top it all off with more cheese, too!
Optional Toppings: Crumbled Bacon, Fresh Herbs, Shredded Cheese & Green Onions.
Here's How You Make It
Step by Step Instructions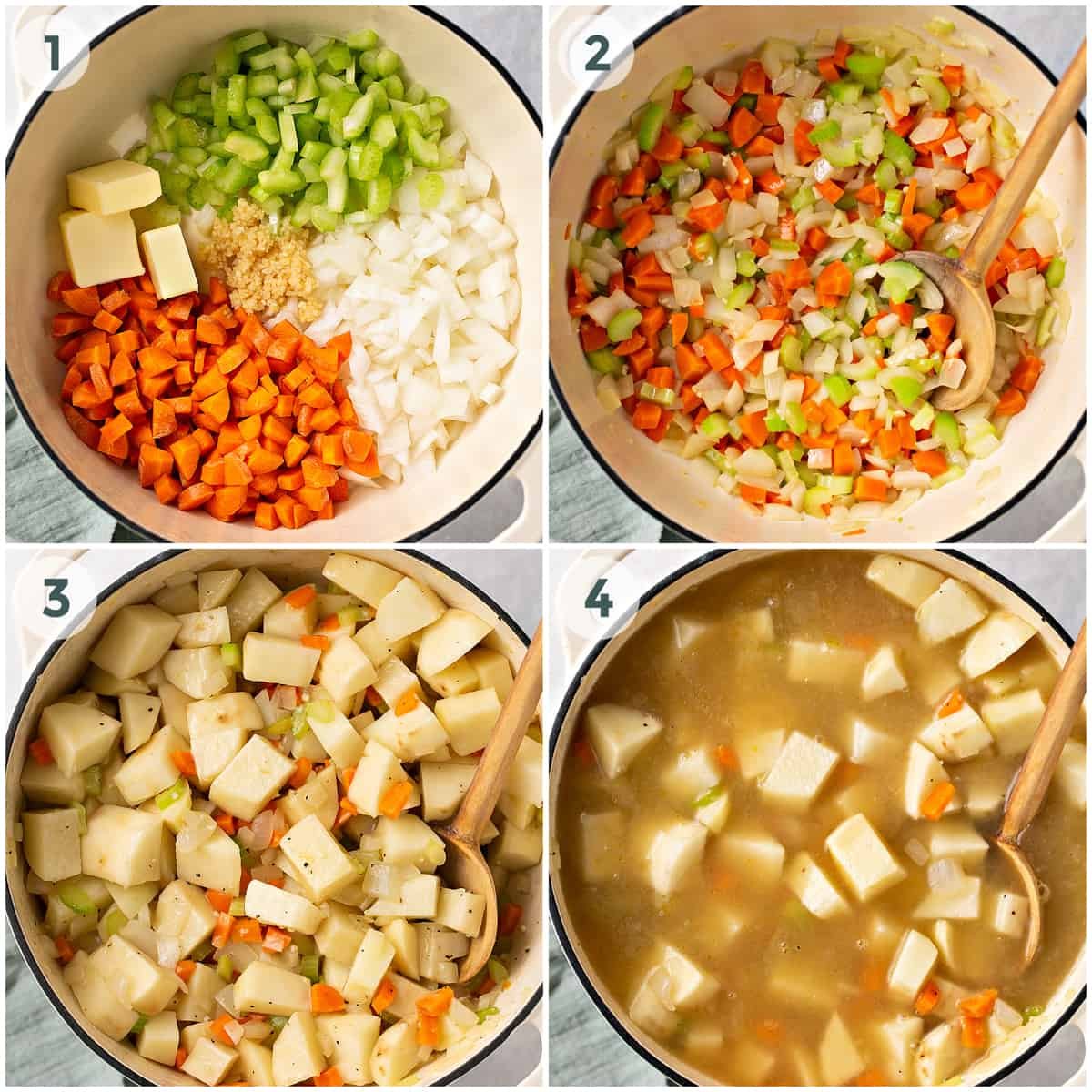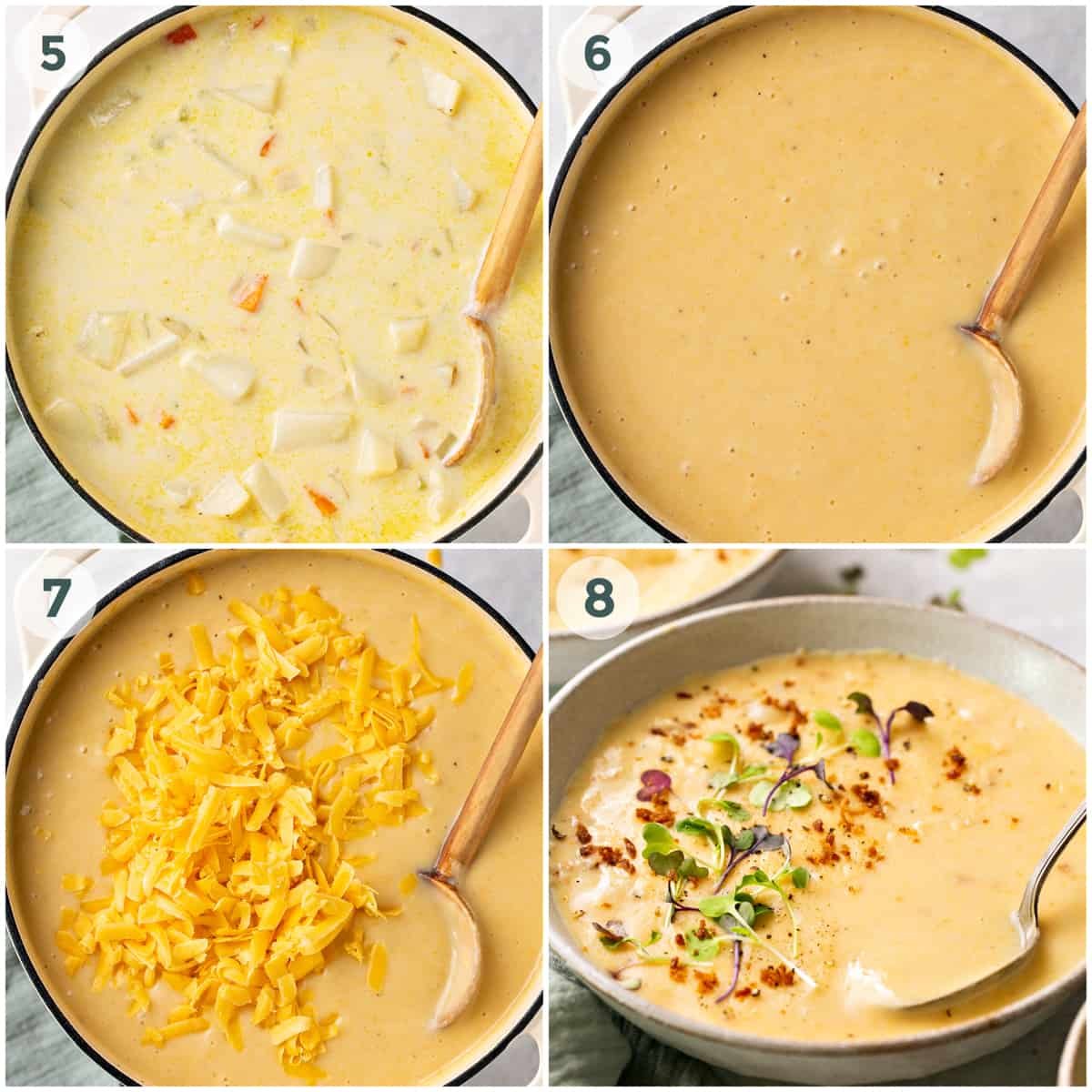 First, put the veggies, garlic, and butter into a large stock pot and turn up the heat to medium-high. Cook all of this together for about 3 minutes while you stir the ingredients around a few times to soften everything up. 
Now add the potatoes and salt and pepper and cook all of that for another 5 minutes. Add the broth, and bring the entire mixture up to a boil, cooking for about 10 minutes or until the potatoes start to get tender. 
In a small bowl, mix the flour and milk together to create a roux. Stir this into the soup to thicken the mixture up a bit. Add the heavy cream as well. Keep cooking at that medium-high heat for another 5 minutes (check to see if you can pierce them with a fork; if you can, they tender and ready to go).
Now we want to blend the soup to make it nice and creamy.

If you have an immersion blender, place it into the pot and blend away. No immersion blender? No problem: Simply blend the soup in batches in the blender. Be sure to leave the vent open in the lid and cover with a towel so that the steam can escape but you won't be burned by the steam. 

Once blended, add cheese into the soup in the stock pot. Stir the cheese up until it's all completely melted. Taste as you go (the best part!) to make sure it has enough salt and pepper or any other spices you'd like to add. Garnish and serve!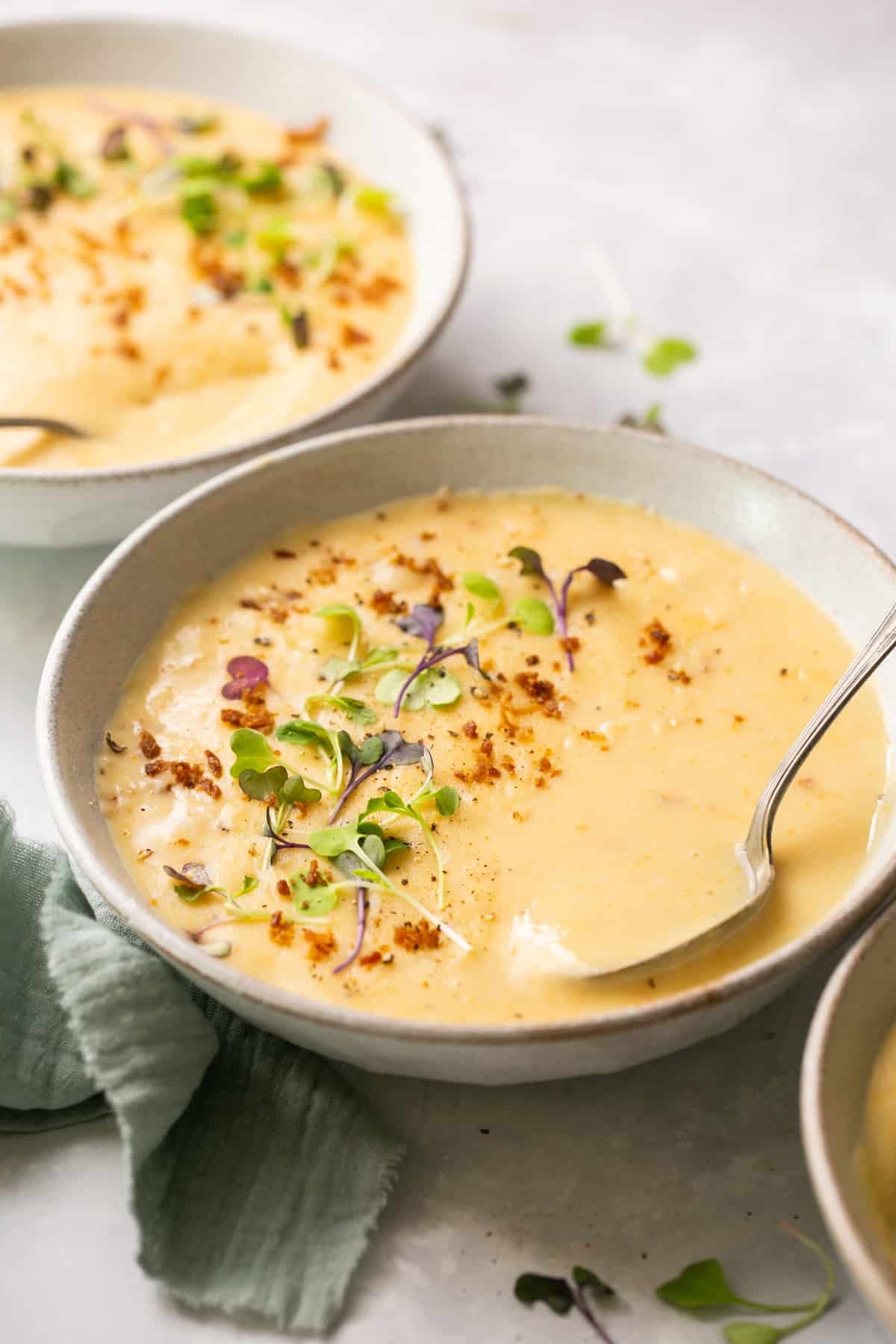 How to Serve Easy Creamy Potato Soup
You can make this easy creamy potato soup recipe to the next level with all of the topping possibilities! I think all the toppings you'd usually put in a baked potato also work just as well for your easy creamy potato soup. I like to set some bowls out by the stove and let guests serve themselves. Then, I put the following out on the table or in bowls, so that everyone can make the soup their own. 
Shredded cheese (cheddar, Parmesan, monterey jack, whatever cheese you love)

Bacon bits or chopped, cooked bacon (I think the crispier the better)

Chopped chives or green onions

Parsley or thyme

Shredded,

roasted Brussels sprouts

Sour cream 

Red pepper flakes 

Swirl chipotle sauce or add a dash of chopped chipotles in adobo for a little extra spice

A variety of hot sauces

Black or white beans

Diced red onions

Thin, fried pieces of garlic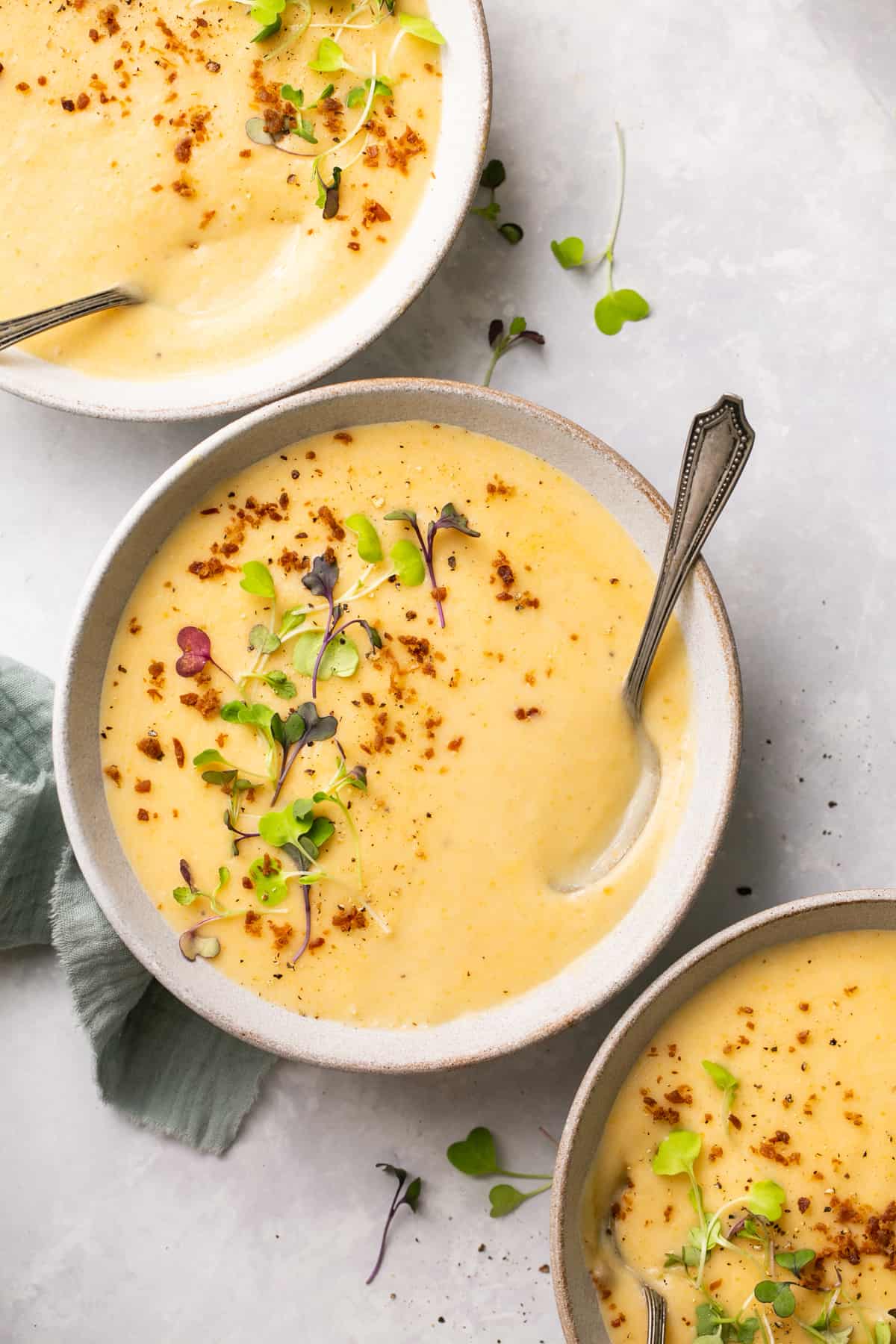 Expert Tips
Dice your potatoes into small, evenly sized pieces. This will ensure that the potatoes are evenly cooked and are tender enough to blend nicely.
If you like your cheesy potato soup chunky, blend only half of the soup so it is creamy but also has chunky potatoes and veggies in there!
If you plan on adding bacon to your soup, cook the bacon in the pot first, then take the bacon out and cook your soup in some of the bacon fat for extra flavor!
For some extra spice, shred up some pepper-jack cheese and stir that in along with the cheddar cheese! You can also add a shake or two of cayenne pepper.
If you make a large batch of this easy potato soup recipe, you can freeze some of it for up to 2-3 months! Once you want to eat it, just thaw slightly and put into a pot to heat up on low heat.
More Recipes You'll Love
If you're really feeling this soup thing and want to make all the soups, you'll definitely want to try your hand at making these easy and tasty recipes ASAP:
Easy Creamy Potato Soup Recipe
This Easy Creamy Potato Soup recipe is the pinnacle of hearty, warm, delicious goodness in a bowl. As far as fall soups go, they don't get much more comforting, creamy, and cheesy than this easy-to-make vegetarian soup. 
Instructions
In a large stock pot over medium-high heat combine onions, celery, carrots, garlic, and butter. Stir until butter is melted. Cook 2-3 minutes, stirring occasionally, until onions are translucent.

Add potatoes, season with salt and pepper, and cook for 5 minutes.

Stir in broth, bring to a low boil and cook for 10 minutes until potatoes begin to get tender.

Stir flour into the milk and gradually add into the soup along with heavy cream or half and half.

Cook for another 5 or so minutes until potatoes are fork-tender.

Transfer in batches to a blender (*always be cautious when blending hot liquids!) and puree until smooth. Stir back into the pot.

Stir in cheese until completely melted. Taste, add salt and pepper if needed, and serve immediately garnished with fresh herbs, cracked black pepper, and cooked bacon if desired.
Notes
Flavor tip: Add a tablespoon of canned adobo sauce or swap out a portion of the cheddar cheese for pepper jack cheese for a bit of a kick!
Nutrition
Calories: 378 kcal, Carbohydrates: 52 g, Protein: 16 g, Fat: 12 g, Saturated Fat: 7 g, Cholesterol: 37 mg, Sodium: 1804 mg, Potassium: 1426 mg, Fiber: 6 g, Sugar: 8 g, Vitamin A: 3795 IU, Vitamin C: 67 mg, Calcium: 355 mg, Iron: 3 mg