This delicious queso blanco is made in no time, and will be the perfect addition at your next get together, especially served with tortilla chips and veggies.
We always serve queso blanco as an appetizer at parties or game nights. Of course, we serve it with our Homemade Tortilla Chips or Baked Tortilla chips!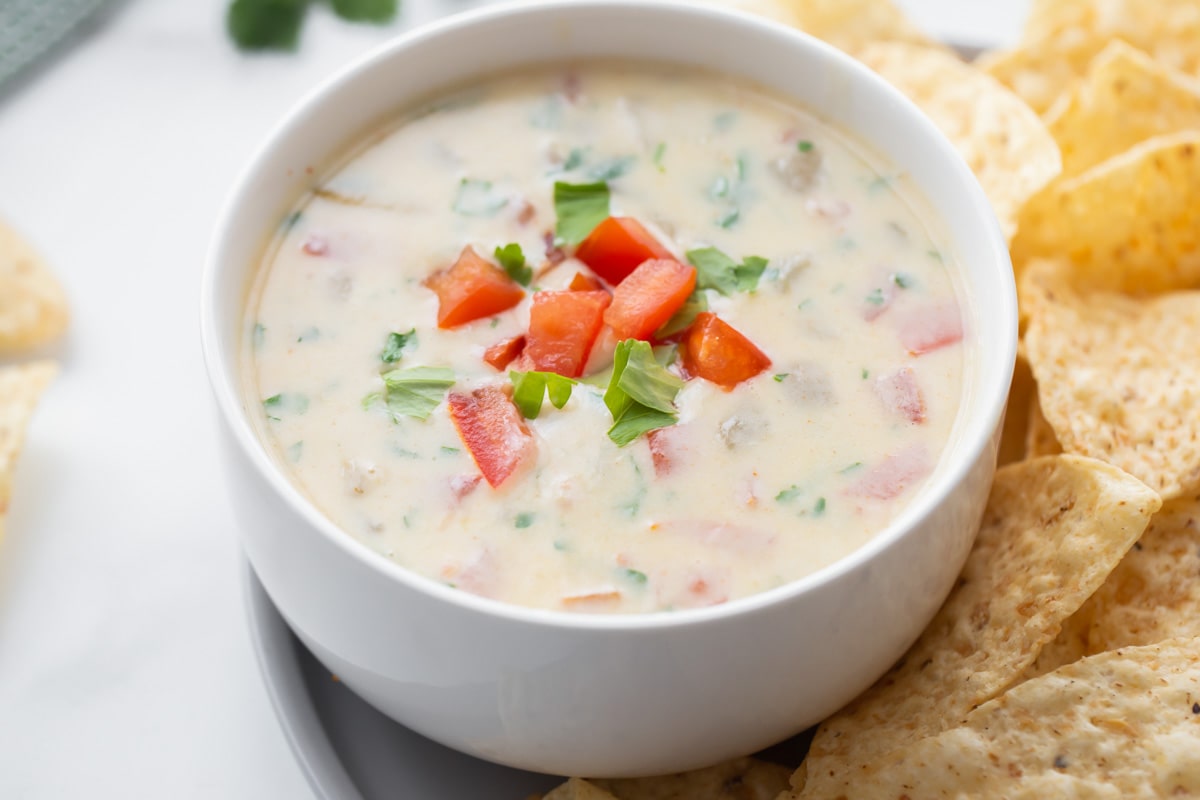 Best Queso Blanco Dip
We love dip in our family and always have at least one or two kinds at every party.
A favorite dip recipe of ours is Queso Blanco (white cheese dip)!
To be honest, we think Queso Blanco is pretty much one of the most addicting dip recipes you'll ever try and we love that it's a staple at many Mexican restaurants.
The best part about this recipe is it takes about 5 minutes to make – great for when you need an easy recipe prepping for a party.
We love to serve this creamy dip at get togethers with warm tortilla chips. It's also great with any Mexican meal and tastes delicious served on tacos, burritos, nachos, and chimichangas.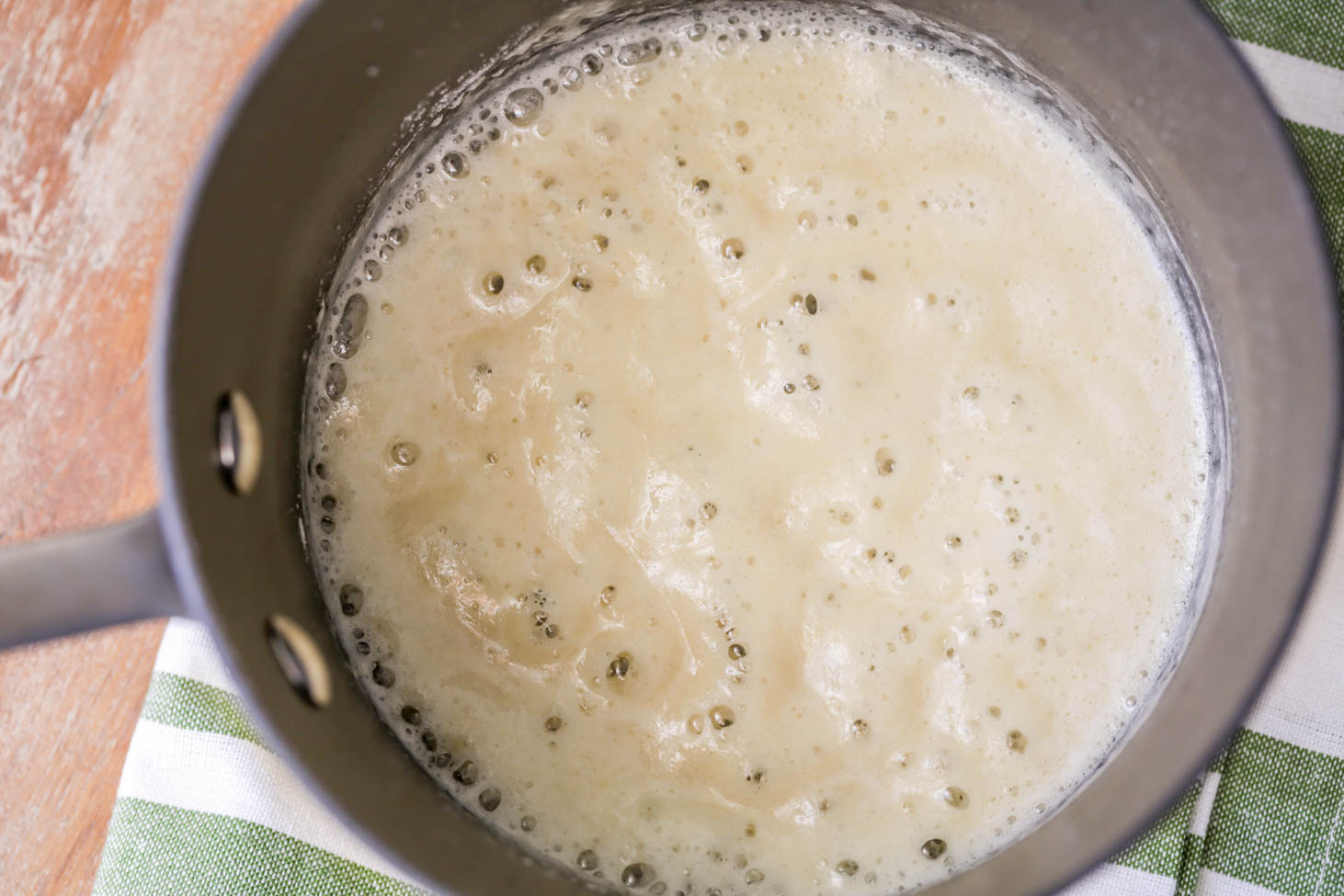 How to Make Queso Blanco
As we mentioned, this queso cheese is made in about 5 minutes. Here is what you'll need:
butter
flour
whole milk
garlic salt
1onion powder
chili powder
ground cumin, optional
white American cheese (white American cheddar cheese)
diced Green chiles
cilantro, chopped
tomatoes, chopped
ROUX. Melt butter in a pan on low heat. Whisk in flour until bubbly (this is creating the roux which acts as a thickening agent once the milk is added).
COMBINE. Add whole milk and stir until well combined. Add green chilis, garlic powder, onion powder and chili powder (or more of any of these for more spice). Add cheese and mix until smooth.
GARNISH. Garnish with tomatoes and cilantro right before serving.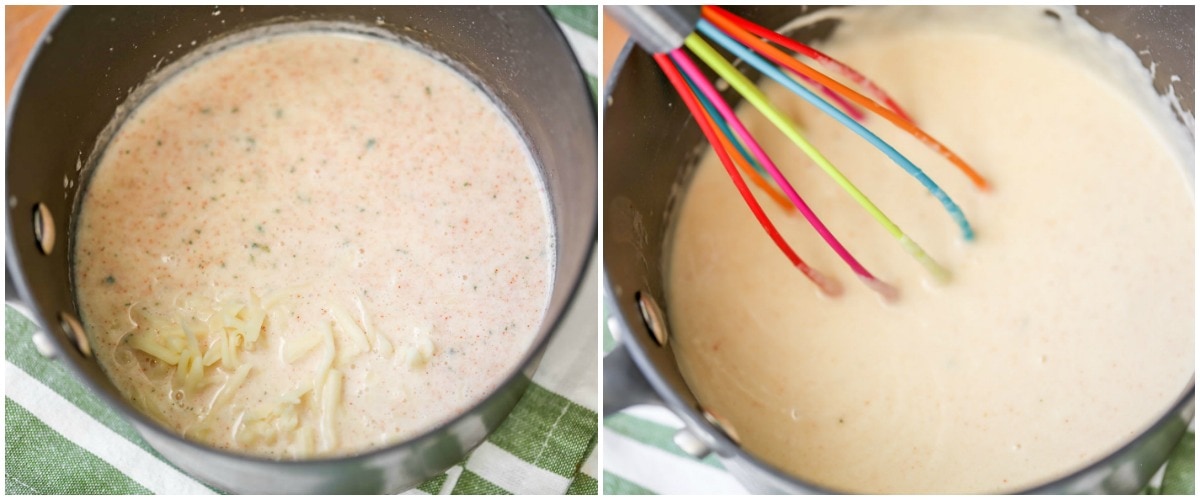 RECIPE TIPS
If you notice the texture of the dip is off, there may be a few reasons. Here are some ideas/fixes:
It was heated too quickly and/or cooked for too long. 

Your milk did not have enough fat—be sure to use whole milk or 2%

You used a pre-shredded cheese. These have an anti stick coating that can ruin the texture of your dip.

It cooled off. Keep the cheese warm otherwise it may begin to harden and solidify.
I never make this Queso Blanco dip in the crock pot since it only takes 10 minutes to cook, however, I do use a small slow cooker to keep it warm! This is great if you're leaving it out for people to snack on throughout the night.
VARIATIONS:
Add some heat by including some minced jalapenos, more chili powder or a can of Rotel instead of the tomatoes and diced green chilies
Change up the cheese by using your favorite or other Mexican cheeses
Add cooked ground beef or chorizo to make it more hearty (similar to our Hamburger Queso Dip)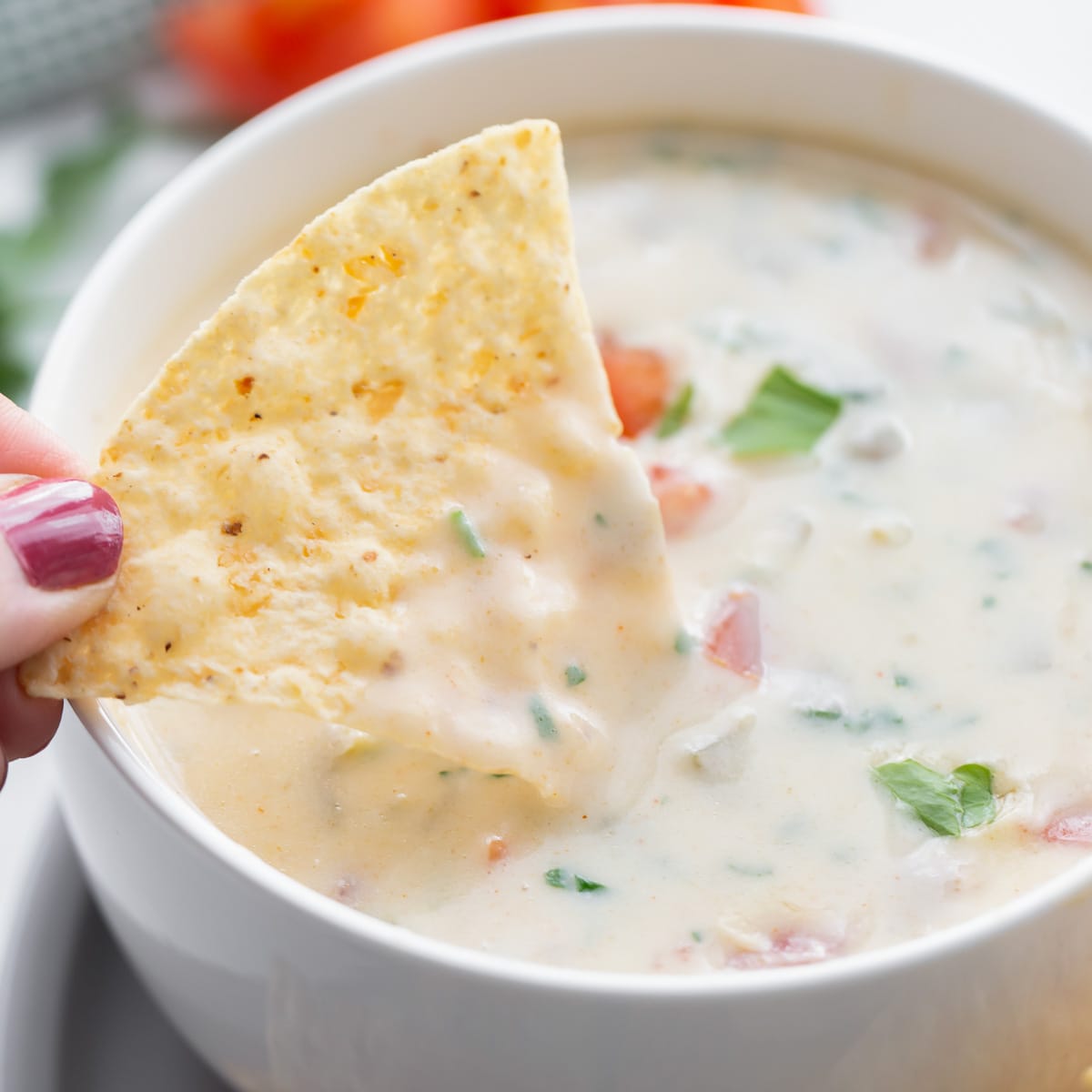 MORE TIPS + FAQ
What to serve with queso blanco? We love to use this recipe in many ways, but especially as a dip to serve with tortilla chips and veggies. We also like to use it on top of some of our favorite Mexican dishes, which include:
The warm, tasty cheese adds so much flavor to these dishes!
How to store? Leftovers of this dip can be stored in an air-tight container in the fridge for up to 3-4 days. Reheat using the microwave and add any more milk if needed if the dip has thickened up.
You will LOVE this white queso sauce! It is so amazing and will definitely be a crowd pleaser. But like I said… it's addicting so BEWARE (and don't say I didn't warn you!) 😉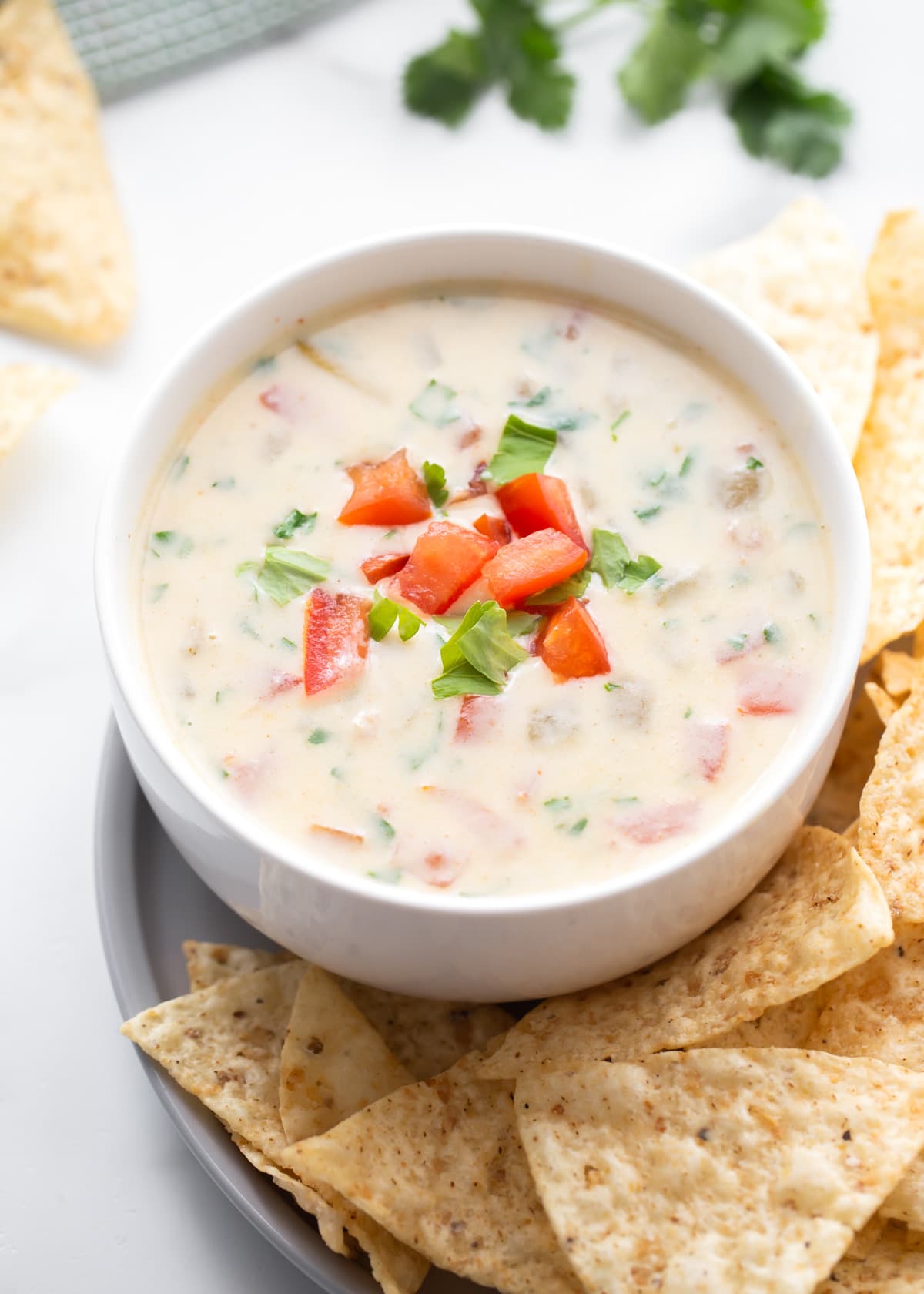 For more queso recipes + dips:
Melt butter in a pan on low heat. Whisk in flour until bubbly.

Add whole milk and stir until well combined. Add diced green chili's, garlic salt, onion powder, chili powder, and cumin.

Add cheese and mix until smooth. Add cilantro and tomatoes right before serving and mix well.

Serve warm.
**This recipe was updated on 3/28/22 – We made it better and yummier!