Tasty 4 layer pumpkin delight dessert starts with a crunchy pecan crust topped with creamy pumpkin, cream cheese, and whipped cream layers!
Layered desserts are so impressive, and usually feed a good sized crowd. That's why we love this pumpkin delight, pumpkin lasagna, and magic pumpkin cake! They all make great Thanksgiving desserts.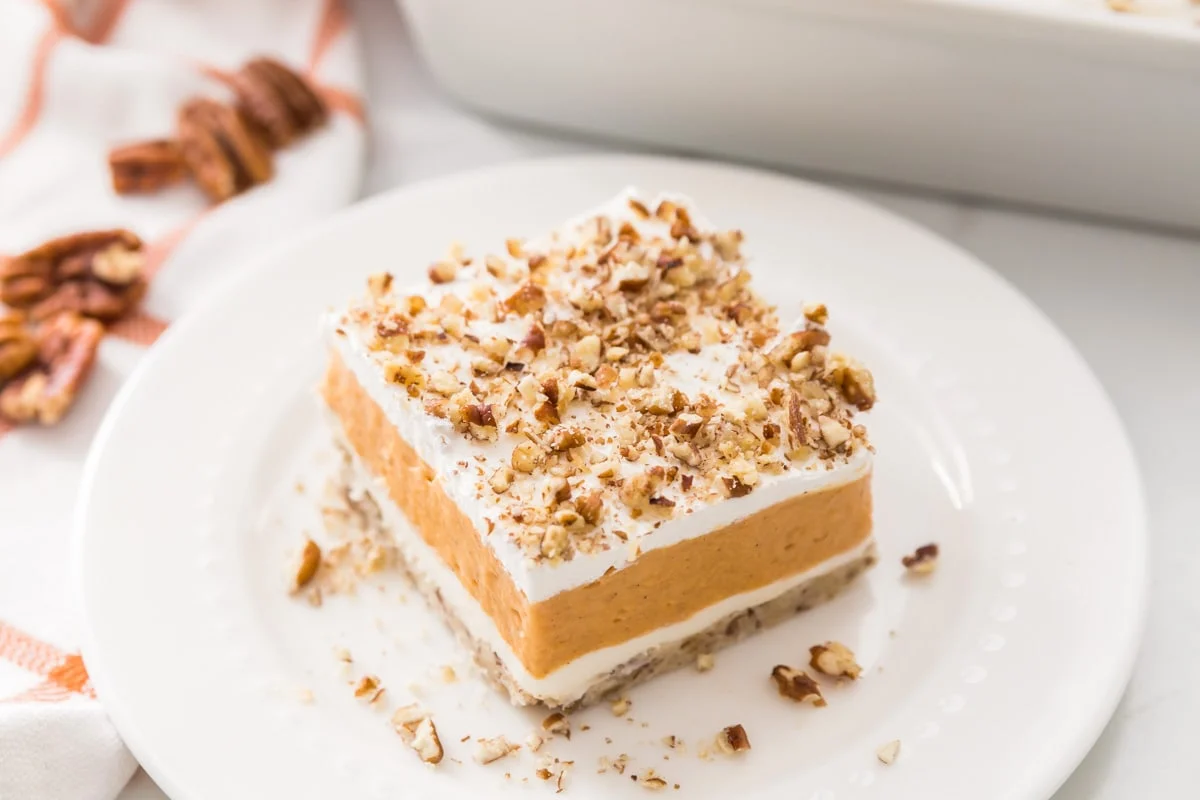 Layered Pumpkin Dessert
This next dessert is one that EVERY pumpkin lover will enjoy. It's one of those delicious layered desserts, and I'm calling it Pumpkin Delight!
With a pecan layer, cream cheese layer, pumpkin and pudding layer and a whipped cream layer on top, it's sure to be a hit in your home!
It may not be pie, but believe me when I say I don't think anyone will be disappointed if you serve this instead. I
love that this Pumpkin Delight is perfect for any celebration in the fall and could even be a great dessert on Thanksgiving, instead of the traditional pumpkin pie!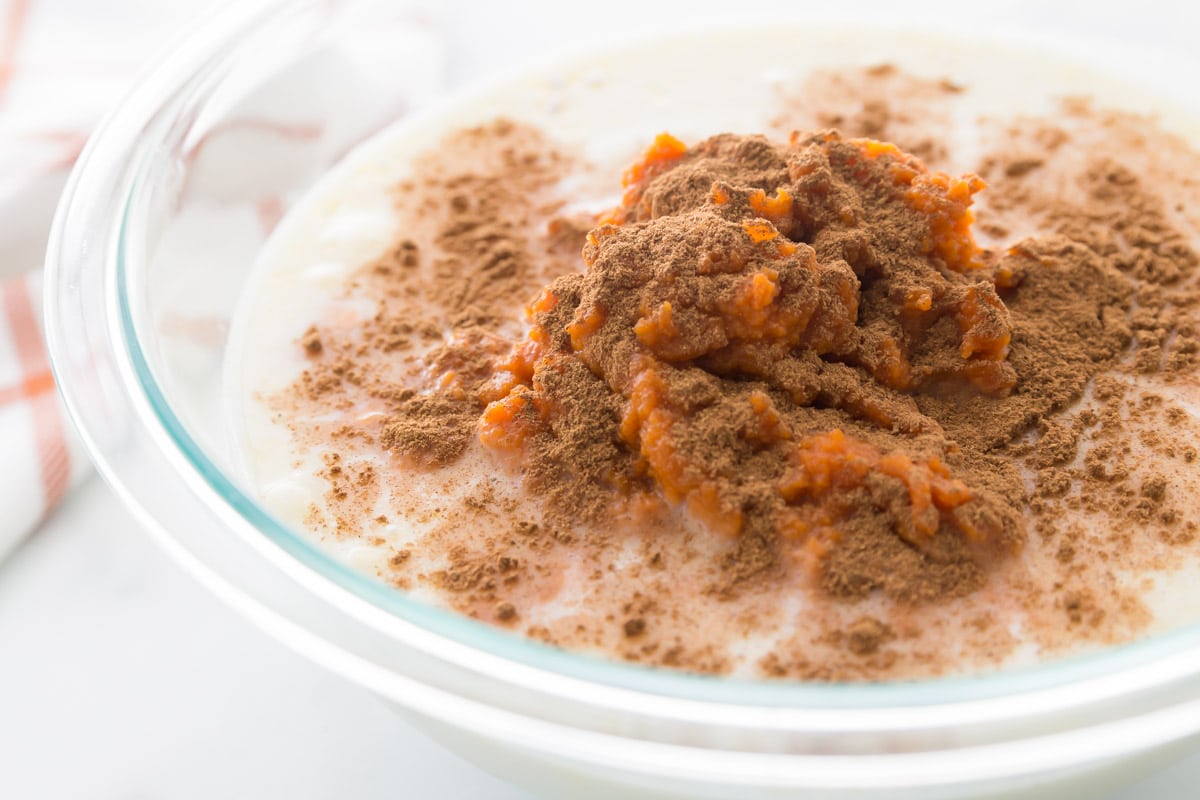 the four layers
This Pumpkin Delight recipe is made up of FOUR delicious layers. While the process is really simple, it is a little bit time consuming so plan accordingly!
Buttery Pecan Crust. Start by mixing the ingredients for the crust and pressing the mixture into a 9×9 or 9×13 pan (ingredient adjustments for bigger batch found on recipe card). Bake for 15 minutes, then remove from the oven and let it cool.
Whipped Cream Cheese. Blend cream cheese, powdered sugar, and whipped topping, then spread over the cooled crust.
Creamy Pumpkin Fluff. Make the third layer by mixing canned pumpkin puree, pudding mix, pumpkin spice, milk, and more whipped topping, then spread on top of layer 2.
Whipped Topping. Lastly, spread remaining whipped cream (homemade or Cool Whip works too) over the pumpkin layer. If you like, sprinkle some chopped pecans on top. Be sure to let it chill for about 3 hours before serving!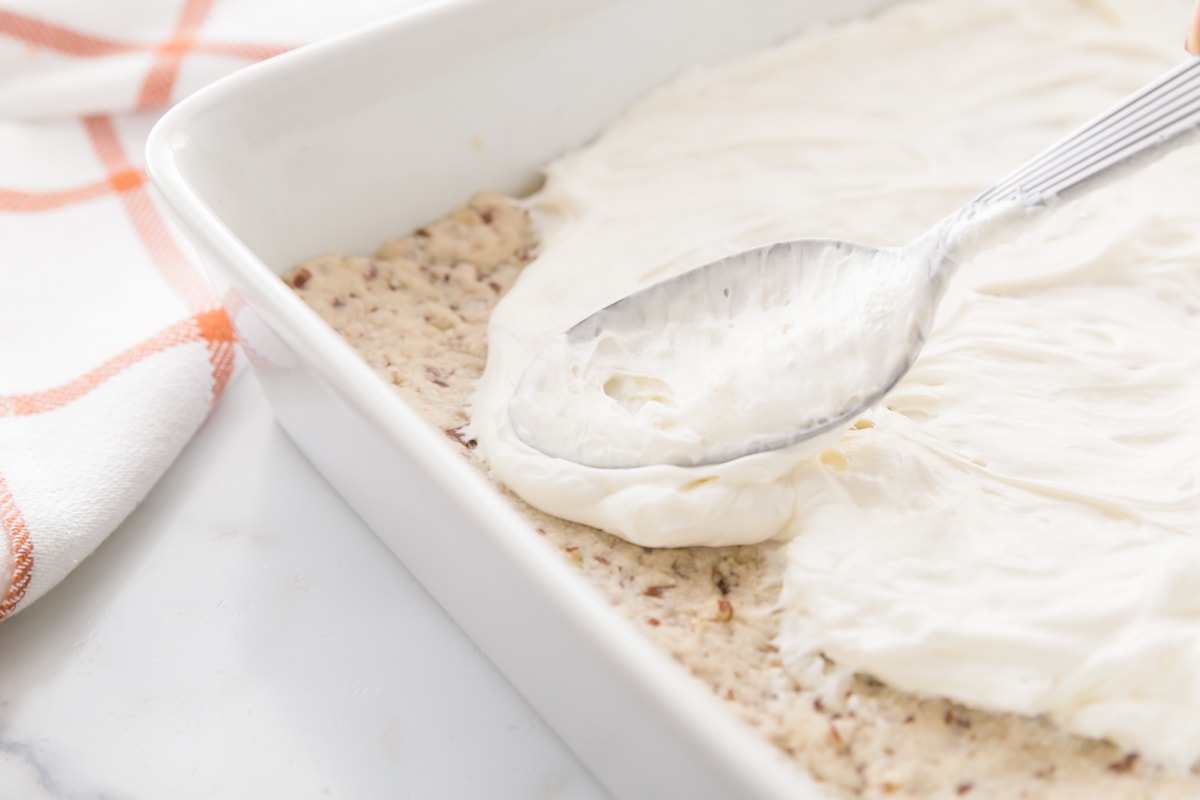 Recipe Tips
Don't prepare the pudding, just add the pudding mix (in powder form) into the mixture.
Be sure to get the instant pudding mix so the layer sets quickly and prevents it from being runny.
Some brands of pumpkin are more watery than others. So if yours is watery, pour it into a strainer and remove the excess water. This will prevent the pumpkin layer from being runny.
Pumpkin Puree: Note that you want to use pumpkin puree and not canned pumpkin pie filling.  The pie filling already has spices and other ingredients mixed into it. Whereas pumpkin puree is only pumpkin.
Most pumpkin puree cans come in 15 oz sizes. If you have a larger can you can scoop the leftover puree into a freezer safe ziploc and store it in the freezer to be used in another recipe.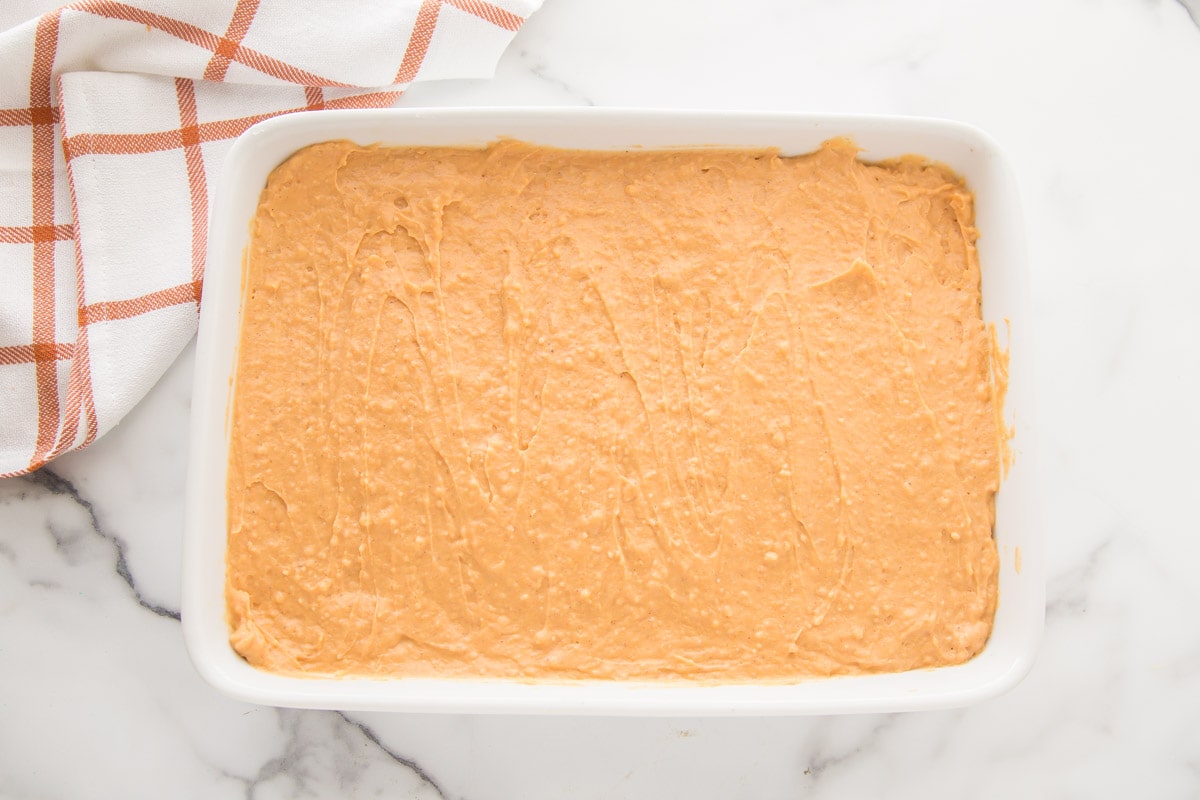 Change it Up!
Variations
If you don't have the white chocolate pudding mix I would suggest getting a vanilla flavor.

You can switch the pecans in the crust layer for heath bits or toffee bits.

If you are wanting a different crust layer, some great options are crushed graham crackers (normal or cinnamon), crushed pretzels, or crushed gingersnap cookies. Since these options are flour based you won't need to add the flour in the crust.

You will want to replace the 1 c of flour AND ½ c of crushed pecans with your substitute of choice and then keep following the instructions normally.
Other toppings: Instead of pecans, you can top pumpkin delight with heath or toffee bits, chocolate chips, different crushed nuts, crushed graham cracker or pretzel.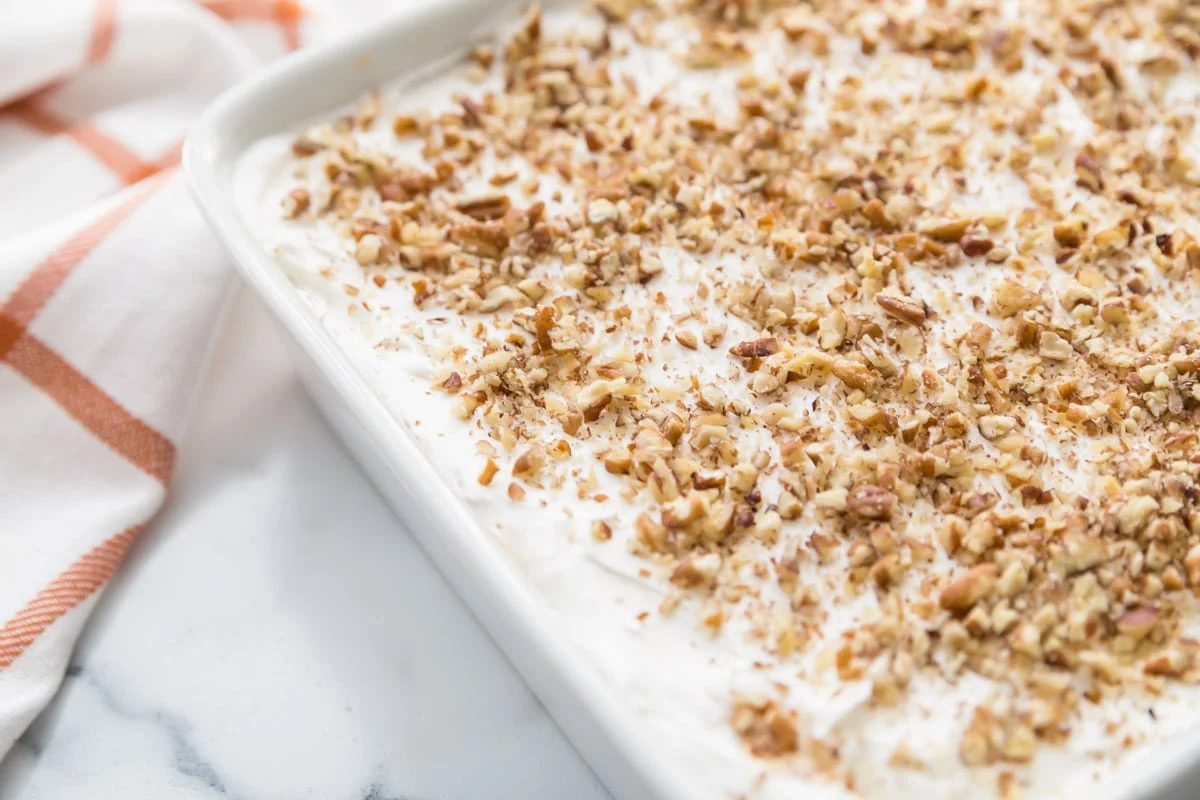 Making ahead + storing
Make this ahead of time, but I suggest not making it more than 24 hrs in advance so it stays as fresh as possible. It will also need to be refrigerated until it is served.
To FREEZE, just cover the top with an airtight lid and place it in the freezer. When you want some, cut out the amount you want and leave it out to thaw and place the rest back in the freezer.
Another option is to divide the leftover delight into individual serving containers. Store in the freezer and grab one when you want a treat. The delight won't thaw quite in its original state, but it still makes a cool delicious treat.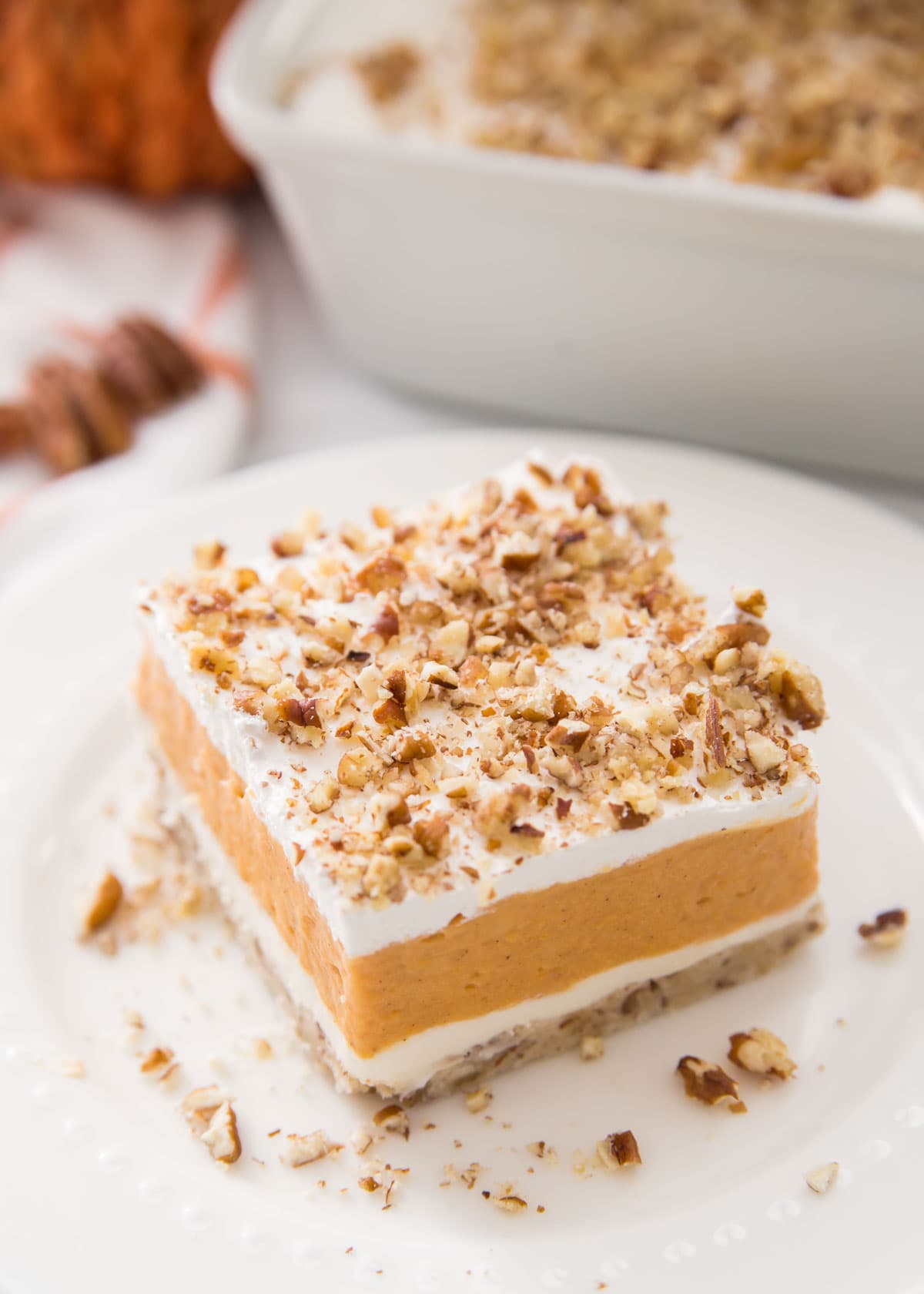 For more pumpkin desserts, check out:
Layer 1
Mix flour, butter and ½ cup pecans together. Press into a greased 9×9 pan. Bake for 15 minutes at 350°F, then remove and let cool.

NOTE: If you are using a 9×13 pan, or would like a thicker crust, add an additional ½ cup flour, ¼ cup butter and ¼ cup chopped pecans.
Layer 2
Blend cream cheese and powdered sugar, add 1 cup of the whipped topping, then spread over cooled crust.
Layer 3
Mix milk, pudding mix, canned pumpkin, pumpkin spice and 1 cup whipped topping until smooth. Spread over top of layer 2.
Recipe adapted from Busy Moms Helper.