Prepare for the most delicious weeknight dinner when you chow down on any of these easy comfort food recipes! Cook up these classic American dishes, cheesy casseroles, and cozy meals full of all your favorites.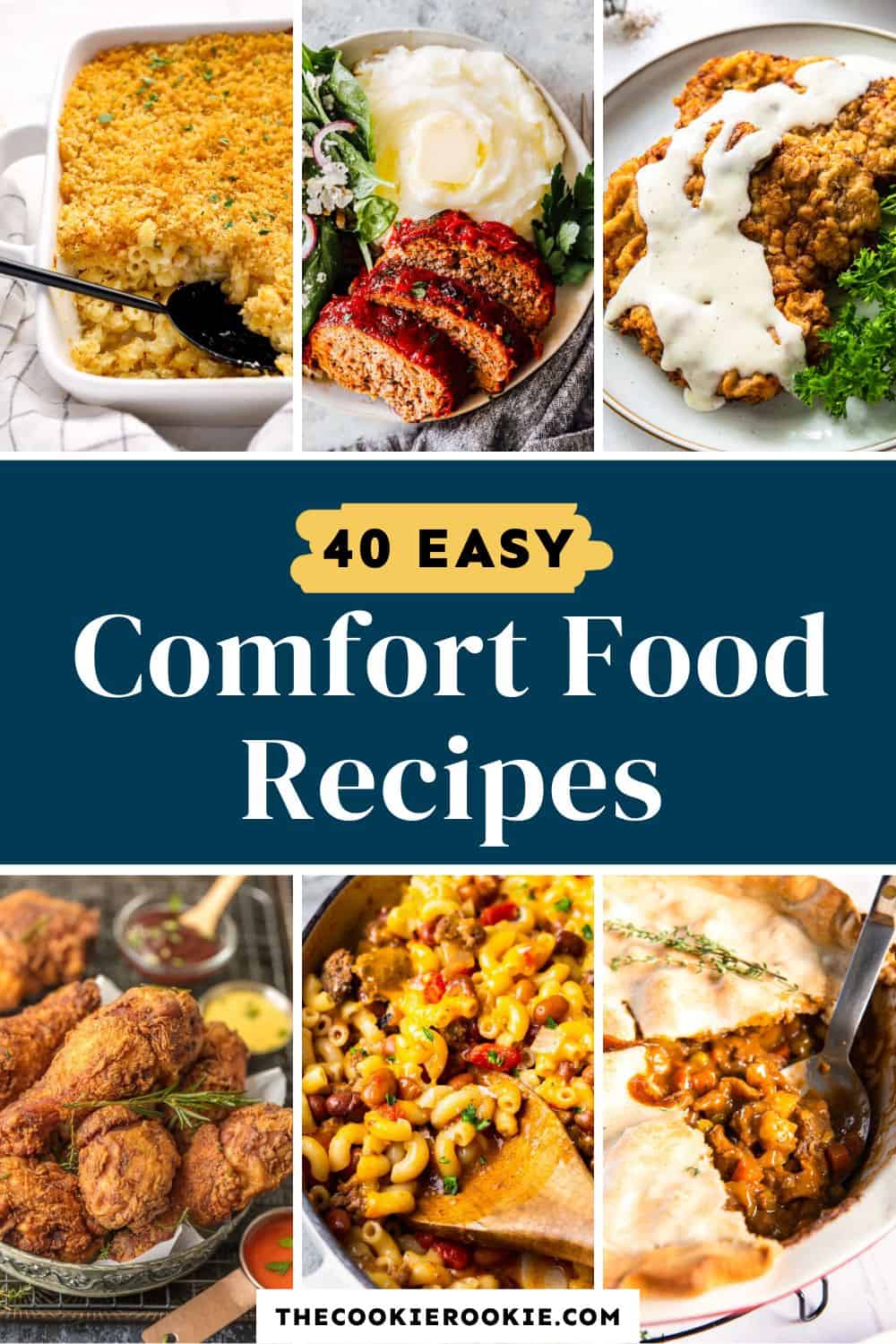 Comforting Meal Ideas
Sometimes all you want for dinner is something cozy, hearty, warm, and filling, especially in the midst of the colder seasons. They call it comfort food for a reason! These recipes will make you feel like you've been wrapped up in a blanket and given a warm hug.
Fill up on mac and cheese, casseroles, chili, soups, meatloaf, and all things cheesy! The whole family will love seeing these favorites on the table. Make any of these comfort food recipes when you need a little extra happiness for dinner!
The best part about these dinner ideas is how EASY they are to make. Satisfy those cravings and get dinner on the table in a pinch, even on busy weeknights!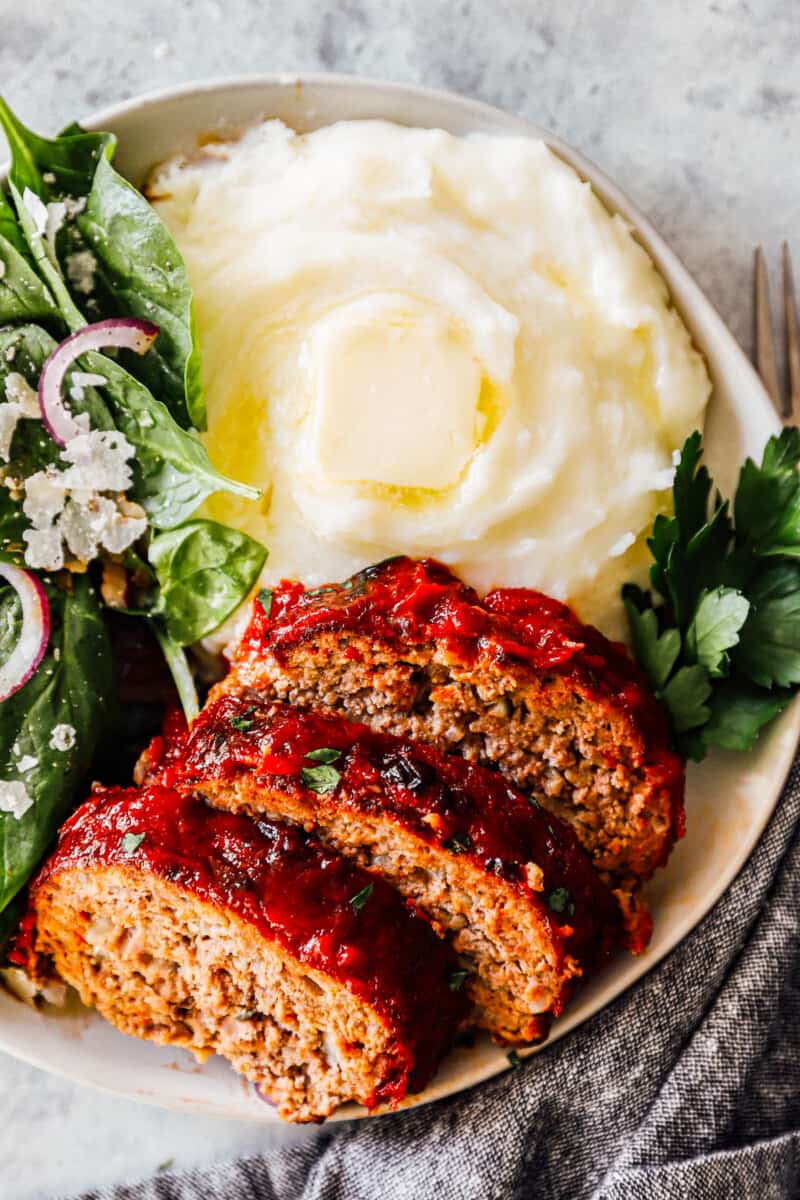 Classic Comfort Foods
When you think of comfort foods, these recipes are most likely the first to pop into your head. These traditional American meals are so filling and flavorful. Everyone will find room for second helpings!
Mac and Cheese Casserole: This is the mac and cheese recipe you need! Three cheeses and noodles baked under a layer of crunchy, butter Panko breadcrumbs.
Chicken Pot Pie: There's nothing more classic than a warm chicken pot pie! A rich and creamy chicken filling is baked into a flaky pie crust. Every bite is filled with flavor!
Air Fryer Meatloaf: This tender, savory, flavorful meatloaf will be ready for dinner in about 30 minutes. Serve it up with mashed potatoes for the ultimate comfort meal.
Chicken and Dumplings: Dumplings made from scratch and juicy chicken, bathed in a savory soup. This dish is so warming!
Creamy Chicken Noodle Soup: Whether you're feeling super healthy or a little under the weather, a big bowl of chicken soup is sure to warm you up like a big hug.
Lasagna: This traditional lasagna with meat sauce is a family dinner everyone will be asking for again and again. No need to mess with a classic!
Oven Fried Chicken: This is a (slightly) healthier version of fried chicken that you'll love just as much. Chicken breasts are breaded and baked to crispy perfection!
Best Ever Chili: This is the go-to chili recipe for cold winter nights, game day, and more. It's sure to satisfy everyone who tries it, especially with a bit of cornbread on the side.
Sloppy Joes: As soon as it starts to get cold outside, sloppy joes pop into my head. These saucy ground meat sandwiches are so hearty and tasty, plus they're fun to eat!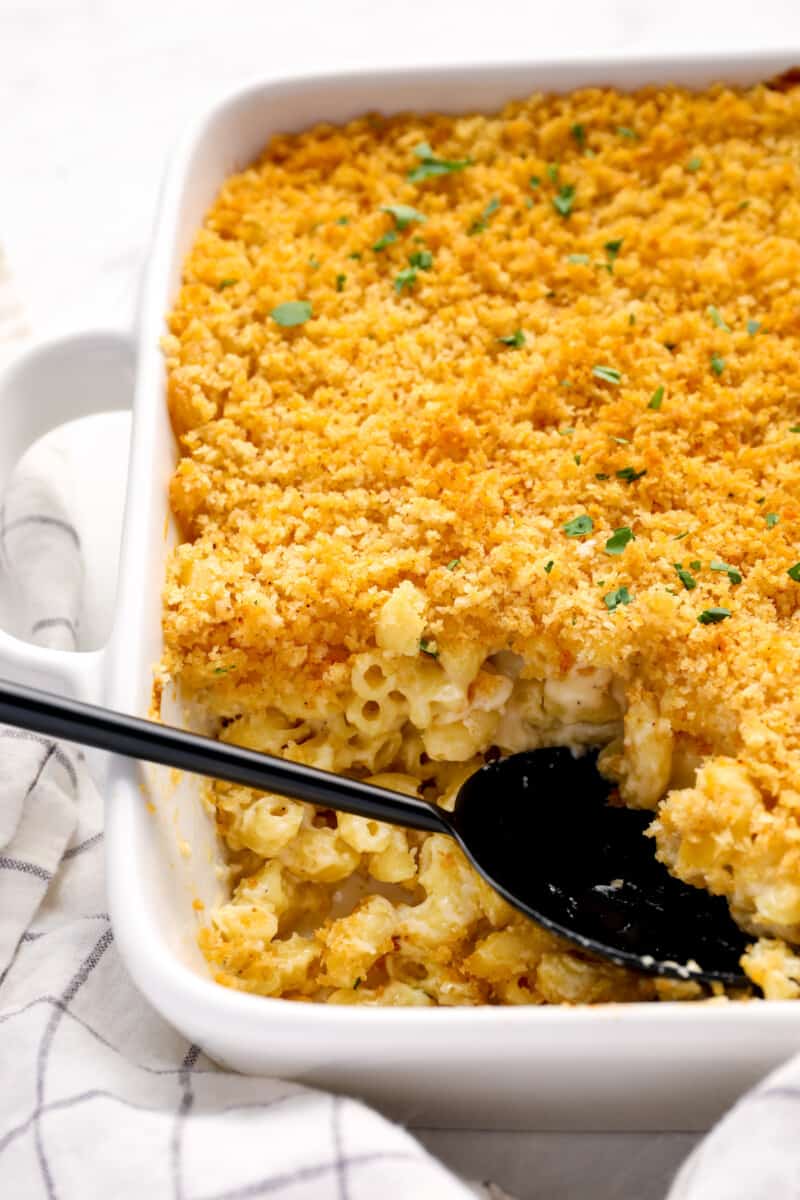 Cozy Casseroles
Casseroles are the definition of cozy meals! They're easy to make, they're filled with delicious ingredients, and they come out of the oven perfectly warm. Dig into any of these dishes for instant comfort.
Hamburger Casserole: Forget hamburger helper, this casserole is so simple to make from scratch. Flavorful ground beef, creamy cheese, and pasta shells make the most delicious weeknight dinner!
Chicken Parmesan Casserole: What could make chicken parmesan even more comforting? Baking it into a casserole! It's such an easy way to make and eat this classic dish.
Pizza Casserole: Turning our favorite comfort foods into casseroles is a pretty obvious trend here. Pizza sauce, cheese, noodles, and pepperonis makes a dish so easy to eat, you'll definitely go in for seconds.
Crockpot Spaghetti Casserole: Using a slow cooker is the easiest way to make spaghetti. It's filled with meat sauce and topped with cheese!
Doritos Casserole: If you're a fan of this cheesy chip, you'll love it even more piled on top of this Mexican-inspired casserole. It's crunchy, cheesy, and so tasty!
Cheesy Tater Tot Casserole: Tater tots, cheese, ground beef, green beans, cream of chicken, cheese…the ingredients list alone should tell you how comforting this hot dish is!
Tuna Noodle Casserole: This cozy casserole is filled with tuna, noodles, veggies, potato chips, and a creamy sauce, then topped with breadcrumbs.
Frito Pie Casserole: If you've never had Frito pie, this casserole is going to blow you away! It's filled with seasoned beef, cheese, and all the best Tex-Mex ingredients, then topped with crunchy corn chips.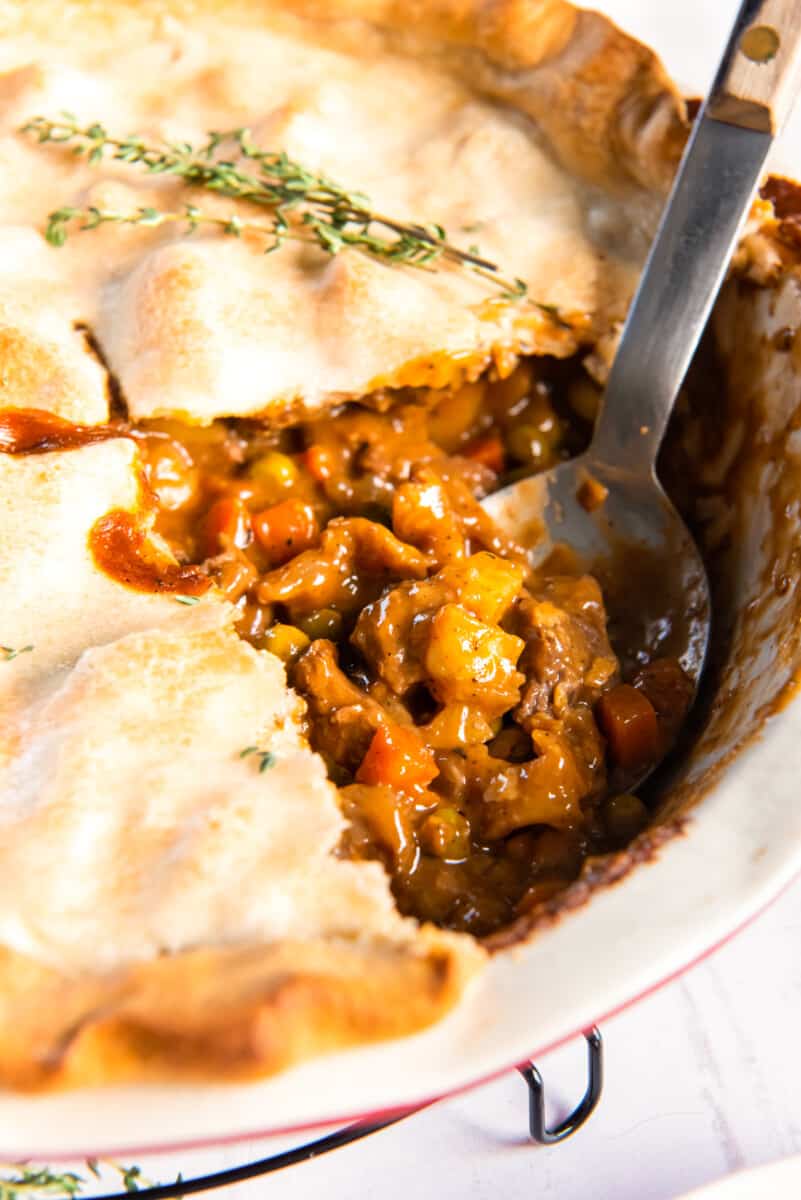 Cold Weather Dinner Ideas
When the weather outside is frightful, all you want to do is stay inside and fill up on something that will keep you warm. These hearty meals will do the trick when it's cold out!
American Goulash: Beef, noodles, marinara, and tons of seasonings make this dish so cozy on cold nights. Plus it's quick to make, so dinner will be ready in a pinch.
Beef Pot Pie: Beef and veggies are cooked in a red wine sauce, and topped with a flaky pie crust. This hearty dish is the definition of comfort food!
Swedish Meatball Soup: Swedish meatballs are a pretty classic comfort food, and they get even cozier when served in a delicious soup! Egg noodles and creamy broth make it super filling.
Crockpot Beef Stroganoff: Melt-in-your-mouth beef is cooked up in a creamy sauce, and it's so easy in a slow cooker. Serve it up with noodles, mashed potatoes, or rice.
Smothered Pork Chops: Juicy pork chops are smothered in a savory onion gravy. It makes the best weeknight dinner.
Ramen: Make a big bowl of ramen from scratch, in less than 30 minutes. This mix of crispy tofu, noodles, and a veggies-filled broth is beyond tasty.
Sweet Potato Chili: Sweet potatoes and Italian sausage take classic chili up a notch, for the most warming winter dinner.
Chicken Parmesan Soup: Turn your favorite Italian dish into soup! Chicken, tomatoes, pasta, and cheese make every bite super satisfying.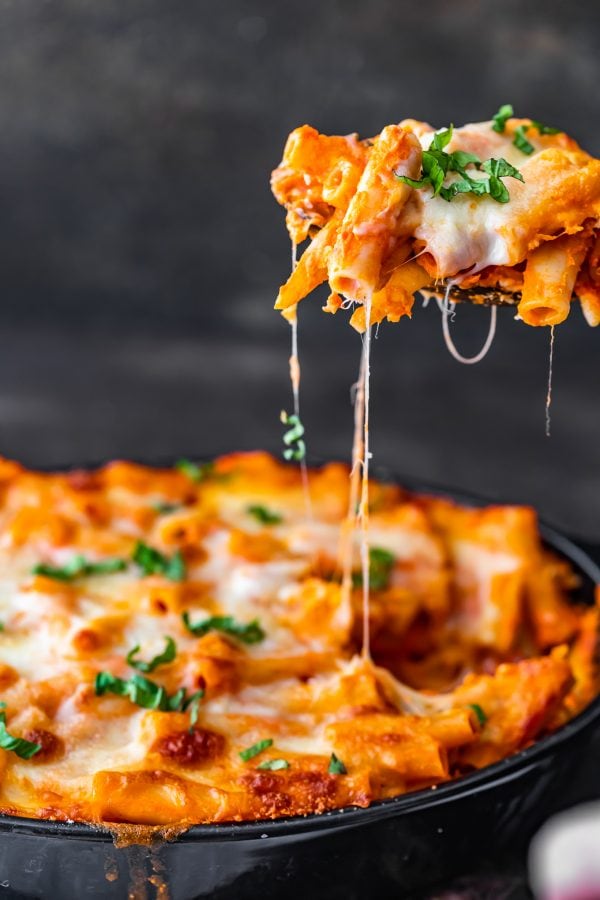 Comforting Dinner Recipes
If you're looking for an easy dinner that's warm, hearty, and filling, these comfort food recipes are sure to please. These make great weeknight meals that the entire family will enjoy.
Beef Stew: A big bowl of stew is perfect for winter nights. Chuck roast, potatoes, and carrots are cooked with red wine, tomatoes, and herbs. Talk about cozy!
Cacio e Pepe: What could be more comforting than a plate of cheesy, creamy pasta? It looks fancy, but it will fill you up real quick.
Crockpot Chicken and Rice: Shredded chicken is cooked in a creamy sauce and covered with cheese. It's simple, easy to make, and beyond delicious.
Baked Ziti: This creamy ziti is baked with tons of cheese and served hot. It's a family favorite, and it's easy to make ahead of time too.
Deep Dish Skillet Pizza: Make a homemade pizza in a skillet, filled to the brim with cheese, sauce, and toppings. Digging into this with the family will feel like you're at your favorite pizza place.
Crockpot Chicken and Gravy: Slow cook chicken in a delicious, creamy gravy, then shred it up and serve it over rice with potatoes for a cozy meal.
Cheesy Baked Gnocchi: Pillowy gnocchi is baked up in tomato sauce and cheese for a super easy, one pan dinner. It's plenty filling and stress-free.
Philly Cheesesteak Stuffed Peppers: Tender steak is combined with mushrooms and onions, stuffed into bell peppers, topped with provolone cheese, and baked to melty perfection.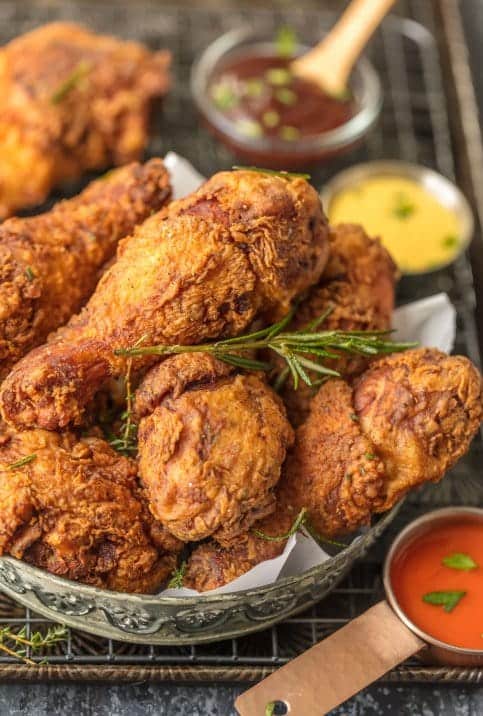 Southern Comfort Food
Classic Southern food is alway the most comforting! We get all the best here, from fried foods and hearty carbs, to flavorful veggies and everything covered in cheese. 
Buttermilk Fried Chicken: This is classic Southern fried chicken the way you always imagine it. It's got the best crunch and so much flavor.
Red Beans and Rice: Beans, rice, pork, and lots of seasonings make this a perfectly spicy bowl. Every spoonful is delicious!
Chicken Fried Steak: Steak is coated and fried up to give it the most satisfying crunch, then covered in a creamy white gravy. Plus it's quick and easy to make during the week.
One Pot Chili Mac: Combine two comfort classics–hearty chili and cheesy macaroni–for one delicious dish. This recipe is made in one pot for the easiest dinner!
Instant Pot Black Eyed Pea Soup: Black eyed peas are a Southern classic! Combined here with sausage, veggies, kale, and more, this makes the perfect comfort soup to kick off the new year.
Chicken Pot Pie with Biscuit Topping: This southern style pot pie casserole is filled with chicken, veggies, and cheese. The best part is the flaky biscuit topping, which makes it all the more delicious.
Sausage Gumbo: A big bowl of this gumbo is beyond cozy. Chicken sausage and veggies are cooked up in a spicy stock, then served over okra rice pilaf.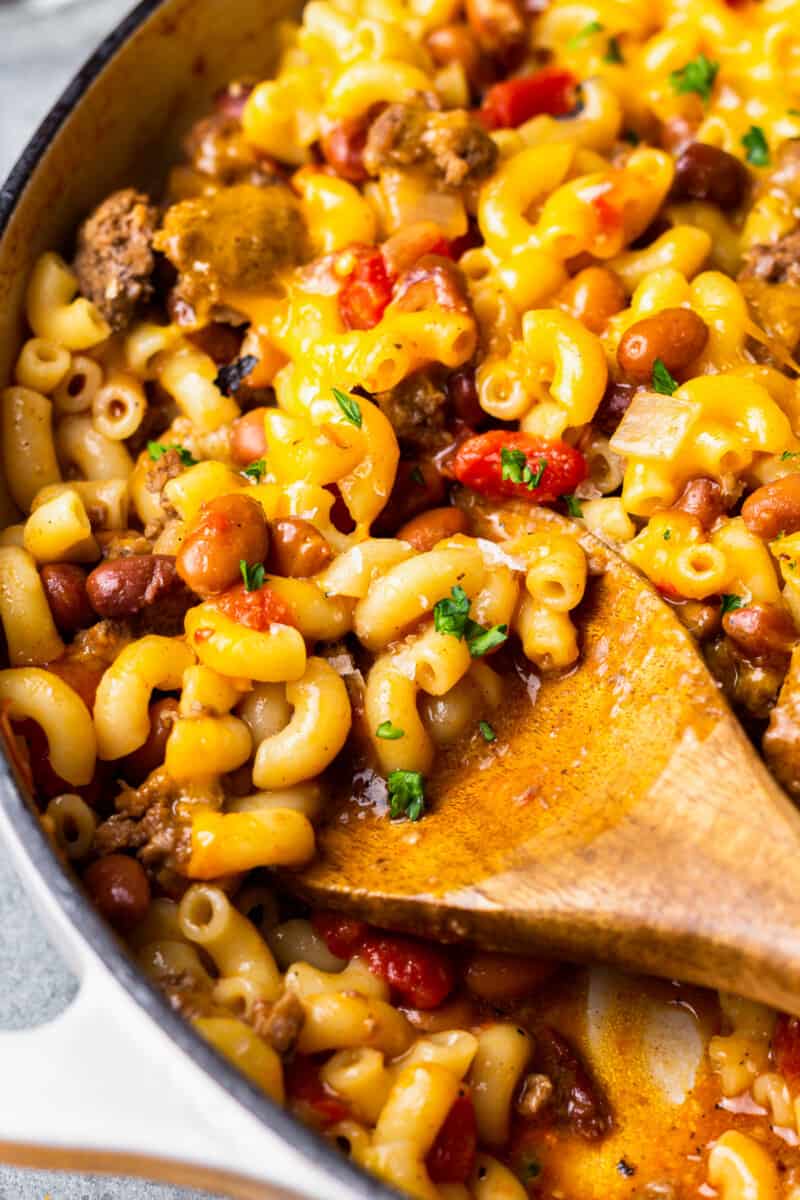 All of these comfort food recipes are perfect for weeknight dinners, and the whole family will be happy to see them. So prepare to get cozy, cook up something easy and delicious, and dig in to warm your soul. Enjoy!
More Dinner Ideas
Still looking for the perfect weeknight dinner? These recipe ideas are all easy, tasty, and well-loved. The whole family will enjoy these, even the kids!
Recipe Ideas