These summer salads are perfect for lunch or dinner on warm days. Keep things light, fruity, and refreshing, or make something more savory and filling. Any of these easy summer salad recipes will be a hit, and they pair well with all of your favorite summer dishes.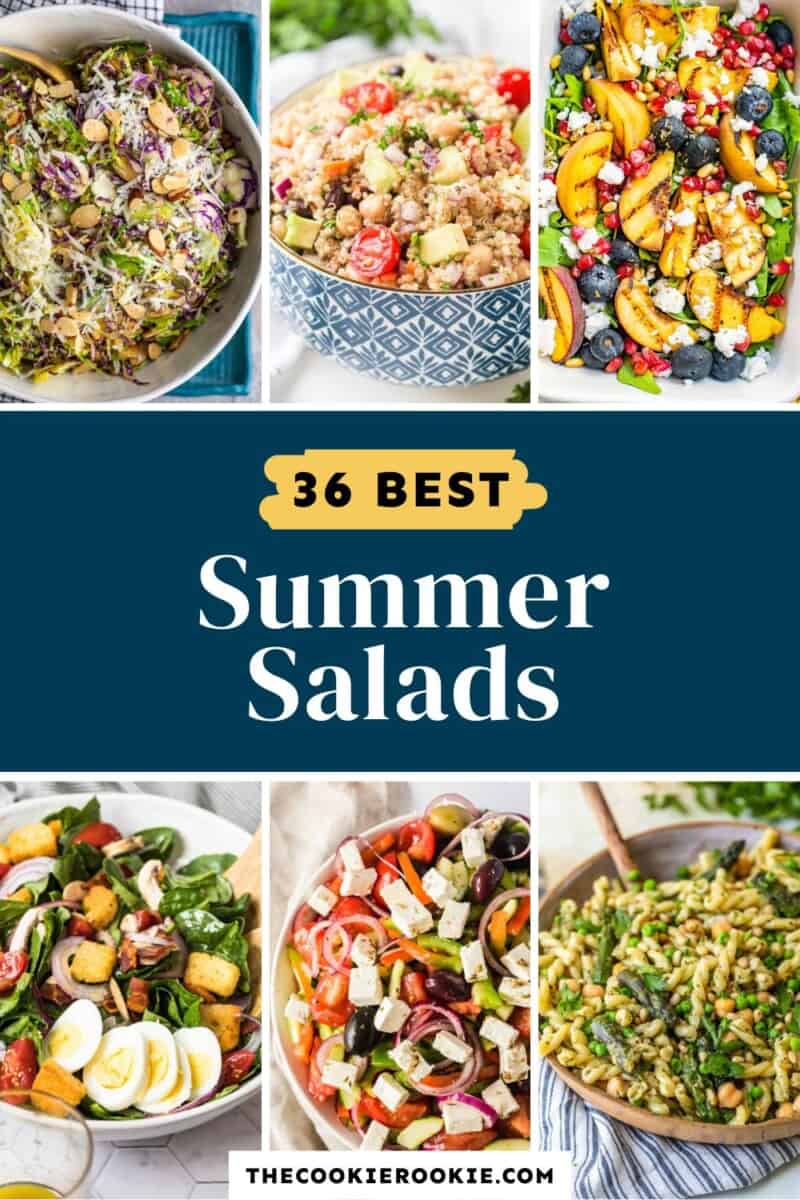 Summer Salad Recipes
Warm summer days call for lots of delicious summer salads! They're one of my favorite things to make when it gets hot, either for lunch, dinner, or as an appetizer or potluck dish. These recipes are all easy to make, refreshing, and filled with flavor.
I've gathered some of the best summer salad recipes for you to try. There are lots of light and healthy salads filled with fruit and veggies, and a few heartier options with protein that are great for dinner.
Choose from fruity salads, pasta salads, cold salads and side salads. Whatever you choose, it'll be simple and flavorful! These are great for summer grilling days, cookouts and BBQs, picnics and potlucks.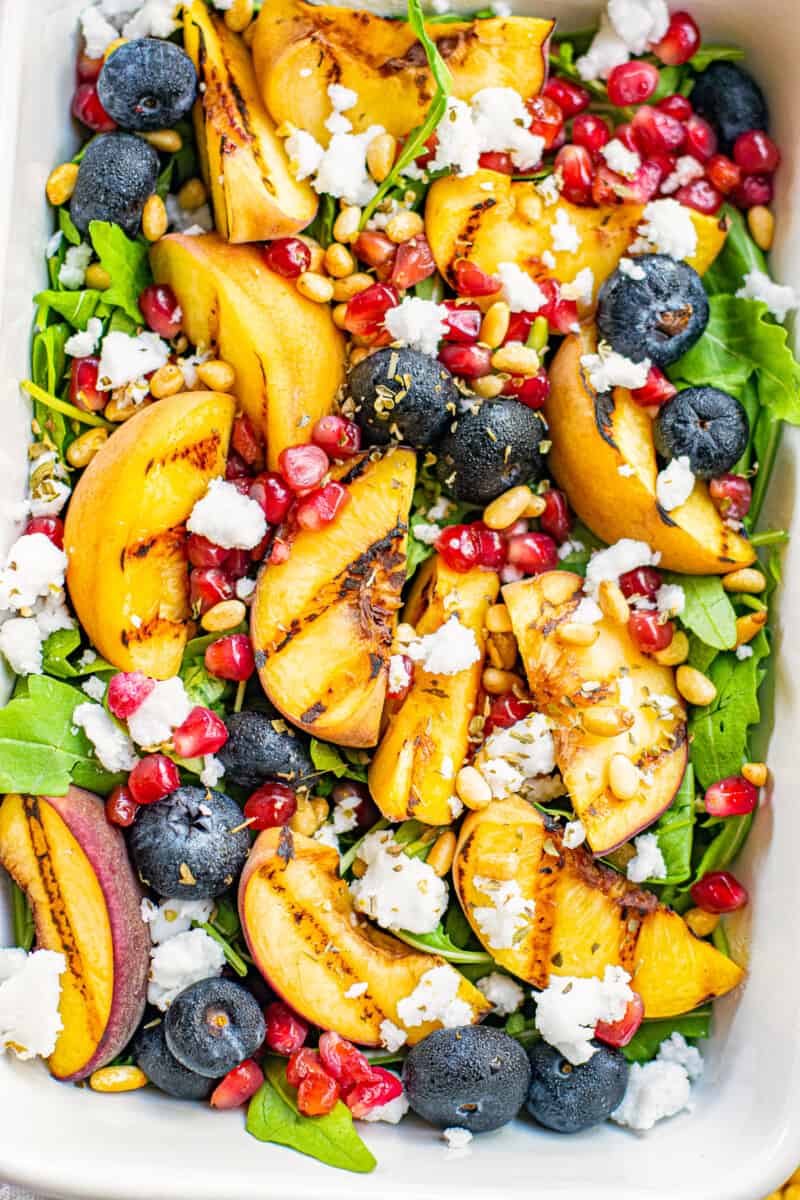 Fruity Summer Salads
These salad recipes are filled with fruit, like apples, strawberries, peaches, and more. They're so bright, juicy, and refreshing, which makes them ideal for summertime.
Grilled Peach Salad: Sweet grilled peaches, blueberries, and pomegranates top off this incredible summer salad! You'll be serving it every chance you get.
Grape Salad: Juicy grapes are mixed with cream cheese, brown sugar, and pecans for a super sweet dish. It's a great side dish or light dessert for the season!
Cucumber Apple Salad: Cucumber, radishes, and green apples are combined with a creamy dressing for a unique flavor mix. It's fresh and healthy, great to serve before dinner.
Strawberry Salad with Poppy Seed Dressing: This fruity summer salad is filled with lots of tasty ingredients, and topped with a sweet poppy seed dressing. It's a must for the season!
Mandarin Orange Salad: Greens are tossed up with juicy mandarin oranges, almonds, and croutons, and dressed with a cider vinaigrette. It's so light and refreshing as a side salad or lunch!
Waldorf Salad: Chopped apples and grapes are combined with candied pecans, raisins, and more, then covered in a creamy dressing. This is a healthier version of a classic side dish (but still sweet and creamy!).
Strawberry Bacon Salad: Strawberries add a fresh and fruity flavor, while bits of bacon and feta add something more savory. This is a great summer side salad that pairs well with chicken and grilled dishes.
Peach Corn Tomato Salad: This little salad is such a creative mix of ingredients. Tomatoes, onions, corn, and peaches make a surprisingly delicious mix! It's a good recipe to use up fresh peaches.
Fruit and Feta Mason Jar Salad: This is such a great salad for parties and potlucks! Fill mason jars with fresh fruit, feta, greens, and dressing to make individual-sized portions that are easy to eat. And they fit the red, white, and blue theme for any summer holiday.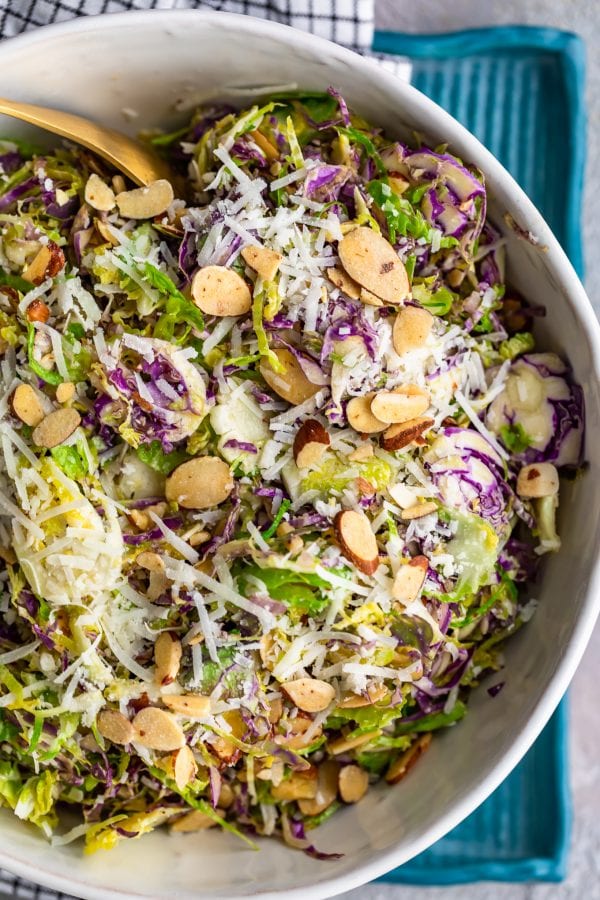 Healthy Summer Salads
What could be healthier than a salad? One of the best things about all of these recipes is that they're delicious AND they're good for you. Packed full of greens, veggies, fruits, and whole grains, all of these dishes are filled with nutrients.
Asian Cucumber Salad: This salad is filled with cucumbers, greens, onions, garlic, rice vinegar, and more. It's light, flavorful, and refreshing!
Caprese Salad: This classic dish is so simple but so delicious! Sliced tomatoes and mozzarella are lightly seasoned for a healthy appetizer. It's perfect for cocktail hour!
Olive Garden Salad: This copycat recipe with Italian dressing is one of my favorites to serve with dinner, either as an appetizer or on the side. It goes so well with pastas and Italian dishes.
Cucumber Tomato Salad: This simple recipe is a nice mix of cucumber, tomato, onion, and feta. It's bright, colorful, and healthy!
Zesty Panzanella Salad: This recipe is made with cubes of baked bread (croutons), lots of veggies, and a lemon vinaigrette. It's light, fresh, and pairs well with so many summery dishes.
Shaved Brussels Sprouts Salad: Brussels sprouts are shaved up and tossed with cheese and almonds, then covered in a lemon honey vinaigrette. It's healthy, light, and flavorful!
Classic Caesar Salad: A classic Caesar salad always hits the spot, and this one is fully homemade, from the croutons to the dressing. Serve it with any meal or enjoy it on its own.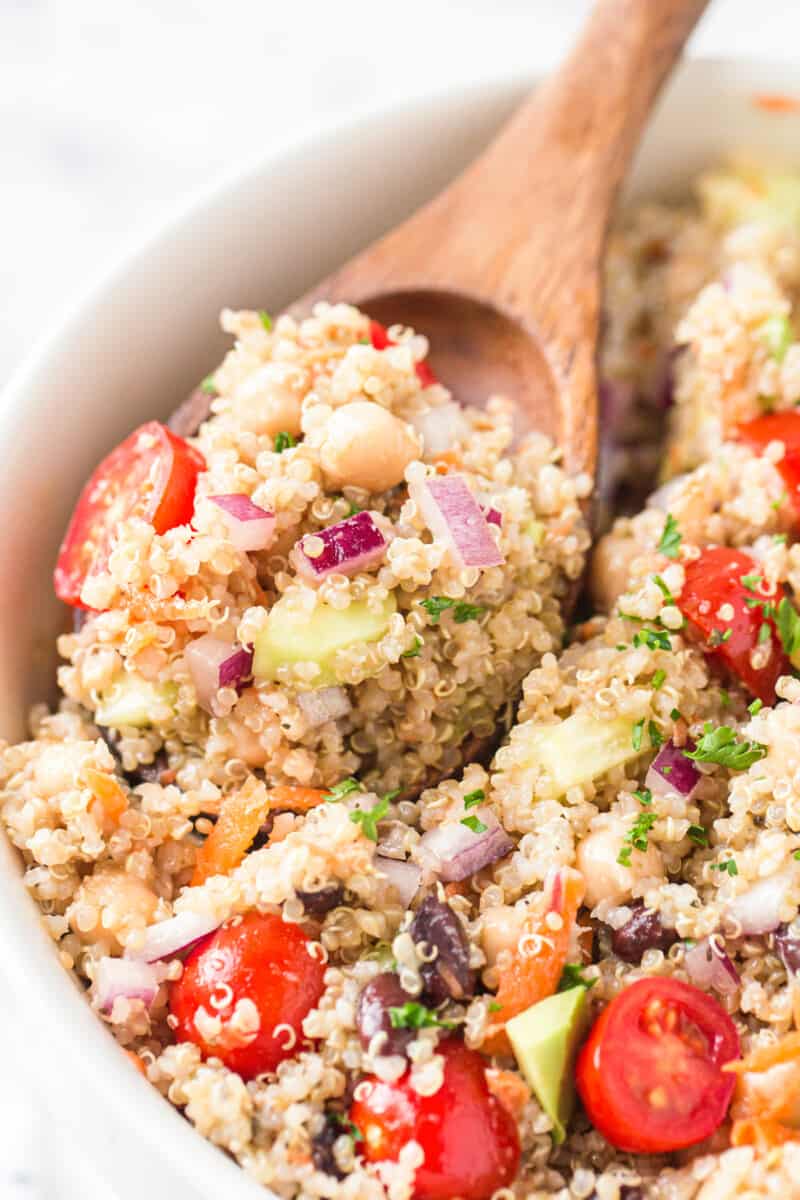 Cold Salad Side Dishes
Go beyond the greens with these cold summer salads that are perfect as a side dish. These recipes are filled with things like quinoa, beans, veggies, corn, and more.
Quinoa Salad: Quinoa, chickpeas, black beans, avocado, and so much more is tossed in a honey lime vinaigrette. This recipe is a great cold side dish to serve with chicken, burgers, or sandwiches.
Creamy Pea Salad: Creamy peas are topped with crispy bacon for a tasty side dish that is perfect for cookouts.
Confetti Corn Salad: This dish is a favorite to serve on the side with grilled chicken. It's simple and quick to make!
Macaroni Salad: This creamy pasta salad is made with macaroni noodles, cucumbers, and onions. It's a great salad for BBQ and burgers!
Grilled Corn Salad: Grilled corn, cheese, jalapenos, peanuts, and more make a truly mind-blowing dish! This is always a hit at potlucks.
Caprese Farro Salad: Farro, cherry tomatoes, and mozzarella pearls makes a delicious little lunch salad. It's great to serve on the side too!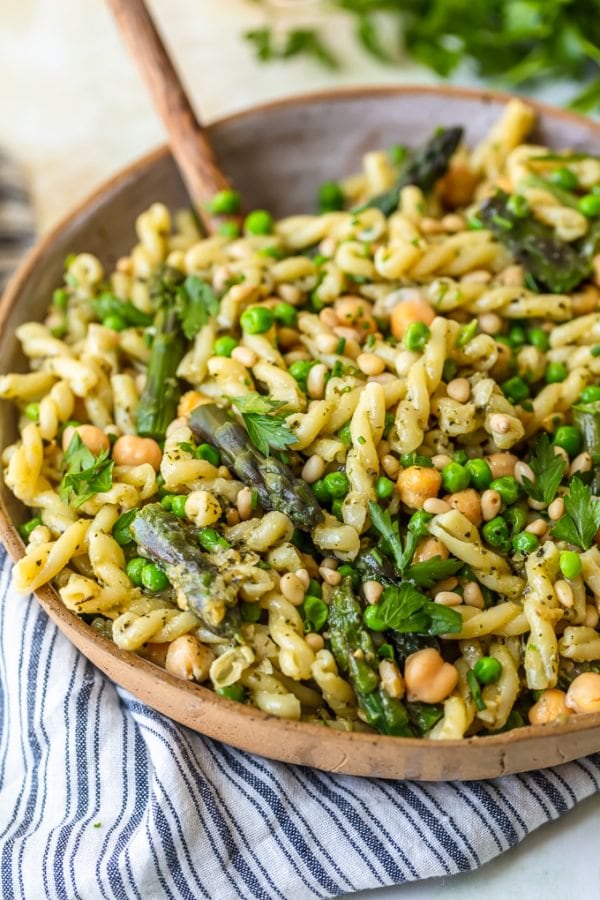 Summer Pasta Salads
Cold pasta salads are one of the best dishes to make on hot days. They're easy, cool, and so delicious. They make a great main or side dish for parties and get-togethers!
Classic Pasta Salad: You can't go wrong with a classic recipe! This is a favorite pasta salad for picnics and simple lunches at home.
Ranch Chicken Pasta Salad: This creamy pasta salad is filled with black beans, chicken, corn, tomatoes, jalapenos, and so much more. It's a little spicy and SO flavorful.
Pesto Pasta Salad: This summer pasta salad is so delicious! It makes a large batch, so it's a good option for potlucks and parties.
Green Goddess Pasta Salad: This recipe is filled with asparagus, peas, chickpeas, and pasta to make one delicious pasta salad! It's a favorite for summertime.
Street Corn Pasta Salad: Combine Mexican street corn with pasta salad for the ultimate summer dish. The chili lime mayo adds so much flavor!
Strawberry Avocado Pasta Salad: Fresh strawberry and avocado tops this simple pasta salad, with a poppy seed dressing to bring all the flavors together.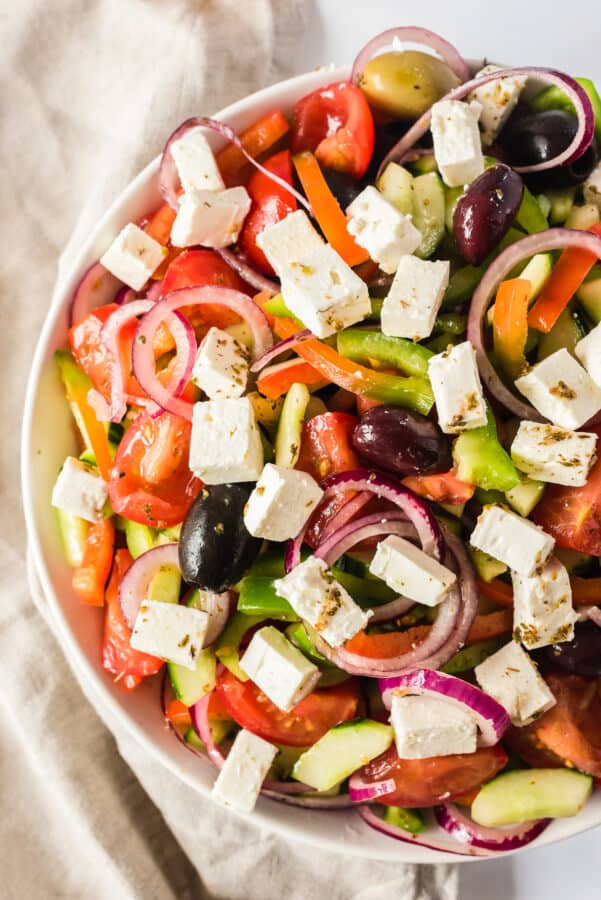 Easy Salads for Dinner (or Lunch!)
These big salads are packed with ingredients, which makes them ideal for meals. Make any of these for a nice lunch or dinner on a warm day! You won't be left hungry after finishing these.
Tequila Lime Salmon Salad: This is a delicious and healthy salad that's perfect for summer dinners. Flavorful baked salmon and a tequila lime vinaigrette tops of the salad mix.
Cobb Salad: An amazing cobb salad is the ideal dinner. It's packed with greens, bacon, hard-boiled eggs, tomatoes, and so much more. 
Chopped Caprese Salad: This chopped up version of a classic caprese is so easy to make. Bite-sized tomatoes and mozzarella are drizzled in balsamic for a sweet and savory lunch or side.
BLT Farro Salad: This BLT (bacon, lettuce, tomato) salad is tossed up with farro, feta, and more. It makes a delicious lunch or side salad!
Spinach Salad with Bacon: This hearty salad is filled with lots of ingredients, like bacon, mushrooms, onions, croutons, and hard-boiled eggs. It makes a great lunch or dinner!
Peruvian Chopped Salad: I love this chopped salad, filled with lima beans, corn, radishes, and lots of other good stuff. It makes a nice light lunch or side!
Traditional Greek Salad: This makes a quick, easy, and healthy meal to enjoy in the warmer months. Tons of chopped veggies are covered in a light dressing that tastes amazing!
Kale Caesar Salad: Make a fresh Caesar salad for dinner, but with kale instead of romaine. This makes a super healthy lunch or dinner that pairs well with all kinds of dishes.
Grilled Chicken Caesar Salad: This salad features grilled romaine and grilled chicken, for the perfect summertime salad.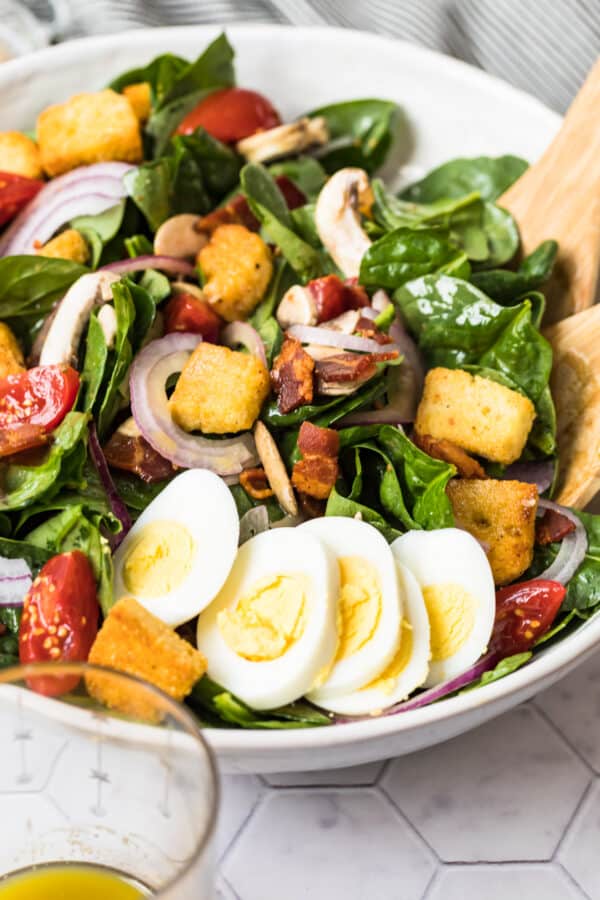 Any of these summer salads will make a great dish to serve up for weekend lunches, pre-dinner appetizers, cookout side dishes, or whatever you have planned for the summer season. As soon as the temperatures start rising, you'll want these delicious fruit and veg filled recipes for every meal and occasion. They're easy, healthy, and sure to delight!
More Summer Recipes
Once you've got the salads covered, check out these other summer recipe ideas for BBQs, burgers, potlucks, and grilling!
Recipe Roundups