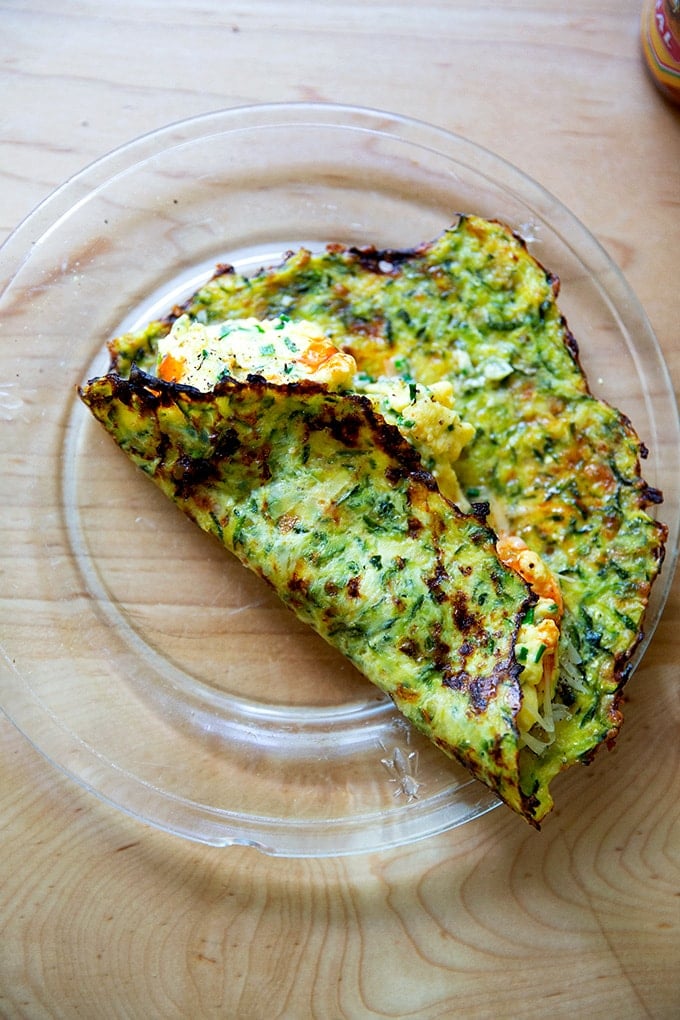 Today I'm sharing yet another zucchini recipe, one I've had flagged to make for over five years.
It comes from Todd + Diane, who drew inspiration from the cauliflower pizza-crust craze and created a vegetable-based soft taco shell using the abounding summer squash. Since posting their zucchini tortilla recipe in 2015, it has become one of the most popular on their website.
Last weekend, I finally gave the recipe a go, simplifying it a bit, too: I omitted the spices (garlic powder, cumin, and pepper), and I left out the bread crumbs, too.
Why no bread crumbs? For two reasons: First, the recipe called for only a quarter cup, which given the amount of zucchini and parmesan felt perhaps unnecessary. Second, I knew if I ultimately decided to share a zucchini tortilla recipe that included bread crumbs, I would receive questions about gluten-free substitutions. And so I thought: Why not just leave them out from the start?
Friends, guess what? It worked! Without bread crumbs, the tortillas baked beautifully, releasing easily from the sheet pan without breaking. It turns out the grated parmesan along with the egg create enough of a "glue" to render bread crumbs unnecessary.
These tortillas are crepe-like in texture but vegetal in flavor, with irresistibly nutty notes lent by the parmesan. I can eat them just as they are — I toasted a frozen one for breakfast this morning, and it was so, so tasty without any additions — but they also are delicious when used as taco shells stuffed with whatever your heart desires.
I have been filling them mostly with a little cheese and chive-scrambled eggs, but I also have smeared them with whipped honey goat cheese and layered in roasted red peppers, sliced avocado, and greens.
Note: Do use caution when filling — these tortillas are not as strong as flour tortillas and would not hold up well if you wanted to, say, make wraps to pack for the beach. A good rule of thumb, I've found, is to fill lightly and eat immediately. I have no doubt these are rules you will have no trouble following. Hope you love them as much as I.
How to Make Zucchini Tortillas, Step by Step
First, gather your ingredients: parmesan, zucchini or other summer squash, and one egg. You'll need salt, too.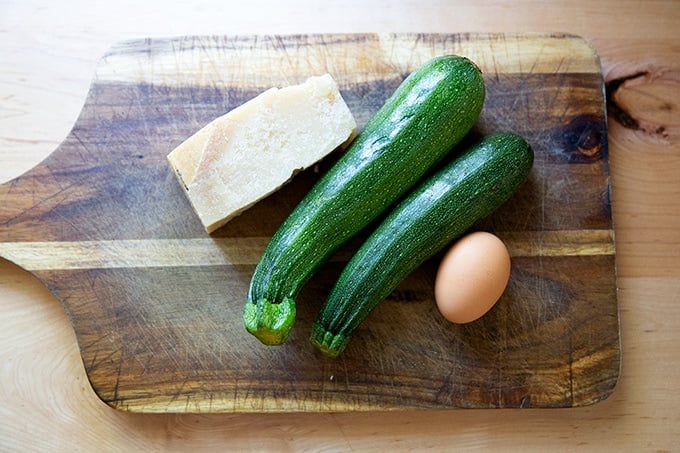 Using a box grater, coarsely grate 1 to 1.25 lbs. of zucchini.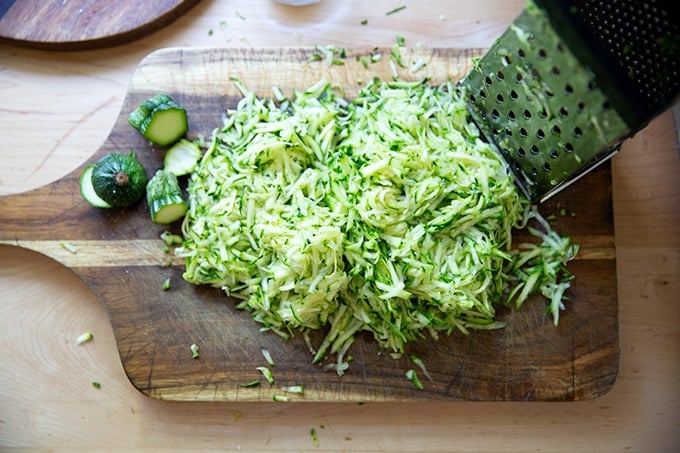 Transfer to a colander and sprinkle with 1 teaspoon of kosher salt.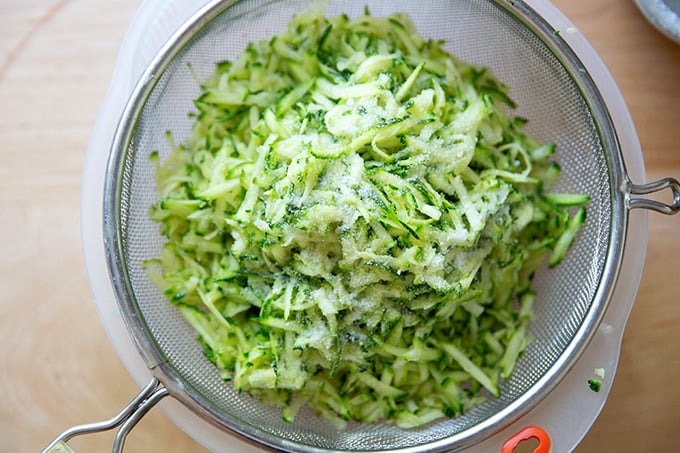 Toss the strands in the salt, then let stand to drain for at least 15 minutes.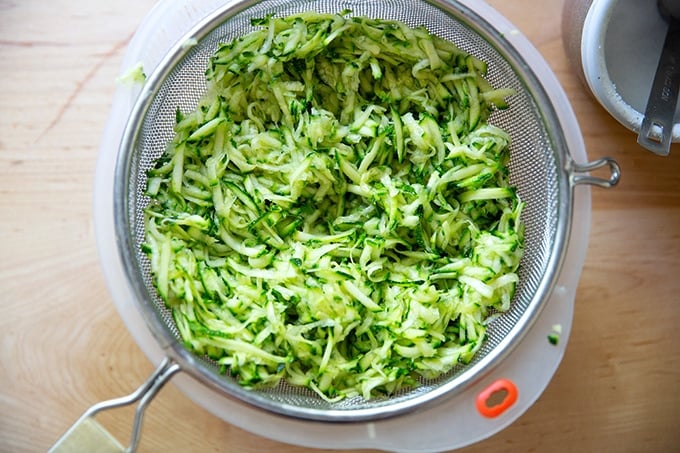 Squeeze the zucchini to press out as much of the liquid as possible.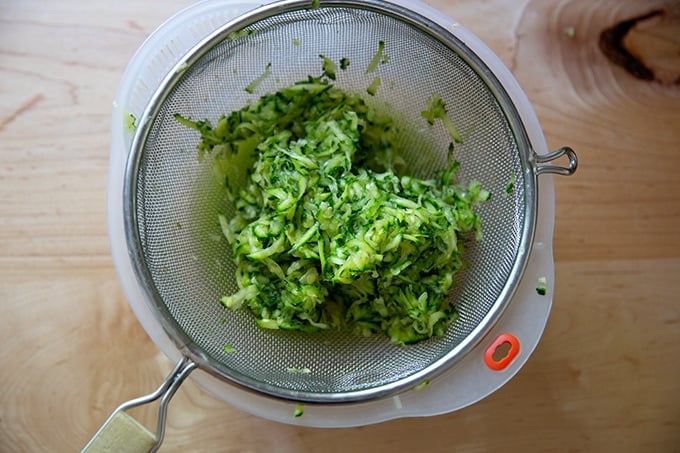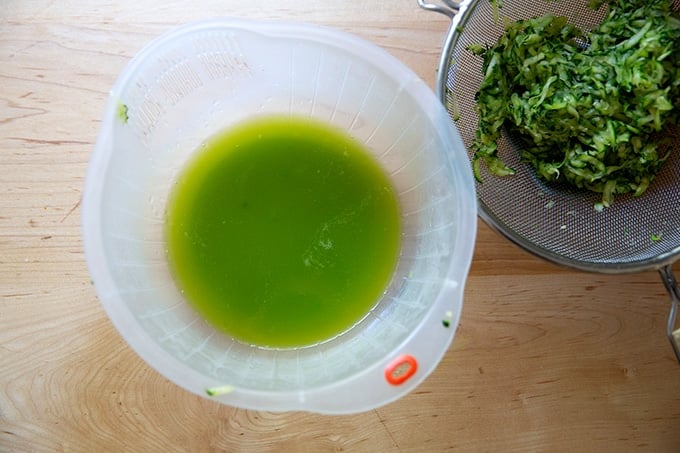 You'll have about 1/2 to 3/4 cup zucchini juice… I feel this should be saved for something? It's a bit salty, but still.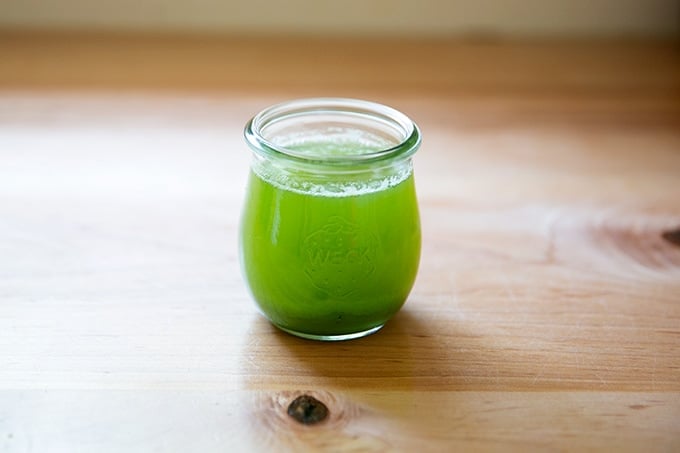 Place the zucchini, 1 beaten egg, and 2 ounces of grated parmesan cheese in a large bowl.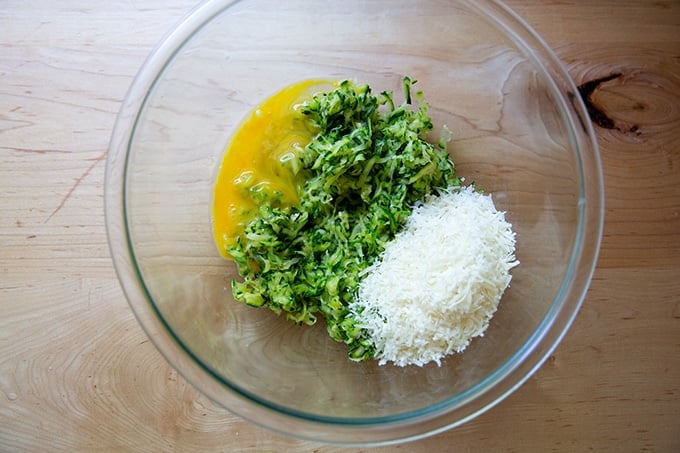 Stir until mixed.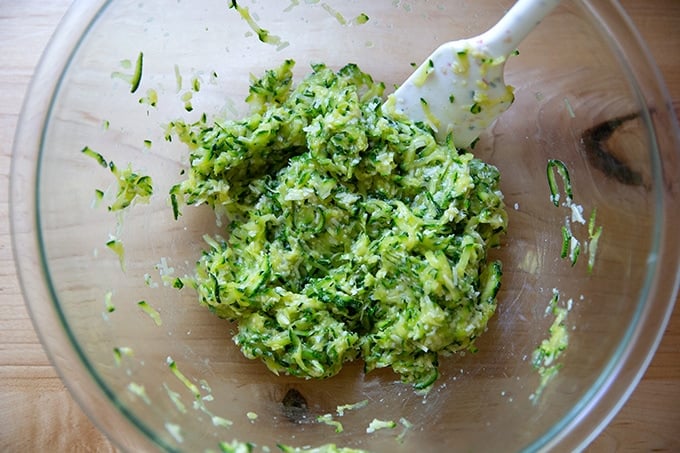 Use a 1/4-cup measure to portion out the zucchini tortilla batter into roughly five mounds on a parchment-lined sheet pan. I'm using an extra-large sheet pan here. You'll likely need to use two pans if you are using a standard sheet pan.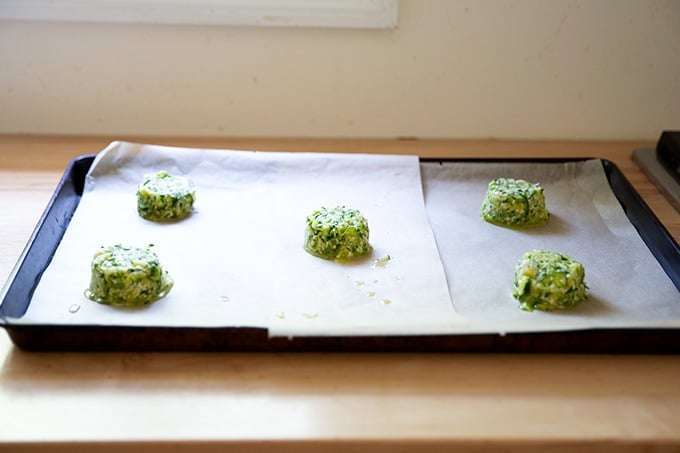 Spread each mound into a thin circle, roughly 6 inches in diameter.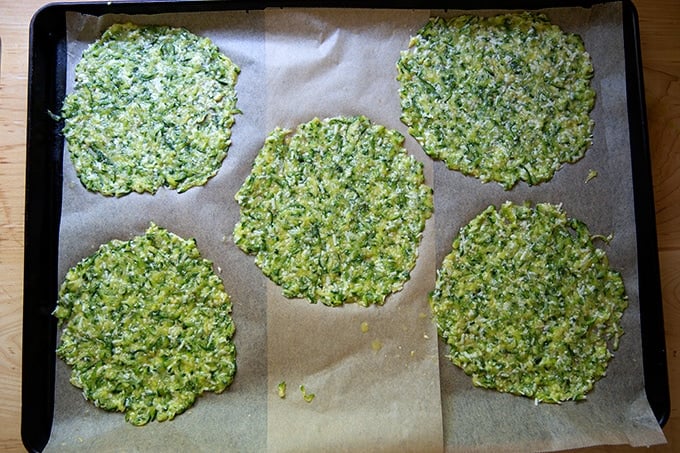 Bake at 450ºF for 12 to 15 minutes.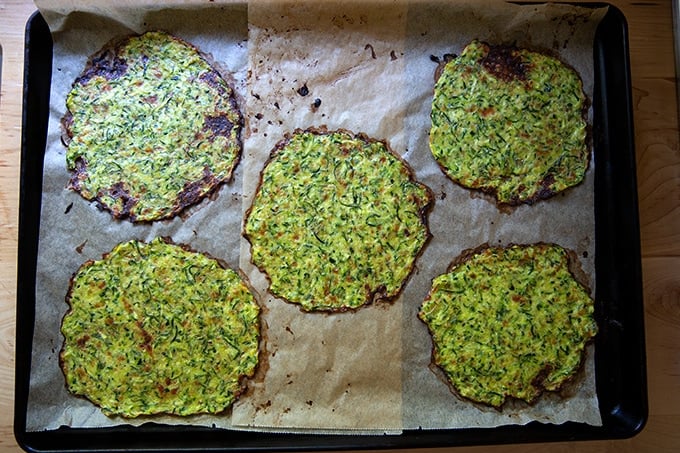 Let cool for a minute or so, then transfer to a plate to cool.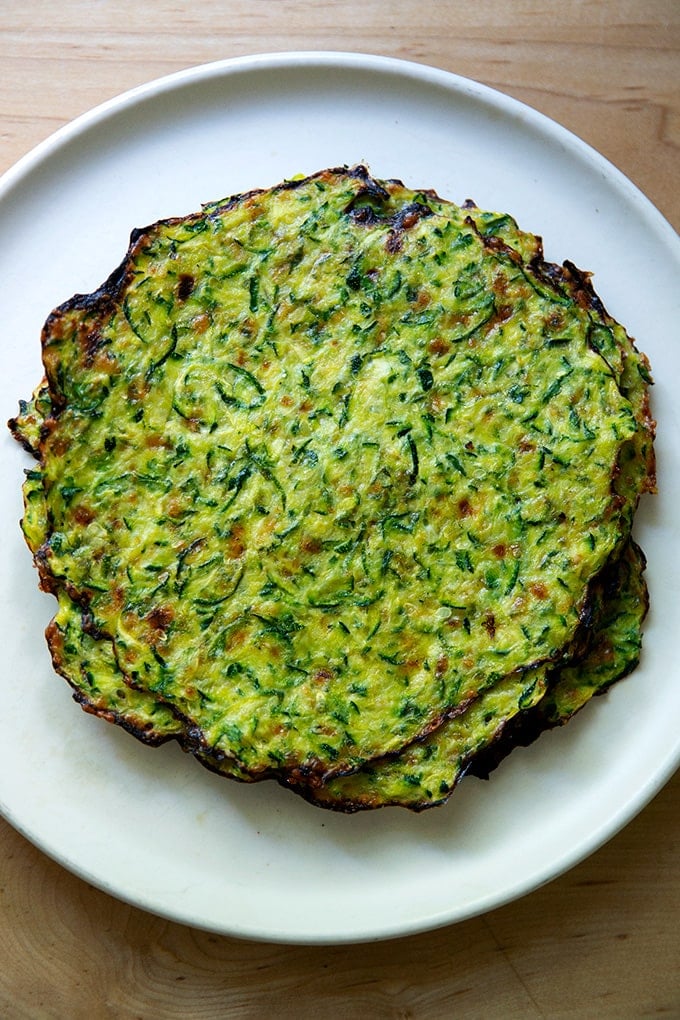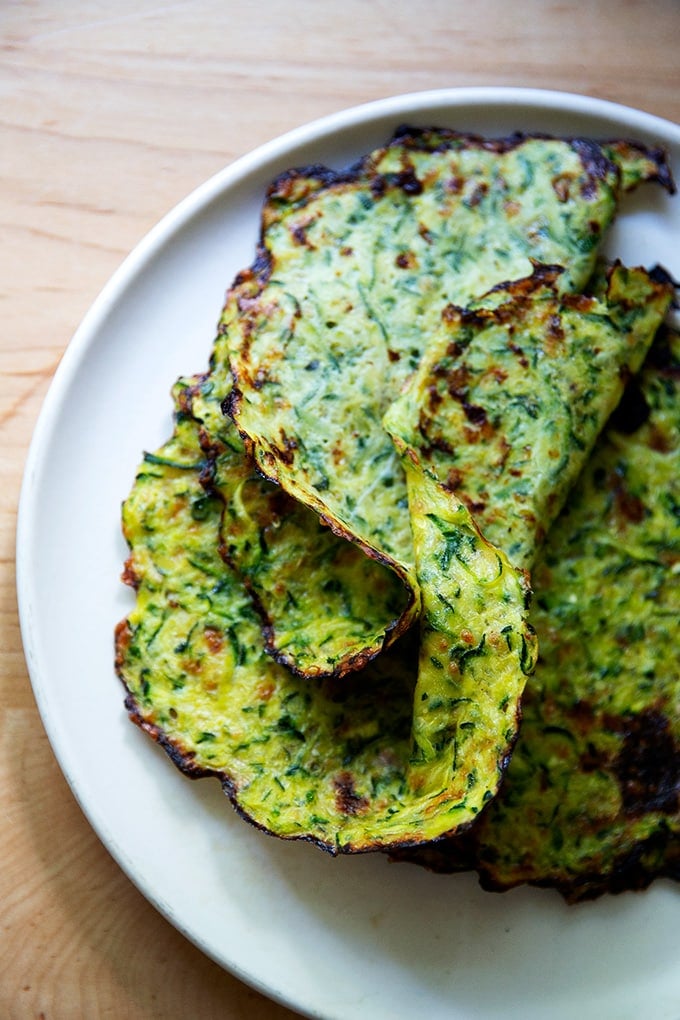 I've been making breakfast tacos with these tortillas, but you could fill them with all sorts of things, keeping in mind they are a little more fragile than flour tortillas.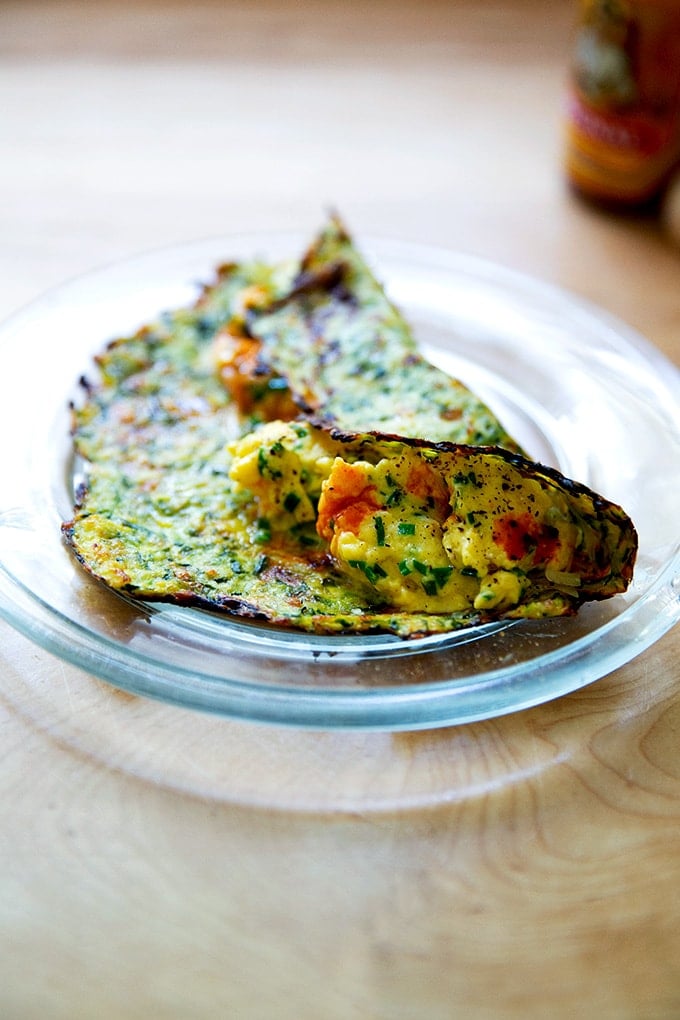 These tortillas freeze well, too.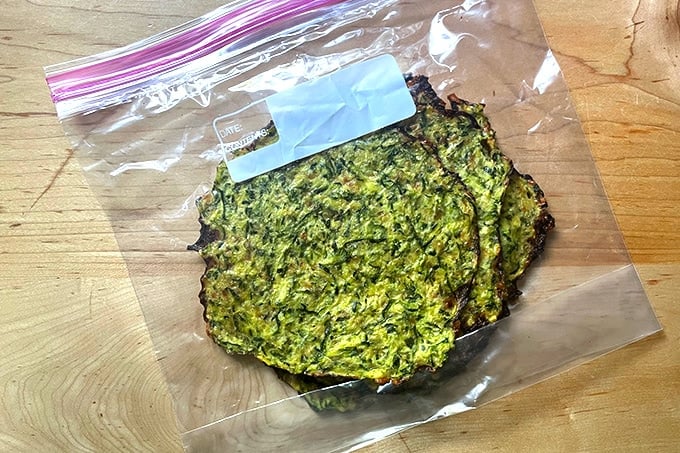 Print
Description
Adapted from this zucchini tortilla recipe on Todd + Diane White on Rice Couple.
Notes: I think the key to success here is twofold: 
Drain out as much of the zucchini liquid as possible. 
Keep an eye on them while baking. If you bake them too long, the parmesan will cook too much and cause the tortillas to become brittle. 
---
1

to

1.25

lbs. zucchini or other summer squash

1 teaspoon

kosher salt

1

egg, beaten

2 ounces

grated parmesan cheese, a packed 1/2 cup
---
Coarsely grate the zucchini using a box grater or shredder attachment in a food processor. Transfer the strands to a fine-meshed sieve and set the sieve over a bowl. Sprinkle the salt over the top and toss to distribute it. Let stand for at least 15 minutes to drain.
Heat the oven to 450ºF. Line an x-large sheet pan or two standard-sized sheet pans with parchment paper.
Squeeze the zucchini and press it against the sieve to remove as much moisture as possible. You'll have between 1/2 to 3/4 cup liquid by the time you finish squeezing.
Transfer the drained zucchini strands to a large bow. Add the egg and parmesan, and stir with a spatula to combine.
Use a 1/4-cup measure to portion the zucchini tortilla batter into roughly five mounds, transferring each mound to your prepared sheet pan as you portion, being sure to space the mounds evenly. Spread each mound out into a thin circle, 6 to 7 inches in diameter.
Transfer the pan to the oven and bake for 12 to 15 minutes, or until the edges begin to crisp, and the surface of each tortilla is speckled with golden spots of browning parmesan cheese.
Let the tortillas cool for one minute on the sheet pan, then carefully remove each tortilla and transfer to a plate to cool completely.
To freeze, place the tortillas in an airtight bag and transfer to the freezer for up to 3 months.
Prep Time:

25 minutes

Cook Time:

15 minutes

Category:

Dinner

Method:

Oven

Cuisine:

American
Keywords: gluten-free, parmesan, zucchini, egg