This refreshing Sugar Free Strawberry Lemonade recipe is a favorite in our home on hot summer days, and with each sip comes a sense of nostalgia.
Recipes Easy, Healthy, and Sugar Free!
I've been making homemade lemonade for the boys since they were wee little ones. Early on, I realized I needed to craft one heck of a healthy lemonade recipe because, as little guys, they would guzzle it!
Foods with Empty Calories
Most lemonade recipes are loaded with empty calories due to added sugar. The problem with sugar is that it increases the risk of inflammation and a variety of diseases that range from diabetes to neurological, such as Alzheimer's (now referred to as diabetes type 3).
In order to cut back on the amount of unnecessary sugar (including natural sweeteners) that my family consumes, I began sweetening my homemade lemonade with stevia a couple of decades ago.
Here's our refreshing all-natural family favorite Sugar Free Strawberry Lemonade recipe!
Sugar Free Strawberry Lemonade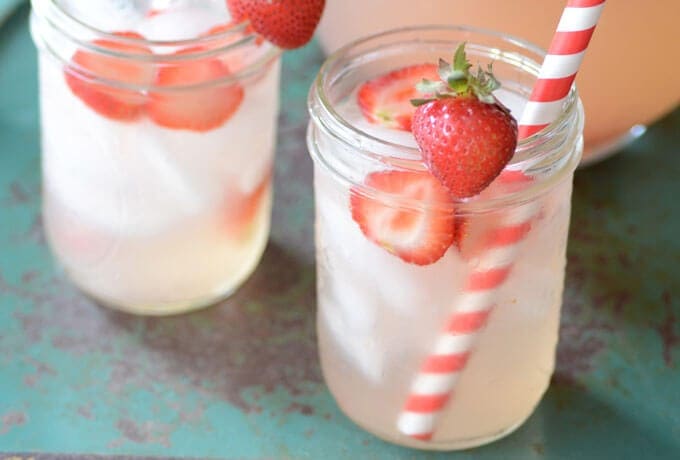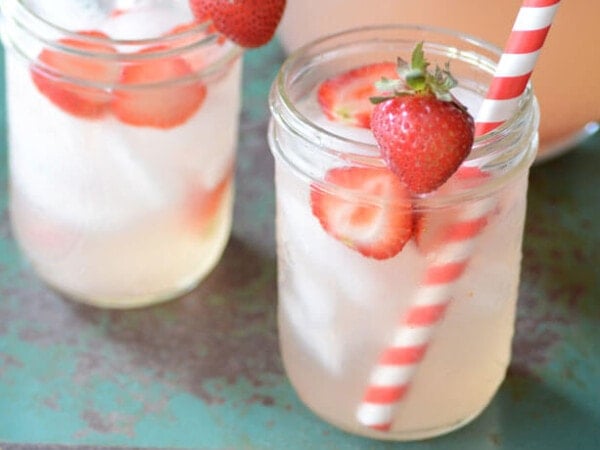 Print
Email
Pin Recipe
Ingredients
8

cups

water

2

cups

ice

6

lemons, juiced

½

teaspoon

stevia

1

pint

strawberries, sliced
Prep Time 5 mins
Total Time 5 mins
Prevent your screen from going dark
Spike in Blood Sugar
You may be wondering, how much sugar is okay per day? The AHA recommends a strict added sugar limit for women of no more than 25 grams or 100 calories daily.
But I don't serve my family processed white sugar and keep our overall consumption of any sweetener as low as possible.
The last thing I want to do when I feed the boys and their friends treats is cause a spike in blood sugar when it's not necessary. That's why I love baking desserts and snacks with healthy ingredients like almond flour and coconut flour.
My Homemade Bagels Recipe is the perfect example of this. I bump up the health factor by adding smoked salmon, a great source of protein.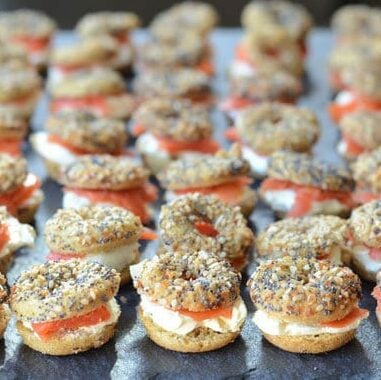 Easy Recipes for Dessert with Almond Flour
I create easy recipes for dessert with more fat and protein and less carbs in order to cause less of a spike in blood sugar than traditional wheat and white sugar based sweets.
The boys grew up on my healthy desserts. In fact, it was our house that everyone came to for snack time after school over the years. Nutritious sweets for the win!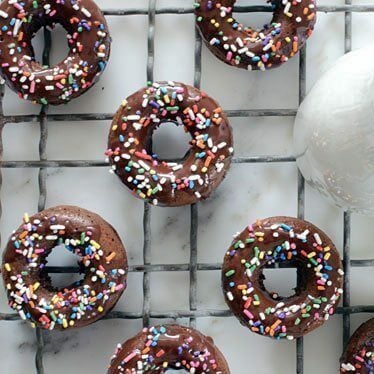 My Recipe for Homemade Donuts is another perfect example of a healthy dessert for kids.
Now in their twenties, the boys are avid cooks and fans of healthy living and keep an eye on their sugar intake too.
One works in a restaurant, and the other is constantly in the kitchen creating recipes.
Like any mother, I could go on and on about them, but then, we'd never get to discuss my thirst-quenching Sugar Free Strawberry Lemonade recipe and other healthy living topics.
How to Make Lemonade Homemade
When they were little, the boys so enjoyed my recipe for Strawberry Lemonade they asked me to teach them how to make my "magical" from scratch lemonade.
It's simple. Juice lemons, sweeten with stevia, and add sliced strawberries. That's it –all natural and deliciously refreshing!
Best Drink Recipes Easy and Healthy
Below, you'll find a fabulous assortment of drinks that are easy recipes and healthy too.
These recipes that are homemade provide the nutrients your body requires and can be served in no time.
Easy Recipes for Cocktails
Backyard celebrations often include alcohol. If you're on a Low Carb Diet and going to imbibe, you need sugar free solutions!
My beverage section provides a healthy easy recipe to create from; just shake in your liquor of choice.
Read on for cocktails and healthy drinks that are easy to make.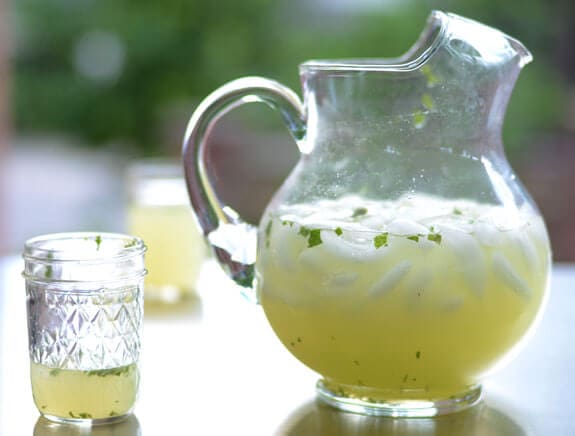 Lemonade with Vodka
This one is not for the children! Though actually, my boys, both over twenty-one, can legally drink now, so maybe it is.
Although lemonade seems like a healthy refreshing option, remember, empty calories lurk in store-bought beverages. That's just one more reason to share my How to Make Lemonade Homemade recipe.
Avoid the nasty chemicals and preservatives with my simple 3 ingredient recipe. Making this lemonade is effortless, and it can easily go from a mocktail to lemonade with vodka cocktail for an adult spin on a childhood classic.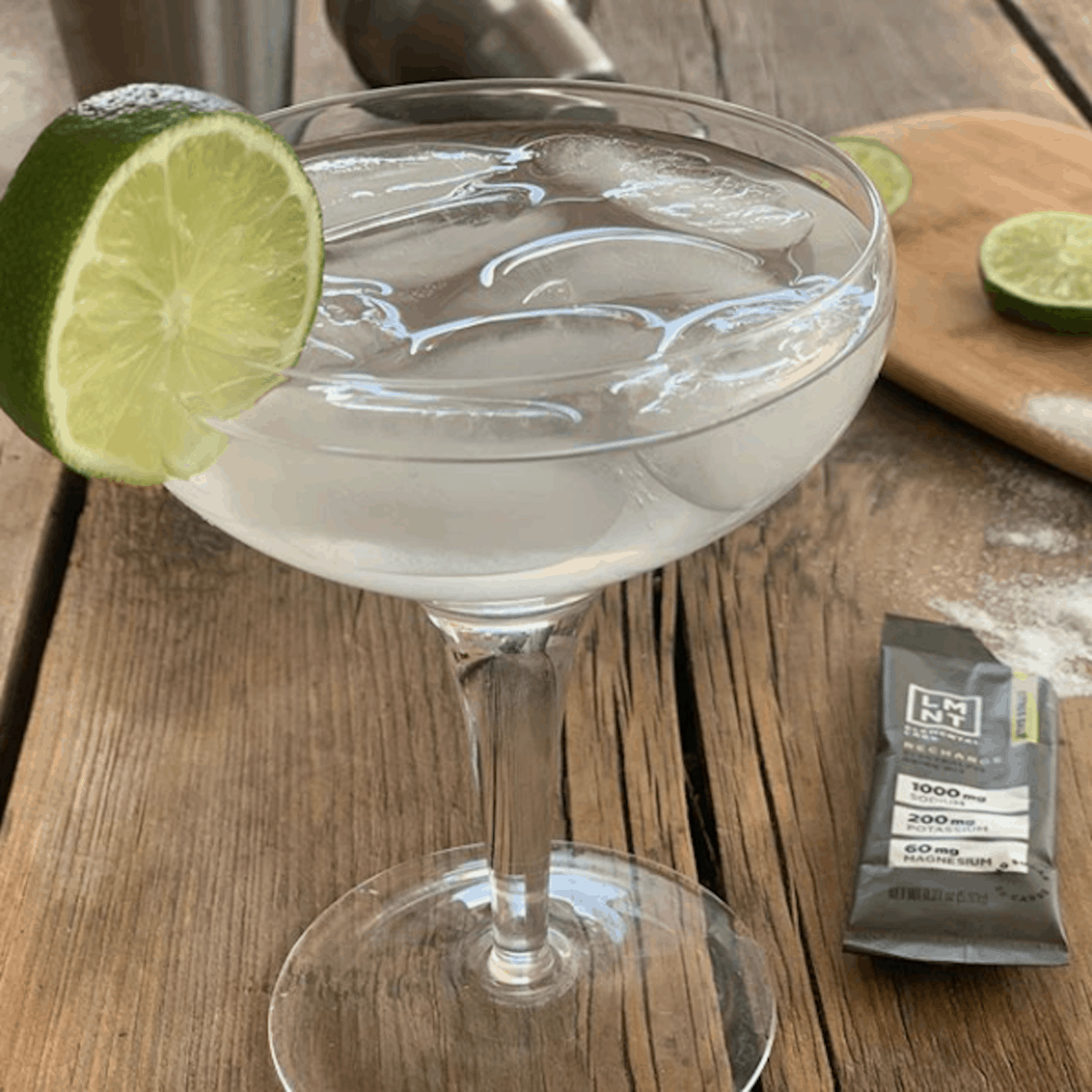 Strawberry Margarita Recipes
Electrolytes, fresh lime juice, and sparkling water are the perfect low carb mixture for my Recipe for a Skinny Margarita.
LMNT Citrus Salt is the tear-open and pour margarita mix dreams are made of. It not only tastes amazing with a fresh citrus zing, but it also prevents dehydration while you're having a little adult fun.
For an added punch of flavor and vitamin C, throw in fresh strawberries –it's one of the best Strawberry Margarita Recipes ever!
Mojito How to Make
The flavor combination of fresh citrus and mint is perfectly refreshing on a hot day, and my healthy twist on a mojito recipe is easy and naturally sweetened.
For me, a natural based, wholesome diet is better for all-around health. This is the inspiration for Paleo Cooking from Elana's Pantry, and you can find my healthy mojito recipe on page 124.
In addition, the book contains a plethora of recipes with minimal ingredients for busy health conscious cooks.
Ranch Water Recipes
Looking to imbibe and stay healthy? It's doable! Now that my boys are in their 20s and becoming superior mixologists, low carb cocktail recipes with tequila are a household favorite.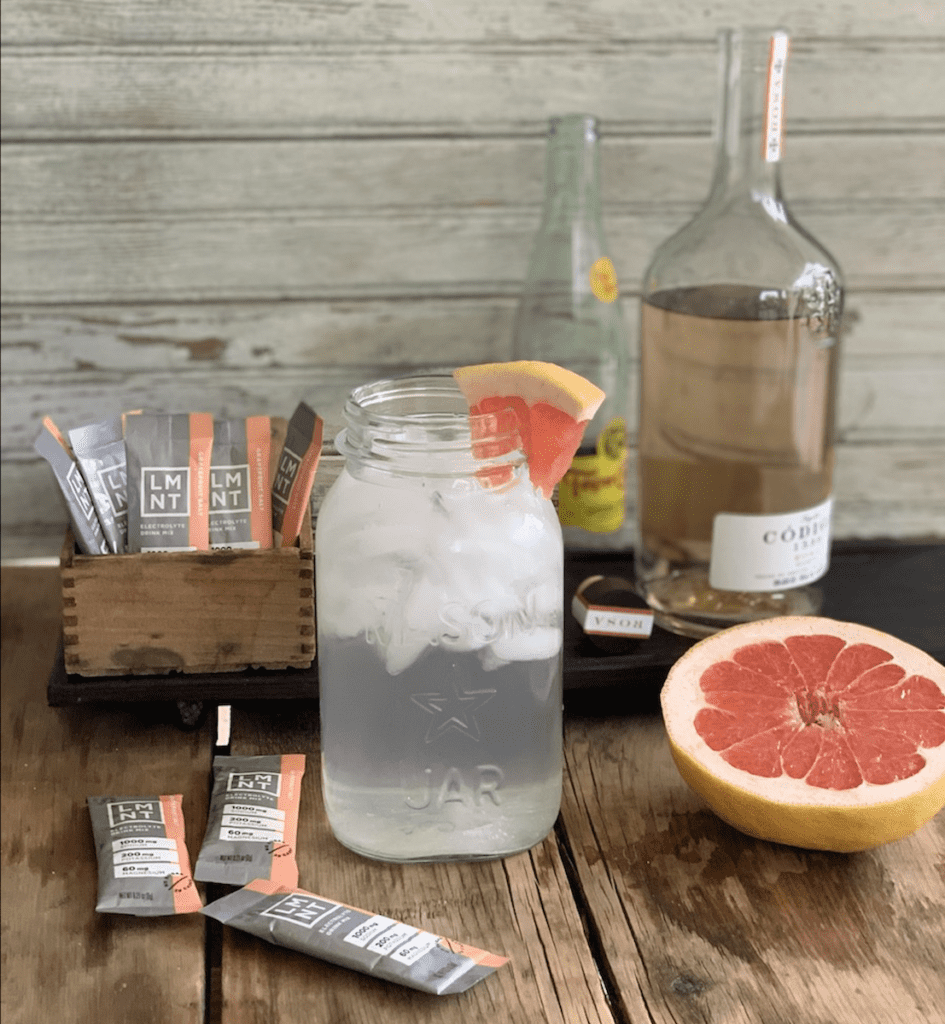 My Grapefruit Ranch Water Cocktail is the ideal keto diet safe highball drink made with replenishing and tarty Grapefruit Salt electrolytes.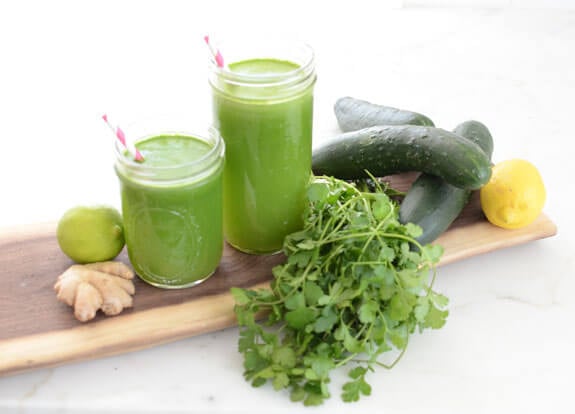 Recipe Detox Juice
If you're hardcore into healthy healing, try my healthy Recipe for Green Detox Juice packed with fresh vegetables, which provide incredible phytonutrients.
Cilantro, the main ingredient in my green detox juice, is a superfood that helps reduce the risk of heart disease, obesity, and diabetes.  
It's also a fantastic way to gently chelate heavy metals out of the body.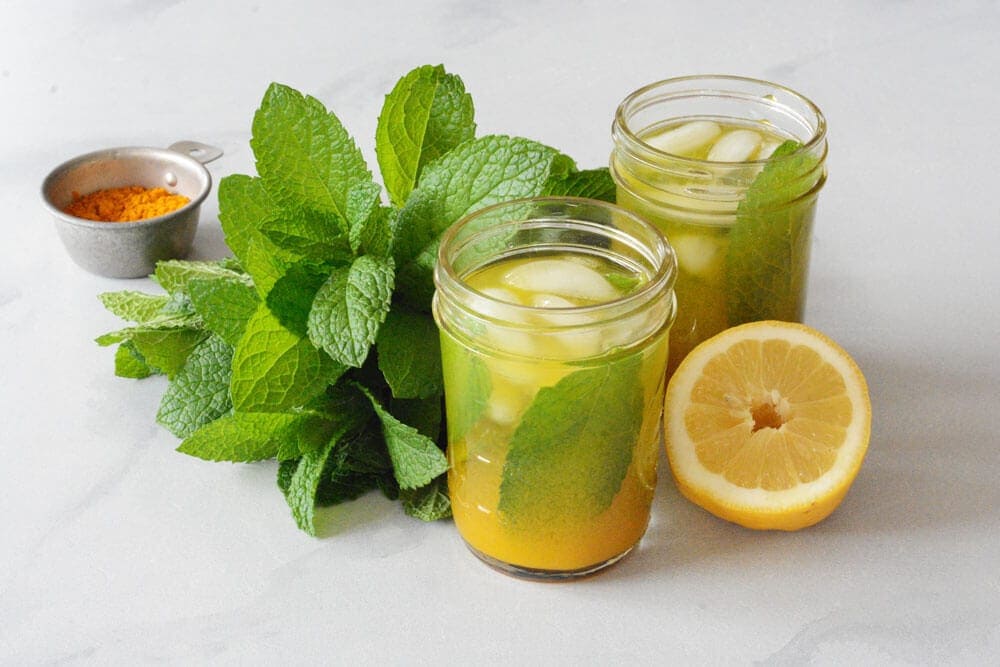 Now that you know how to make sugar free lemonade, the sky is the limit with fresh and fun mix-ins. One of my absolute favorite combinations? Turmeric Mint Lemonade.
Tip for Quick and Easy Recipes for Cocktails
See my How to Juice a Lemon post to speed up your lemon juicing process and save time in the kitchen! What flavor of lemonade will you make? What will you use to sweeten it?
Sugar Free Drink Recipes: Easy Healthy
I hope I've quenched your thirst with this assortment of healthy drink recipes that are easy to make.
My Strawberry Lemonade recipe is incredibly versatile. Substitute and play with the fruit combinations and turn sugar free strawberry lemonade into raspberry lemonade or cherry limeade.
Best Recipes for Easy Healthy Beverages
Finally, I hope you enjoy my recipes for fresh lemonade and other fun drinks as much as we do!
This Sugar Free Strawberry Lemonade recipe is an oldie but goodie from the archives. I first shared it in 2015.