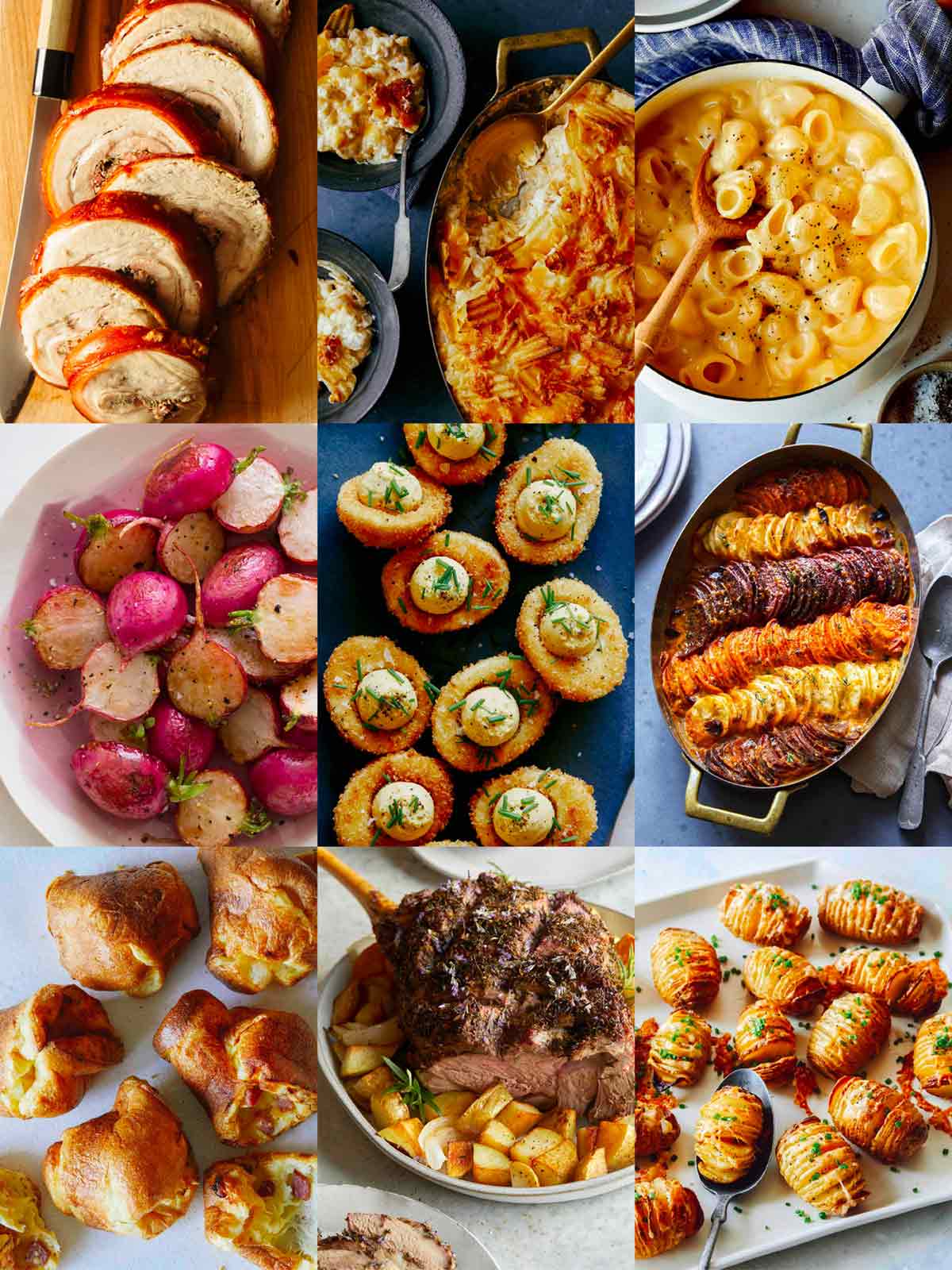 Easter is right around the corner and we've rounded up a list of some our favorite and absolute BEST Easter Dinner Ideas so you're totally covered! We have everything from easy dinners, healthy recipes, fresh salads, delicious sides, tons of potato goodness, and unforgettable desserts! We even have a few suggestions for what to do with leftover ham, since there always seems to be so much leftover after Easter! We like to think of this as your one stop Easter Menu inspo shop!
Start Your Meal with Delicious Appetizers
Deviled eggs are a must for Easter and our Fried Deviled Eggs version takes them to another level! Crisp on the outside and creamy in the center, these guys Easter dinner perfection!
We never get any complaints when we set these Baked Asparagus Fries out for guests to nibble on! It's a fun way to eat asparagus with a delicious dipping sauce!
Our Fried Burrata over Romesco Sauce is a popular appetizer that everyone loves and we get it! So many great textures and flavors going on – this appetizer will be inhaled!
Our Mini Swedish Meatballs make the best appetizers! Nix the mashed potatoes and serve them with the gravy on a side and a bunch of toothpicks, so guests can pick a meatball up and easily dip it in gravy!
Shrimp Scampi as as appetizer?! Absolutely!! These perfectly cooked shrimp swim in a garlic butter sauce that is incredibly delicious and always a favorite amongst guests!
Easy Easter Dinner Ideas
If you want to scale things down a bit, our Garlic Butter Lamb Chops is just for you! These are so easy to make, full of flavor and cook up in no time!
Spatchcock Chicken is probably our favorite way to cook a whole chicken! Cutting the back and laying the whole chicken out speeds up the roasting time and creates a more even cooking situation. Say goodbye to dry chicken breasts forever!
Our Lamb Kabobs with a creamy yogurt and mint dipping sauce are another delicious lamb recipe that's easy to make and such a crowd pleaser!
These Oven Baked Chicken Thighs are on our regular dinner rotation and is also a fabulous Easter dinner idea! The honey-mustard sauce takes this crazy-simple recipe to the next level!
Looking for something a little fancy and impressive?! Our Pork Belly Porchetta is for you! Crispy skin that shatters like glass is nestled against the most juicy and flavorful pork. Your guests will be so impressed to see this being brought out as the main course! Pro tip: Leftovers make amazing sandwiches!
Don't feel intimidated by this large cut of lamb! Our Herb Crusted Leg of Lamb couldn't be easier to make. It's a simple and delicious roast and something we've both made for Easter several times!
Tasty Side Salad Easter Dinner Ideas
We can never stress our love for simple enough and our Everyday Simple Side Salad falls right into that category. Don't let the simplicity of this salad fool you, it has a little bit of everything – some crunchy, tangy, sweet, and salty goodness!
We're always in the mood for a delicious, creamy and crisp Classic Caesar Salad. ALWAYS! We guarantee you'll have some happy diners if this shows up on your Easter table!
We love creamy Macaroni Salad and our recipe is foolproof! Creamy, but not too heavy with little bits of crunch from the carrot, celery and red onion. So good!
Broccoli Crunch Salad is a non-salad type salad and we're totally here for it! The bits of bacon and cashews dotted throughout the entire dish makes this a must for Easter dinner!
Creamy Potato Salad is our jam! We love this hearty, creamy, flavorful salad so much! It's perfect for spring and summer get togethers!
The Best Easter Potato Dishes
We really love Smashed Potatoes and ours are buttery crisp on the outside, and soft on the inside and finished with tons of crumbled bacon, green onions and cheese!
How can mashed potatoes be improved? By throwing in some greens and loads of brown butter to produce our Brown Butter Colcannon!
Our Mini Hasselback Potatoes are another favorite around here. These bite sized potatoes are crispy, buttery and cheesy on the outside and soft and creamy on the inside. It's a winning Easter dinner idea for sure!
We love a Warm German Potato Salad! The tangy mustard vinaigrette pairs so well with the soft, creamy fingerling potatoes. This dish is also so easy to make and can be prepped a couple days in advance.
Cheesy Potatoes Gratin is always calling our name when there's a big dinner spread in the works. Whether you call it gratin or scalloped potatoes, it's one of the best Easter dinner ideas that we've made over and over again!
Another favorite potato dish over here is our Cheesy Potato Casserole! Our version of funeral potatoes, this casserole is legit!
More Mouthwatering Side Dishes to Serve
Can you ever go wrong with Creamy Stovetop Mac and Cheese? We didn't think so. Our recipe is so simple and we love it so much because there's no roux required!
Our Roasted Radishes are delicious, plain and simple. Mild in flavor, slightly sweet and very low maintenance. A perfect Easter dinner side dish for sure!
These Lightly Roasted Green Beans are simple, delicious and always hit the spot when we're trying to add more vegetables on the table.
When we're craving a more decadent cauliflower dish we turn to our Creamy Baked Cauliflower! It's a rich and creamy cauliflower casserole that might even steal the show if put on the table. It really is THAT good!
Roasted Cauliflower is a simple side dish that is always a crowd pleaser. The mild flavor of the cauliflower lends itself so well to bring paired with a large variety of main dishes! One of our favorite veggies to serve!
This Cheesy Root Vegetable Gratin is one of our most popular and most made recipes and we totally get it! It's a nice change from the typical potato gratin, super delicious and a stunner!
Healthy Easter Dinner Ideas
Zucchini Lasagna Roll Ups are our go-to for a healthy dish! Everyone loves this low-carb, delicious recipe, finished with nutty flecks of shaved Parmesan!
Roasted and Stuffed Sweet Potatoes are not only delicious, but vegan friendly! If you have a vegan/vegetarian guest, this is the perfect addition to your Easter dinner menu!
White Bean Shakshuka We love this sharable breakfast for dinner type meal! It's the perfect low-key, simple and delicious Easter dinner. Serve with lots of crusty bread!
Our Stacked Side of Salmon is not only delicious, but so beautiful too! You get everything you need for the meal right on a piece of salmon. Finish the dish off with a squeeze of fresh lemon juice and you have a fun Easter dinner idea for sure!
Lets Not Forget the Sweet Stuff
French Silk Pie never gets enough attention and we don't get why?! The chocolate mousse like filling is perfect against the cinnamon kissed graham cracker crust and the mile high fluffy whipped cream!
This Strawberry Tart is one of the easiest, springy desserts ever! Loaded with all the sweet strawberries, we recommend serving it with a big scoop of vanilla ice cream or a big dollop of soft whipped cream!
We love this Coconut Cake so much! A soft and moist cake that's packed with so much delicious coconut flavor! It's a hit everytime!
Our Floral Pressed Butter Cookies are the perfect dessert to serve alongside your after dinner coffee or tea. They're beautiful, sweet and buttery. The perfect Easter dessert!
Blueberry Cobbler with heaping scoops of vanilla ice cream is what I want to be eating all spring and summer long!
Not only is our Banana Pudding easy to make, it's SO rich, creamy and delicious! We can never get enough of this very addicting dessert!
What to Make with Leftover Ham
Ham and Cheese Popovers is one of our favorite things to make with our leftover Easter Ham! Fluffy, custad-y with bits of cheese and ham, we can eat an entire batch to ourselves!
We love these Ham and Cheese Buttermilk Biscuits so much! They're flaky, buttery, salty and savory. It's one of the best way to use up all your leftover Easter ham for sure!
Make this Croque Madame Toast! Do it! It's a wonderful stick to your ribs breakfast that can also be eaten for dinner! Throw a simple mixed greens salad on the side for a delicious complete meal!
Hearty White Bean and Kale Soup is so good! This soup has everything we love about a year round soup – a flavorful broth, hearty greens, creamy beans and sweet potatoes, and salty ham. It's so nourishing and filling, we can eat this multiple days in a row!
More Recipe Round Ups You Will Love
Previous Post:
<

Previous Post

Banana Cream Pie Recipe
Reader Interactions