Nothing hits the spot like a fresh and flavorful salad. These 25 Easy & Healthy Salad Recipes will have you whipping up all sorts of salads on the regular – not just because you want to be healthy, but because you love the way they taste!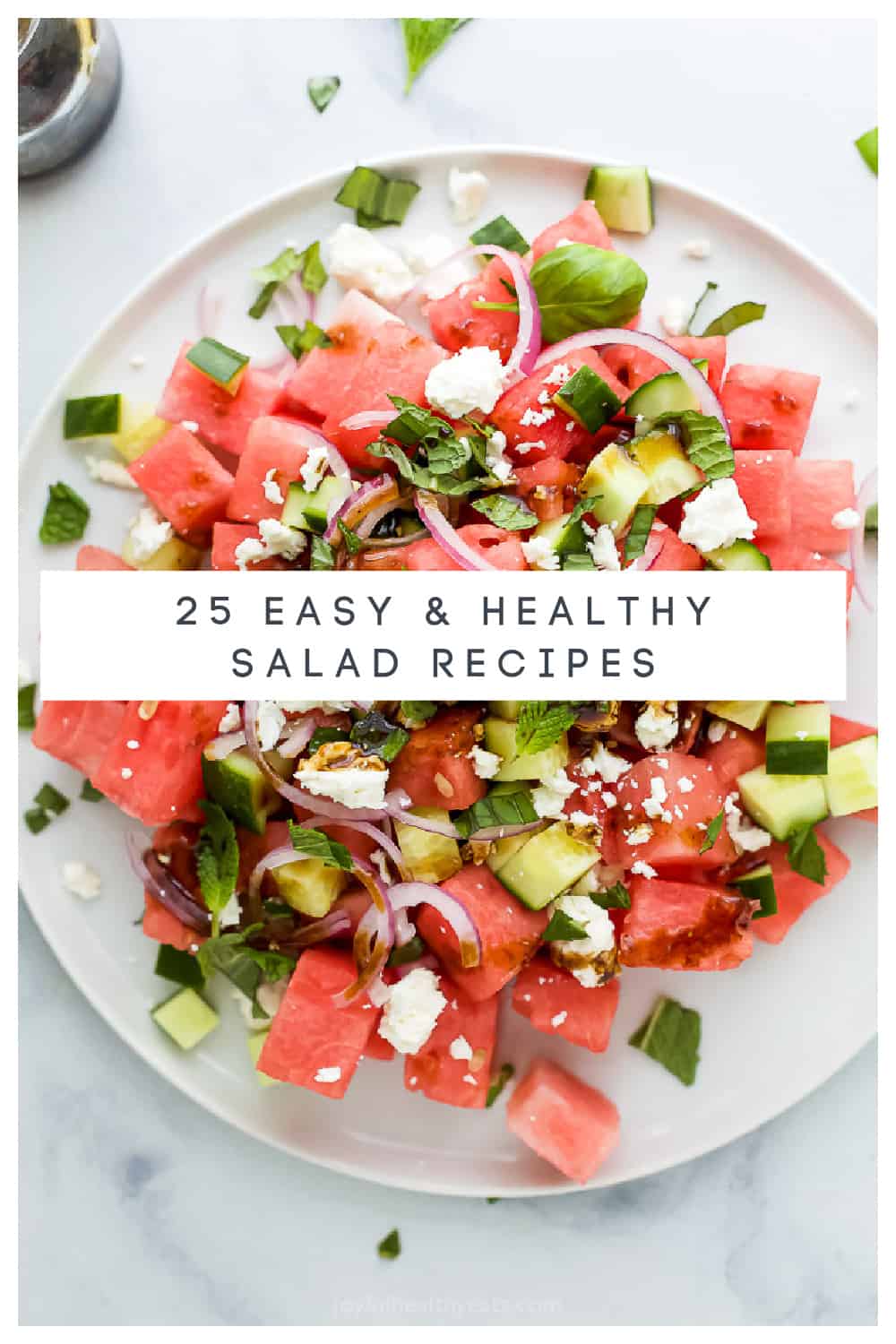 Step up Your Salad Game With These Easy Recipes
For some reason, salads are often thought of as boring health food that people only eat for the nutritional benefits. They're wildly underrated if you ask me! When a salad has all the right fixings in it, it can be just as irresistible as your favorite comfort foods.
Of course the nutritional benefits are nice, but these recipes are also here to help your palate gain a whole new appreciation for salad. While you're munching away, your taste buds will be happy campers. Once your plate is empty, you'll feel like a million bucks!
What Are the 5 Types of Salads?
Let's break down the umbrella term of salad into 5 basic categories.
Garden/Green Leaf Salad: This is probably the simplest kind of salad out of the 5, but that doesn't mean it has to be the most lackluster. Centered around leafy greens like spinach, kale, lettuce and arugula, these salads allow the flavor of the dressing to really shine.
Vegetable Salad: A vegetable salad is similar to a green salad, only its recipe will call for a wider variety of veggies.
Grain/Legume Salad: Any salad that features ingredients like pasta, quinoa, beans or lentils would fall under this category.
Main Course Salad: This refers to a salad that contains a protein source like seafood, poultry, beef or tofu, making it substantial enough to enjoy as a main dish.
Fruit Salad: Composed of a colorful array of fresh fruits, this kind of salad is often served as a breakfast side, a snack or a dessert.
Is It Healthy to Eat Salad Every Day?
Absolutely! Forget about an apple a day, 'cause salads are where it's at.
They boast extensive health benefits, and with all the different types to choose from, it's easy to get enough variation to keep you interested. This collection of recipes spans the entire salad spectrum – use it as your one-stop shop for selecting your daily salad!
Tips for Success
Each individual recipe comes with its own tips and tricks, but there are a few key guidelines that apply to pretty much all salads. Here they are:
Layer on the Flavor: I've already tailored all the salads in this roundup to contain loads of crave-worthy flavor. However, this is still an important point to discuss when it comes to salad-making in general. You can't get an amazing salad by mindlessly throwing together whatever produce you have laying around in the fridge. Give yourself something to daydream about – a reason to dig through the salad to get that last roasted beet or whatever it is.
Don't Underestimate the Dressing: A salad without a dressing is like a tortilla chip without a dip. You need a dynamite dressing to make a dynamite salad! While substituting the dressing in a given salad recipe according to your preferences is totally fine, you definitely don't want to omit it entirely.
Avoid Iceberg Lettuce: There is no nutritional value in iceberg lettuce, or romaine for that matter. I strongly suggest avoiding the stuff altogether – unless you're making a wedge salad, in which case I'll allow it. In all other scenarios, go for the stuff that looks like weeds and enjoy the accompanying flavor and nutrients!
Be Mindful of Storage: It's almost always ideal to store your salad and dressing in separate airtight containers in the fridge. If you think you might have leftovers, serve the dressing on the side and add it as you go instead of tossing it with the entire salad at once.
What Goes Well With Salad?
Salad is a classic side dish for a reason – you can pair it with whatever you'd like! Proteins like Grilled Shrimp and Baked Chicken can be served separately or incorporated into the salad itself to bulk things up. If you're making a main course salad, particularly versatile pairing options include Roasted Potatoes and Avocado Bruschetta.
Is your mouth watering too? Let's get into the collection of recipes that'll have you consistently craving salad from here on out.
25 Nutritious Salads to Try
These easy salads aren't just good for your body – they're irresistible! With tons of wholesome options to choose from, you'll be devouring a homemade salad on a daily basis and loving every minute of it.
Tossed in a creamy Greek yogurt dressing, this tangy broccoli bacon salad works well as either a main course or a side dish! Nutty pepitas and tart dried cranberries add such a lovely touch.
This West Coast classic features sweet grilled onions, leafy arugula, smooth avocado, tender-crisp asparagus and juicy charred Steak. The tangy, smoky, spicy chimichurri dressing ties it all together like a dream!
This quick and easy dinner salad stars flaky grilled salmon with just the right amount of char. You'll love the burst of summery goodness you get from the fresh veggies, pineapple salsa and cilantro lime dressing. Grab seconds while you still can!
Anyone who "doesn't like salad" will change their tune with a single taste of this one. It's made with chewy farro, juicy strawberries, fresh basil, nutty pecans, soft goat cheese and a tangy citrus dressing!
This herby, garlicky salad is great for making in advance. Assorted cherry tomatoes are soaked in a flavorful red wine marinade for a burst of freshness in every bite!
The creamy, tangy goodness of this low-carb chicken salad will sweep you off your feet! Whether you wrap it up into a burrito, stuff it between two slices of your favorite bread or eat it by the spoonful, it's going to pull off an impressive disappearing act.
Craving something that packs a satisfying crunch? Look no further than this 10-minute Thai quinoa salad. Cucumbers, carrots, chickpeas, cashews and more combine with a lick-your-lips delicious peanut dressing.
This sweet and herby side dish is a holiday must-have. From the melt-in-your-mouth squash to the tart pops of cranberry, you'll be savoring each and every tidbit.
Our whole family goes nuts over this mouthwatering potato salad! It's incredibly easy to make with hard-boiled eggs, bacon, chives, and a tangy mustard dressing with a touch of sweetness.
This crowd-favorite salad brings the bustling streets of Mexico to your dining table in 20 minutes or less! Smoky charred sweet corn combines with roasted red pepper, black beans, cojita cheese and more.
This sweet, tangy and savory main course salad is another grilling favorite, featuring spinach, red onion, blueberries, basil and more. It's tossed in a simple honey mustard dressing to tie together those flavors in such an irresistible way.
Made with al dente rotini noodles, savory salami, fresh herbs and succulent veggies, this gluten-free pasta salad is straight up addicting. It's a healthy potluck must-have that never sticks around for long!
Bring on the natural sweetness! This crave-worthy salad features all your favorite fixings – from bursting berries to soft kiwi slices and juicy chunks of pineapple.
Coming at you with another classic, also known as the quintessential side salad. A combination of crunchy croutons, leafy lettuce, fresh parmesan cheese and a light dressing make Caesar salad so well-loved, and this recipe does it just right.
Slices of tender pan-seared steak are paired with spinach, edamame, carrots, roasted beets and more in this foolproof dinner salad. Rounded out with a flavorful balsamic dressing, you'll be refilling your plate on repeat!
This 10-minute masterpiece is summer in a salad! Made with watermelon, cucumber, mint leaves, basil, balsamic vinegar and more, everything about it is amazingly fresh and satisfying.
Fluffy quinoa, hearty black beans, fruity orange bell pepper and more make this vibrant vegetarian salad an unforgettable entree or side. The citrusy dressing adds the perfect finishing touch!
Seafood and salad go together like two peas in a pod. This tangy-sweet shrimp salad is all the proof you need! It features a minced chipotle pepper to add a delightful kick of heat.
This 5-minute bowl of heaven is one of my all-time favorite dishes to devour. Fresh vegetables are paired with a light lemon dressing for the world's most versatile side!
Whenever seafood or chicken plays a role in my dinner plans, this orzo pasta salad probably does as well. Sun-dried tomatoes, artichokes, bell pepper, onions, fresh basil and slivered almonds bless each bite with fabulous texture and flavor.
Built in a mason jar in 15 minutes or less, this salad is great for taking on the go. It features fresh greens, tender rotisserie chicken, salty bacon, crunchy cucumbers, savory hard-boiled eggs, creamy ranch dressing and more!
Apples and cheese are such an amazing duo. This recipe transforms that tempting pair into a gorgeous side salad with a delightful champagne vinaigrette dressing! It makes such a great side dish or snack for the holidays.
The way this simple salad combines crunchiness and creaminess is flat-out heavenly! You only need a handful of basic ingredients to make it happen.
This Italian-inspired pasta salad is always a huge hit at potlucks and cookouts. It's easy to make in advance with fresh mozzarella, basil, cherry tomatoes and more!
This easy recipe will have you making use of your trusty outdoor grill all summer long. Thin sweet potato slices are charred to perfection along with fresh green onions, then it's all finished off with crispy bacon and a tangy honey mustard dressing!
DON'T MISS A RECIPE ->